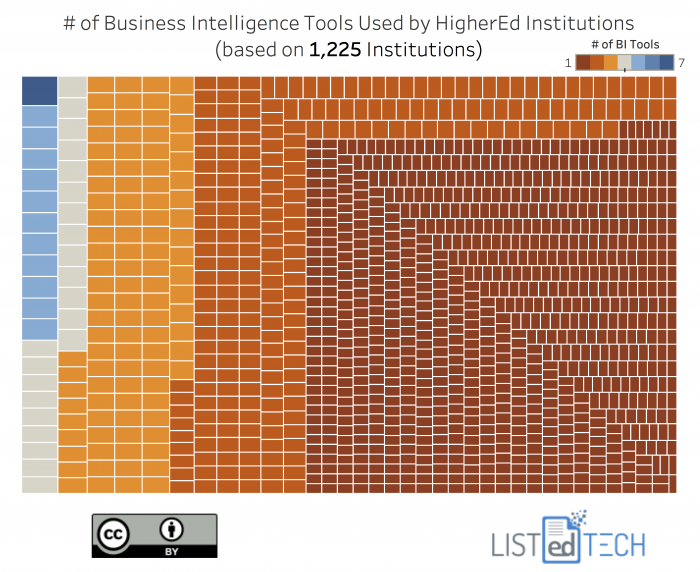 We define 'business intelligence systems used in higher education' as tools to help make data-driven decisions for financial and strategic purposes. These systems often use SIS, ERP, LMS and CRM data. We currently have 1,773 business intelligence systems listed in our database. These are used by 1,225 institutions. This works out to 1.45 system per institution.
Therefore, several institutions use more than one BI system. Actually, we have calculated that about 50% of institutions use more than one system.
Don't forget to register for LISTedTECH's weekly newsletter
For fun, I looked at the top 10 systems used in HigherEd and worked out the average number of systems that are used together.
So if an institution uses Cognos, we have seen that about half of these also use another system. If an institution has Tableau specifically, they are almost sure to be using at least one other BI system.
What could this mean? Why do institutions use multiple BI tools?
My interpretation: The University of Ottawa, where I work, had Cognos and recently decided to move to Oracle. The two systems worked well, once the setups had been done. However, the issue was and still is that both systems (IBM and Oracle) are difficult to use for ad-hoc or unplanned queries/requests. So for this purpose, we have and will continue to use Tableau.
| | |
| --- | --- |
| Company | Avg # systems used with |
| Evisions (Argos) | 1.55 |
| IBM (Cognos) | 1.55 |
| Microsoft | 1.71 |
| Oracle | 1.75 |
| Homegrown | 1.75 |
| SAP | 1.83 |
| Blackboard | 1.94 |
| SPSS | 2.01 |
| Ellucian | 2.27 |
| Tableau | 2.37 |