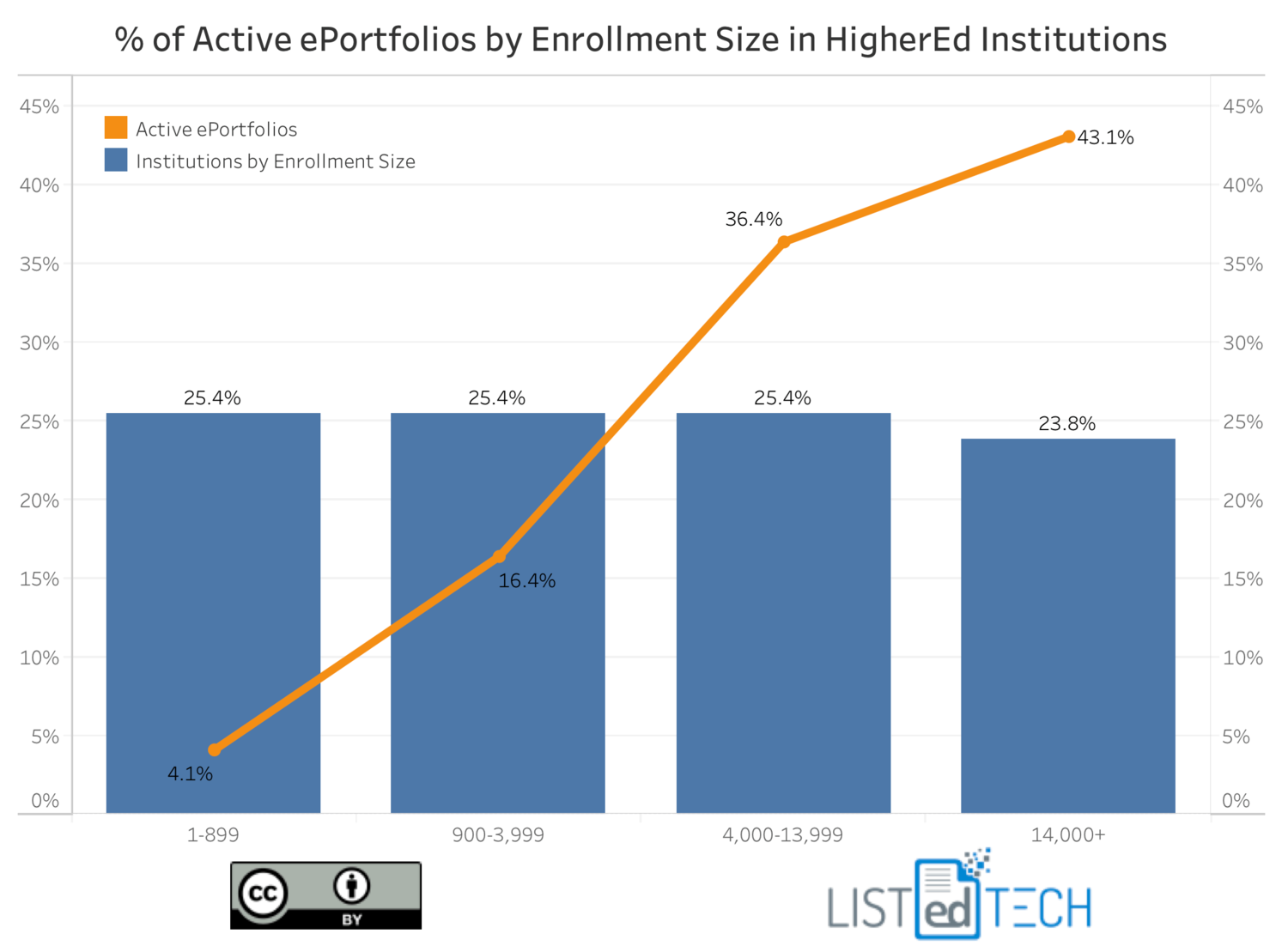 Properly prepared and well-managed e-portfolios can be indispensable tools in a higher education setting. Both for students and faculty alike, digital portfolios offer a variety of benefits for all involved.
The fact that more schools, colleges and universities don't already exploit the full potential of e-portfolio platforms is surprising.
An extensive poll carried out by a major market research firm indicated near-unanimous praise and positive feedback among those currently using e-portfolios. Students with access to digital portfolio technology can assess their strengths and weaknesses, strive for continuous improvement and manage their performance. For faculty, e-portfolios provide the essential data and insights needed to plan and action improvements to their curriculums, teaching standards and approach to education in general.
E-portfolios can be rich and indispensable sources of information for educators and students, which going forward should become a standard feature at all proactive schools and colleges.
What is an E-Portfolio?
As the name suggests, an e-portfolio is simply a digital portfolio used to store and showcase the achievements of students throughout their education. It's an innovative, dynamic and surprisingly simple alternative to a conventional portfolio, which over time amasses various forms of 'evidence' regarding a student's capabilities and accomplishments.
Some of the components of a typical e-portfolio are as follows:
Digital copies of assignments, dissertations, and essays
Programmes of study and evidence of courses taken
Photographs, video clips, sound bites, and other media
Evidence of performing arts, creativity, and innovation
Recommendations, references, and endorsements
Verification of extracurricular activities
Copies of examination papers and results
The flexibility of a good e-portfolio system is such that it can be used for practically any purpose, as deemed beneficial by the institution in question. There are different types of e-portfolios – professional e-portfolios, learning e-portfolios, specialist faculty e-portfolios, and so on – all with their unique functions and benefits.
However, all e-portfolio solutions have the same basic objective in mind – to enhance the educational experience of students and help them build stronger, more successful educational and career paths.
How Students Stand to Benefit from an E-Portfolio
A recent study conducted by Gail L. Ring (from Pebble Pad) and Chelsea Waugaman and Bob Brackett (from Clemson University) carried out in the United States found that the vast majority of employers support the use of electronic portfolios. Suggesting that when polled, more than 80% stated that they would find e-portfolios useful as part of the recruitment process, enabling them to quickly and effectively screen candidates and hire the right people for the right roles.
Further back, a study carried out in 2011 concluded that the use of e-portfolio technology could prove highly beneficial for students and graduates looking to market themselves and their skills to potential employers. Experts highlighted how a digital portfolio can be used to present a much stronger and more appealing case than any conventional portfolio of work.
Current MARKET PENETRATION of E-Portfolio SOLUTIONS in North American HigherEd Institutions (sorted by Institution Size)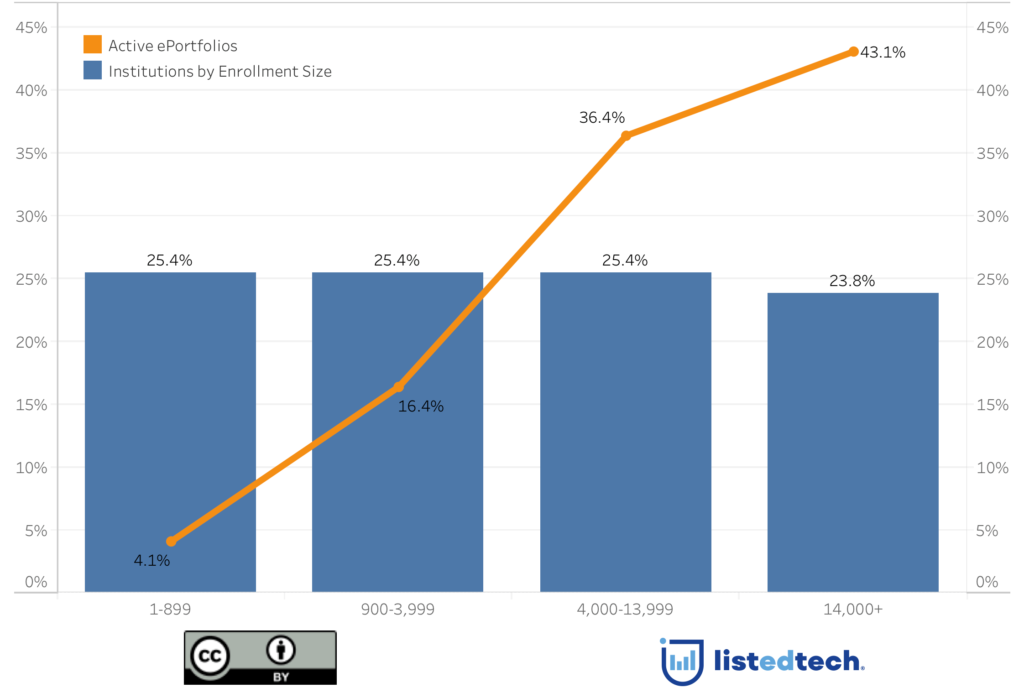 Again, prompting surprise concerning how sparsely e-portfolio technology is currently being used, especially when we know that free, open-source and even LMS built-in solutions exist in the market.
To date, all published studies support the adoption and the potential benefits of e-portfolios. They have pointed to the same advantages for the students using them:
Many graduate school programs now require a portfolio of work as a fundamental prerequisite – some of which now only accept applications from students with digital portfolios.
Students using e-portfolios are able to reflect on their accomplishments, their strengths and their weaknesses, in order to strive for continuous improvement throughout their education.
An e-portfolio provides the student with the ability to perform regular assessments of their abilities and build a more accurate picture of where they would like to see themselves longer-term.
Digital portfolios are exponentially easier to create and manage than traditional portfolios, with no limitations whatsoever regarding capacity or complexity of content.
Educators and faculty members authorized to do so can access and analyse the digital portfolios of their students, in order to help create action plans that leverage their strengths and address their weaknesses.
Adoption of e-portfolio platforms in the higher education sector is accelerating, but still has a fair way to go. Traditional portfolios continue to serve a purpose in the meantime but cannot compare with digital portfolios where convenience, flexibility, and all-round benefits are concerned.
Some of the e-portfolio companies for which we have data
Avenet MyeFolio

Blackboard Portfolio

CampusEAI Consortium MyCampus ePortfolio

Chalk & Wire MyMantl

Desire2Learn ePortfolio

Digication e-Portfolio

DuraSpace Dspace

ElearningForce International SharePoint E-Portfolio

Epsilen Enterprise ePortfolio

Instructure Canvas ePortfolio

Mahara

OneFile Eportfolio

Pathbrite Portfolios

Pebble Learning PebblePad

Portfolium ePortfolio

Taskstream ePortfolio

Watermark Taskstream