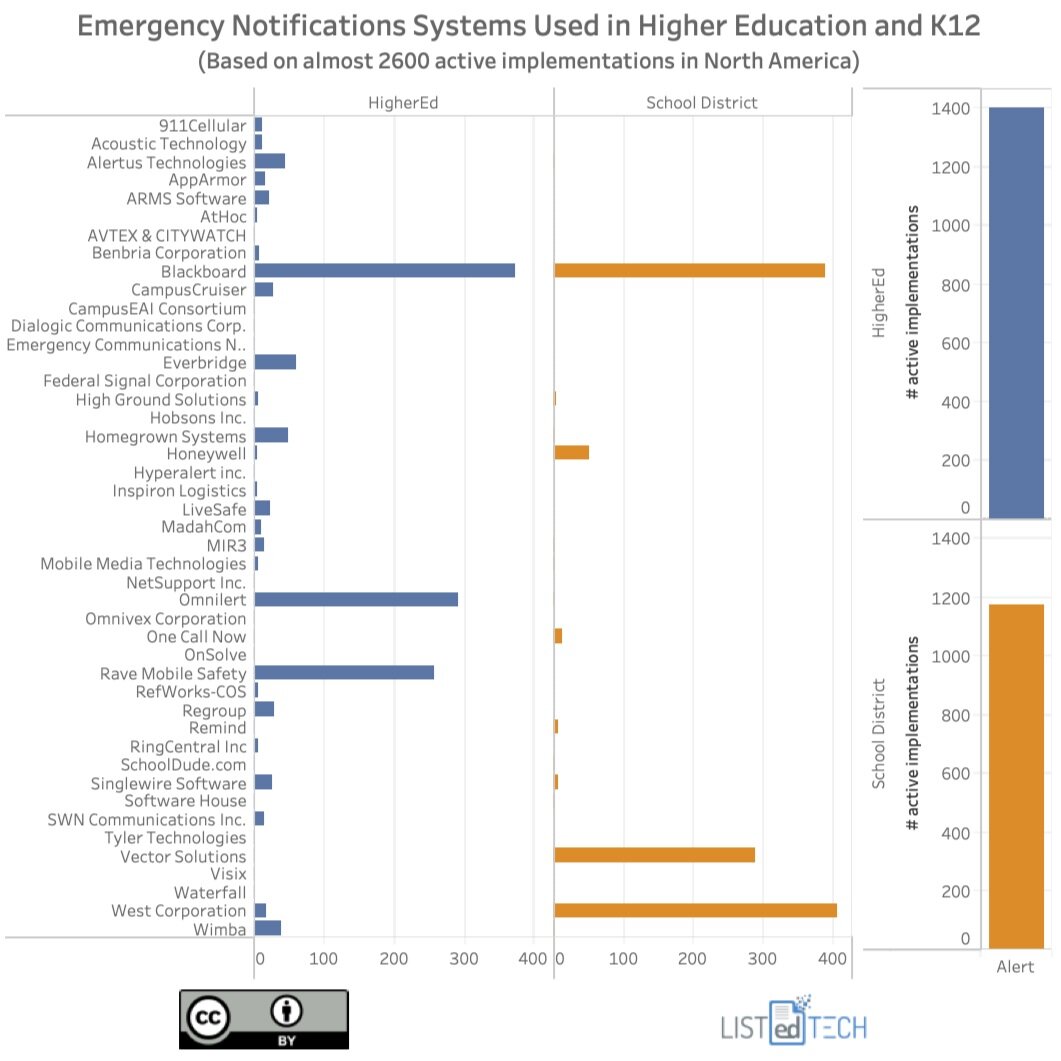 Mass notification systems have been around for some time, used on college campuses and in larger business settings to provide important information in time-critical situations. Emergency notifications in higher education have long been a priority for many providers, but even today are overlooked in countless educational settings.
Exact statistics are hard to come by, as providers may already believe they have reasonably robust systems in place to alert the students, faculty, families and staff in the case of unexpected events.
This is an assumption contradicted by figures released by ENS specialist Ominlert, which suggest that at least 55% of students would not know what to do should an emergency occur in school. They also revealed that more than 37,500 criminal offences are reported on campuses each year, along with an astonishing 44,500 annual on-campus arrests in the US.
Meanwhile, data published by Security Sales revealed that almost 75% of campuses use multiple emergency notification systems, as opposed to a single unified early warning system.
An Evolving Risk Landscape
Unfortunate events that have taken place on college campuses over recent years have demonstrated the criticality of adequate technologies and communication infrastructures to provide instantaneous alerts in the case of emergencies.
It is a risk landscape that is continuously evolving, forcing higher education providers to prepare appropriately for a diverse range of threats. Examples of which include disease outbreaks, violent protests, extreme weather conditions, cybersecurity breaches, active shooters, bomb threats and so on.
In all such instances, the rapid release of key information at the right time and in the right way can maximize safety and minimize (or prevent entirely) loss of life.
Who Needs an Emergency Notification System?
An emergency notification system should be considered mandatory in any instance where urgent information may need to be passed to a large group of people at the same time at short notice, for the benefit of their health and safety. This includes all educational environments and college campuses, but also extends to healthcare facilities, businesses and others.
Important to remember is how the benefits of an effective mass notification system extend beyond warnings of events and emergencies that pose a threat to life. They can be used to transmit messages to select recipients only, providing information on things like IT issues, power outages, schedule changes, and more.
An ENS can therefore be a surprisingly versatile tool – if tailored to meet the needs of the organization or institution in question from scratch.
Choosing the Right Emergency Notification System
Scope for customization and scalability should always be prioritized when selecting systems like these. As the needs of higher education institutions are changing all the time, it is important to choose a system that can adapt to these shifting requirements accordingly.
Interestingly, a paper published by the National Clearinghouse for Educational Facilities found that it is far more effective to implement a campus-wide ENS and give students the option to opt-out, rather than making it optional to opt-in.
"Florida State University uses an opt-out approach, and has an 85% participation rate; UCLA's Bruin alert system encourages students to register their cell phones, with only a 35% success rate," reads the report.
In terms of its basic functionality, there are three primary features every emergency notification system should provide – detection, response, and alert:
Detection
This refers to the capacity of the system to automatically detect unusual, suspicious, or potentially dangerous activity of any kind. Typical examples of which include door and window opening sensors, gunshot detectors, IT equipment and network alarms, fire detection systems, motion detectors, severe weather early warning systems and panic buttons that can be activated manually.
Response
Where detection occurs, an appropriate response should be triggered automatically and instantaneously. This could include the activation of audible and visual alarms, initiation of sprinklers or fire suppression equipment, closure/opening of doors and windows, immediate power shut-offs, IT system shutdowns, and so on.
Alert
In accordance with the preferences and requirements of the owner, the system can be programmed to send alerts to the entire group of people included in the system or select individuals. Alerts can also be automatically sent to the relevant emergency services, such as the fire department in the case of fire detection. Again, these alerts can be automated for sending in the event of a certain scenario or triggered manually in others.
Unfortunate but Essential…
Where emergency situations present themselves, the subsequent outcome will almost always be determined by the extent to which it was anticipated and prepared for. Unfortunately, far too many higher education providers and businesses, in general, do not make adequate provisions for all possible eventualities.
An emergency notification system for a higher education institution is like any other mandatory insurance policy. You hope you will never have to use it but will be glad you have it if the need arises.