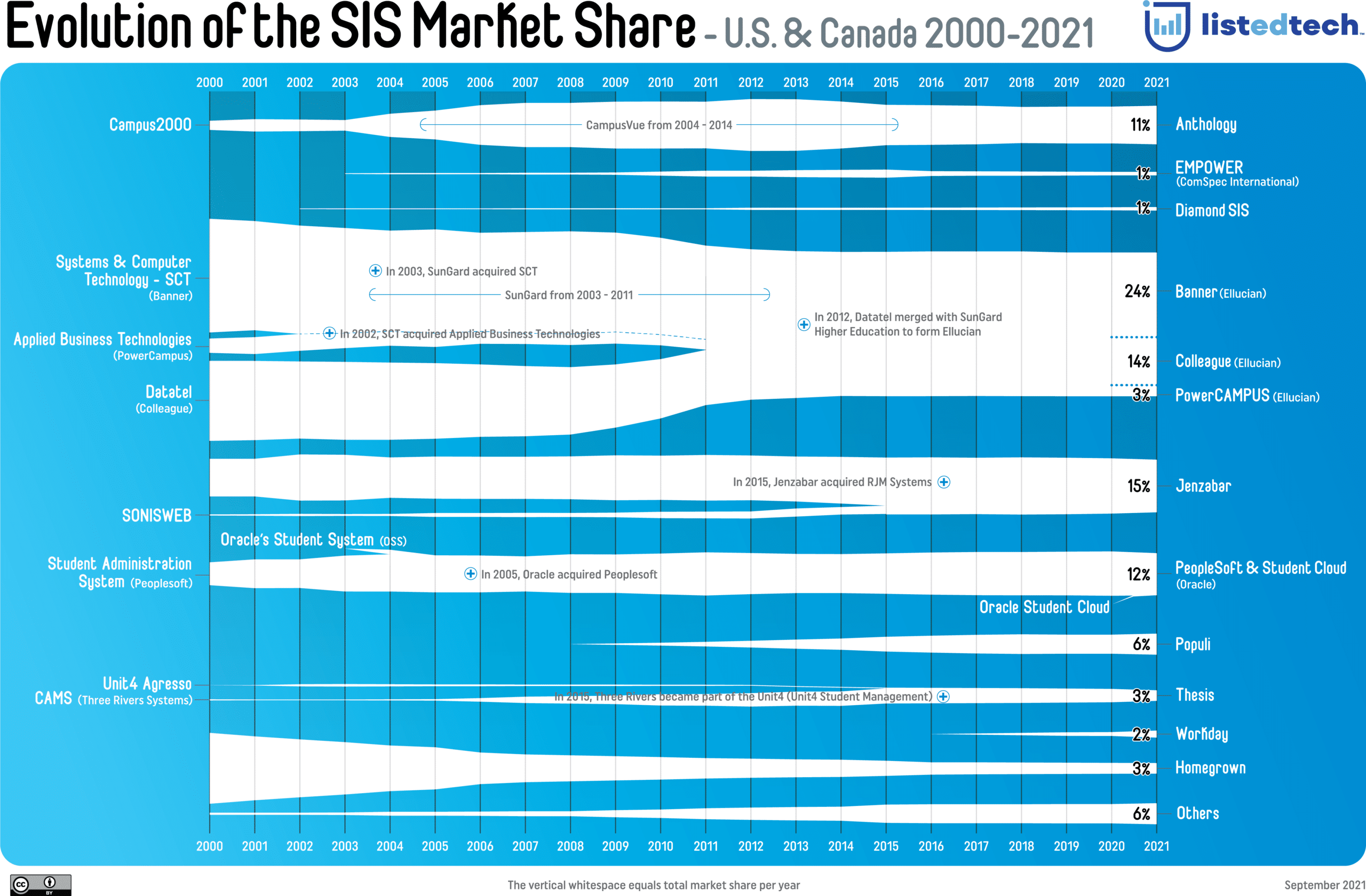 This week, we present our annual update on the SIS market share in the U.S. and Canada. When we compare the 2021 market situation with 2020, there are no major differences but, when we look at the specifics, we see intriguing data.
Although the SIS market is still dominated by very few companies, the four SIS vendors with the most significant market share (Ellucian, Jenzabar, Oracle and Anthology) have passed below the 80% mark, a first in more than five years. Jenzabar and PeopleSoft have lost respectively 1% of their market share. You may have noticed that we have slightly changed our graphs: we have split up the three solutions offered by Ellucian. This new way of presenting the data shows that Banner (24%) and Colleague (14%) help Ellucian lead the SIS market while PowerCAMPUS (3%) has seen very few new clients in the last five years. It has, however, been increasing its clients in the Middle East.
Meanwhile, the smaller solutions have secured a bigger market share: Populi and Workday gained 1% each. Please consider that we affix smaller or larger qualificatives to solutions based on their market share and not on their target institutions. For instance, Workday has a smaller market share but targets medium and large institutions.
We explain Populi's increase of market share with two factors:
we constantly increase our coverage of the SIS market to include smaller institutions;
smaller institutions decide to implement student information systems.
Due to several features encompassing a student lifecycle, Populi looks to be the choice of more smaller institutions. The novelty of Workday Student (a new SIS since 2015) can also explain the increase of this company in the market share.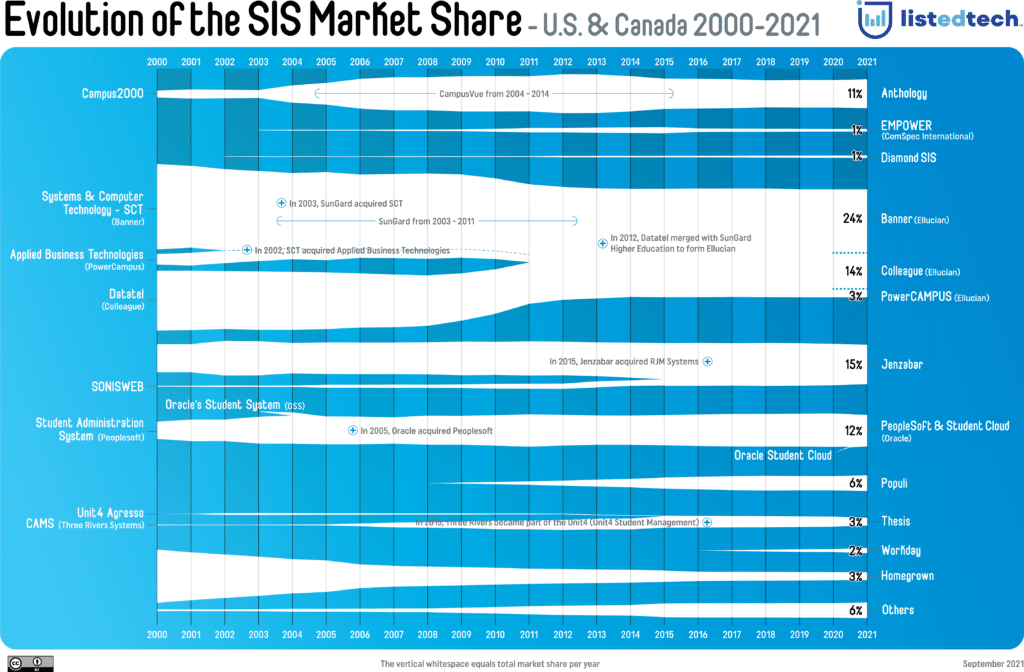 Download a PDF version of the graphs:
Evolution of the Higher Ed SIS Market Share, 2000 – 2021
Evolution of the Higher Ed SIS Market Share, 2000 – 2020
When we look at the SIS market, institutions implemented more solutions in 2020 than in 2019. However, we have noticed no big changes in the market shares for the homegrown systems and the 'others' categories. This situation is about to change as colleges and universities are eager to switch their old system for the best-hosted solutions to avoid the maintenance cost of an internal solution. Workday seems to be shortlisted by many institutions as we mentioned in our article about Workday implementations: "North American HigherEd institutions select Workday SIS at an increasing rate, going from 10% in 2018 to about 30% in 2021 of new implementations and this is in a market which comprises very small institutions that would not consider purchasing a large enterprise solution such as Workday. For this reason, 30% represents an even bigger share of the market for such a solution." The article also presents a graph showing that Workday will be replacing more homegrown systems than any other solutions during the 2022-2028 timeframe.
Please note that some of the Workday data we use is based on contracts that have Workday SIS price hold on the product and have not officially signed the contract. We are counting them because announcements have been made that the system will be implemented.
A few years ago, we mentioned that institutions were waiting on significant SIS commitments until new products and major revisions of existing products become available. We expected market share percentages to change over the next five years as revised offerings became available and schools move from holding to active RFPs and procurements. This is happening now, as the graph below shows 2021 numbers closing in on 2014 numbers and probably surpassing them. This will be the highest number of new implementation (not upgrades) in the last 8 years.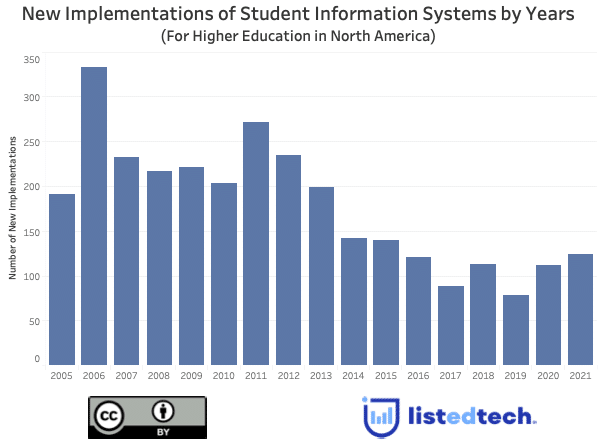 With the pandemic came the urge to implement several solutions to support online learning and evaluation. When updated SIS products hit the market, many schools assume they would move to their new SIS systems as soon as their institution wished. Similar to other business sectors, qualified implementation consultants are in high demand. Schools may have to wait longer than they expect to implement a new SIS if consultant availability becomes an issue.