We first published this post last week (on July 19, 2021). Within hours of its initial publication, the article gained traction from consultants and some employees at Illuminate Education questioning our data on its student information system. We think it's a good occasion to explain how we get our info and why our data was wrong.
Two points:
In 2019, Illuminate announced that they would sunset their SIS before the 2021-2022 academic year to concentrate on student achievement solutions. With the many sources of information available on the Internet, we conducted certain checks but omitted this important one.
Even though we validate our datasets each year, which includes system URLs that are still working, our core problem for Illuminate Student Information was that we had wrongfully tagged this product. We identified it as the sunsetted SIS during our periodical reviews of products in our database instead of tagging the product as Assessment and Evaluation.
We have therefore updated our datasets and eliminated all wrongful information regarding Illuminate. I would like to thank everyone who reached out to highlight the issue and help us comprehend the mistake.
Note: Illuminate still owns the eSchoolData SIS (https://www.illuminateed.com/products/eschooldata/)
Here is the updated post with new visualization graphs.

—————
Since its inception, LISTedTECH has been a reference for HigherEd system data. For the past three years, we have added K-12 data to our database and in 2019, we did a first system historical implementation targeting only the K-12 submarket. It's now time for an update.
Since our last update, we added SIS data for another 1,750 school districts. As of July 2021, we are almost at 8,900 (8,856 to be exact).
Current K-12 SIS Market Share
As you can see in the graph below, PowerSchool is dominating the product category in North America being more prominent than the next four competitors combined (Skyward, Infinite Campus, Texas Computer and Edupoint). A quick search online shows that PowerSchool is very active in acquisitions in the past five years, but most of its acquisitions were not in the SIS sphere; it was acquisitions of complementary products (LMS, student success, data analytics, reporting tools and library management).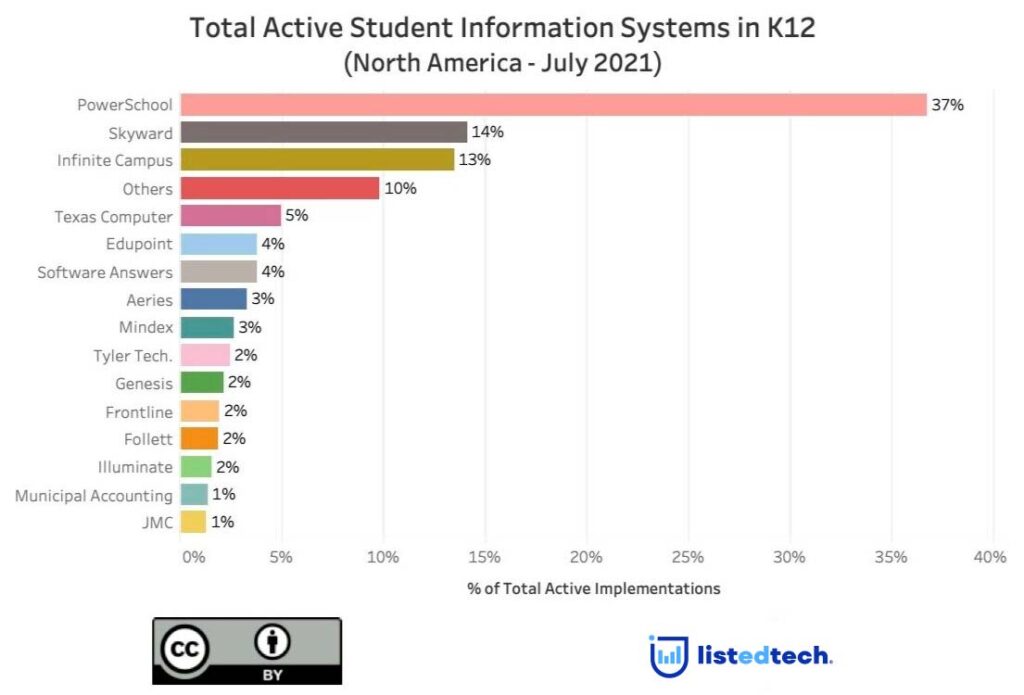 When we look at the market share graph, we notice that the Others category represents an essential market share segment. Actually, the K-12 SIS market is one of small players. This is about to change for at least one company: Follett. In partnership with Fujitsu, Follett could implement Aspen, its student information system, to all Ontario schools (3,900 primary and intermediate schools and 920 high schools). In early 2019, it was selected as the preferred vendor by the Government of Ontario. Currently, half of the Ontario school districts have decided to move forward with the implementation of Follett Aspen.
Historical Implementations (2011-2020)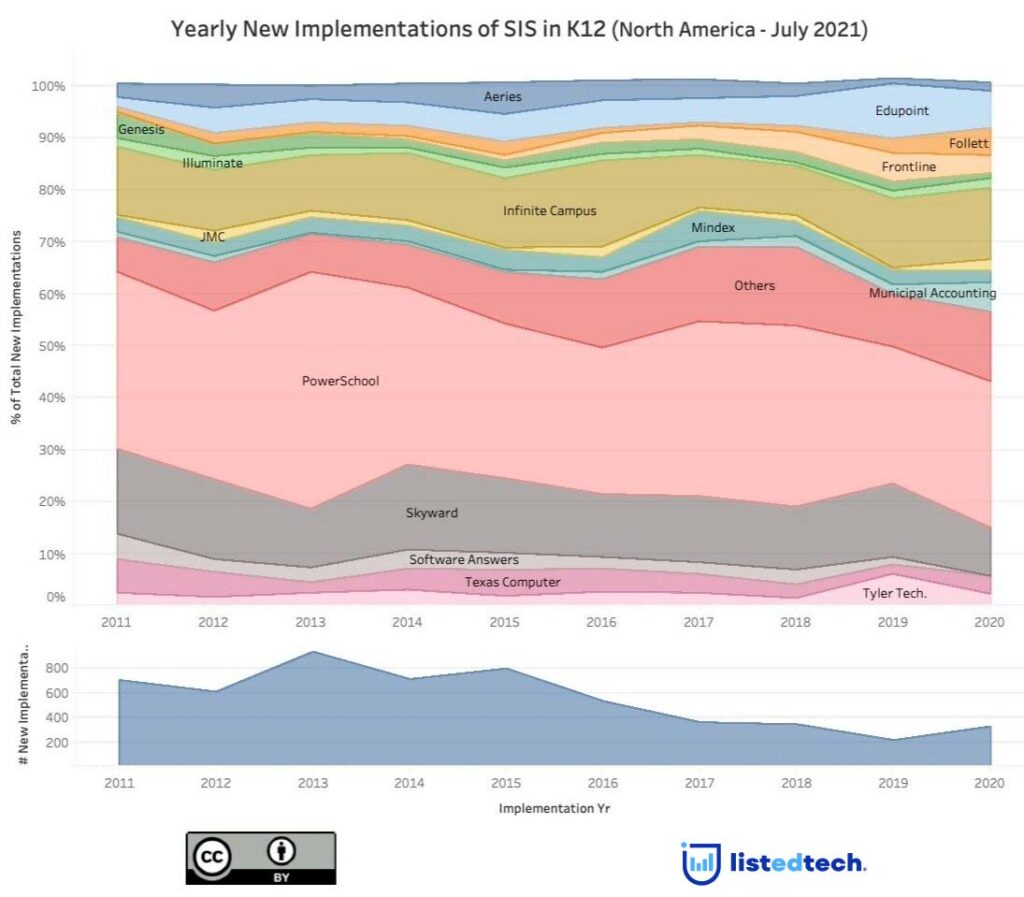 As shown in the graph above, PowerSchool's new Implementations are slowing. We see new implementations at about 26-30% of new North American K-12 SIS. This is lower than the 37% needed to maintain or increase market share. When we look at the K-12 SIS market, this is considered a very stable market since the market shares are roughly the same over the years. In the past 2-3 years, we noticed that Edupoint and Follett, saw a small increase in new implementation market share. These two companies combined represent only 6% of all active implementations.
When we look at the bottom part of the graph, the K-12 market drastically slowed down from 2015 until 2017 and has remained fairly stable.