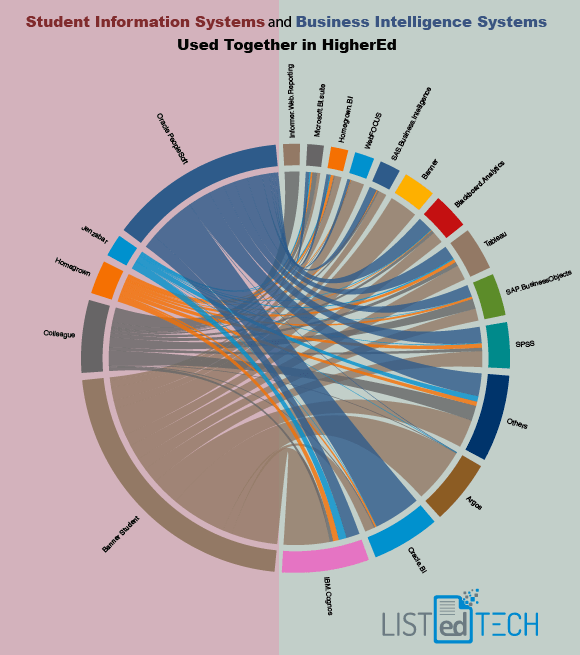 In today's competitive market, higher education institutions need to be aware of all the moving parts of their business. By combining high performing systems' like Student Information Systems (SIS) and Business Intelligence Systems (BI), institutions can better understand the hot topics that might need 'massaging'. The following chord diagram (as with the previous one we did matching SIS/LMS) will show the BI systems used with the top five SIS systems.
The data in the graph matches the following criteria:
HigherEd institutions using one of the following SIS systems (Peoplesoft, Banner, Jenzabar, Colleague or Homegrown) and a BI system that is listed in our database.
Based on the criteria above, we have 1,035 HigherEd institutions.
We discovered a few interesting points:
Argos BI and Banner BI are almost exclusively used with Banner SIS Institutions.

Informer Web Reporting (Entrinsik) is almost exclusively used with Colleague SIS Institutions.

Oracle BI is mostly used with the Oracle Peoplesoft system but also with Banner SIS systems (mostly institutions that have Banner Financial and HR).

IBM's Cognos looks to have a high percentage of Peoplesoft institutions.

Other companies that don't have ERP related products like SPSS, Tableau, Blackboard SAS, etc., look to have proportional ERP clients.
Sign up for our weekly newsletter
Note: The proportions of BI and SIS are not necessarily representative of market share. We simply took a subset of institutions that had both an SIS system and a BI system listed in our database.