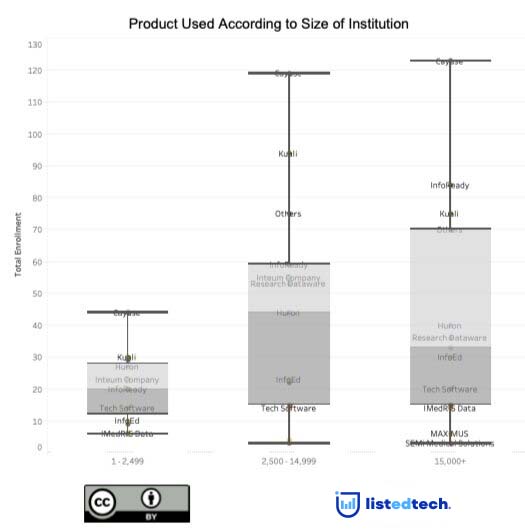 As announced in late May, we worked on the new version of the grant management system report. We are happy to announce that the report is now available for companies to buy. It is also available at no charge to institutions -more information on downloading the report at the end of the post.
At the core of its business strategy, LISTedTECH wants to gather as much data as possible. Since last year, we have added more than 800 records across the grant management product category, and our data is getting more precise. Here is a snapshot of a few graphs: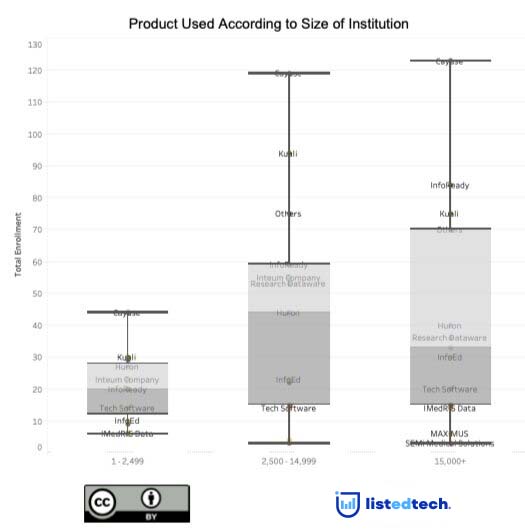 We often hear that the institution size could have an impact on which product an institution will select. In the graph above, we can notice that Cayuse and Kuali are the top-2 companies in small and mid-size institutions, while InfoReady takes second place for the bigger institutions. In the third position, we notice a different company depending on the size. Based on the analysis we did, the institution's size does not seem to be a critical point to consider when choosing a grant management system.
Management of grant systems is often linked to leading research universities. When it comes to R1/R2 Universities group, many top research universities are using Cayuse, Kuali and InfoReady. In fact, these three companies represent 48% of all implementations for doctoral/research universities. This year, in addition to the R1/R2 Universities graph (immediately below), we created a graph based on the research income of these universities. Please note that an institution can use products from multiple companies.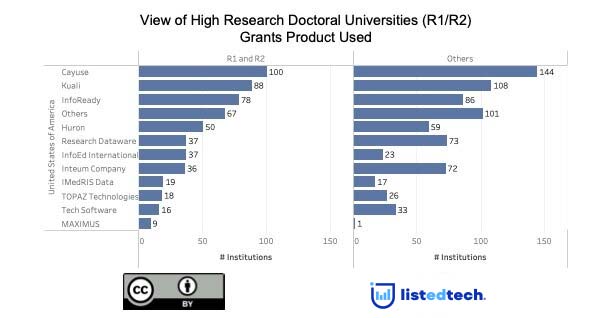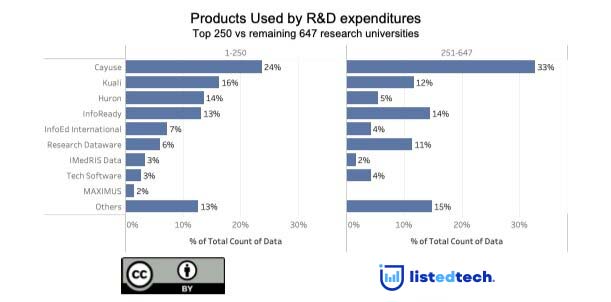 The table above shows the top 647 research universities based on R&D expenditures as reported by NSF.gov. In the left column (top 250 institutions), Cayuse, Kuali and Huron are the most popular choices. In the right column (251-647), Cayuse is the most popular option, followed by the Others category and InfoReady.
Did these few graphs pique your curiosity? Be aware that the full report is available for purchase by companies. Any interested company should contact info@listedtech.com.
We are also happy to announce that Cayuse has once again purchased the report and will be offering it free to all institutions. Please visit https://cayuse.com/listedtech/
An important note: the grant management system report represents the higher education market and is not intended to give information on other sectors, such as medical or health groups where grant systems are used.