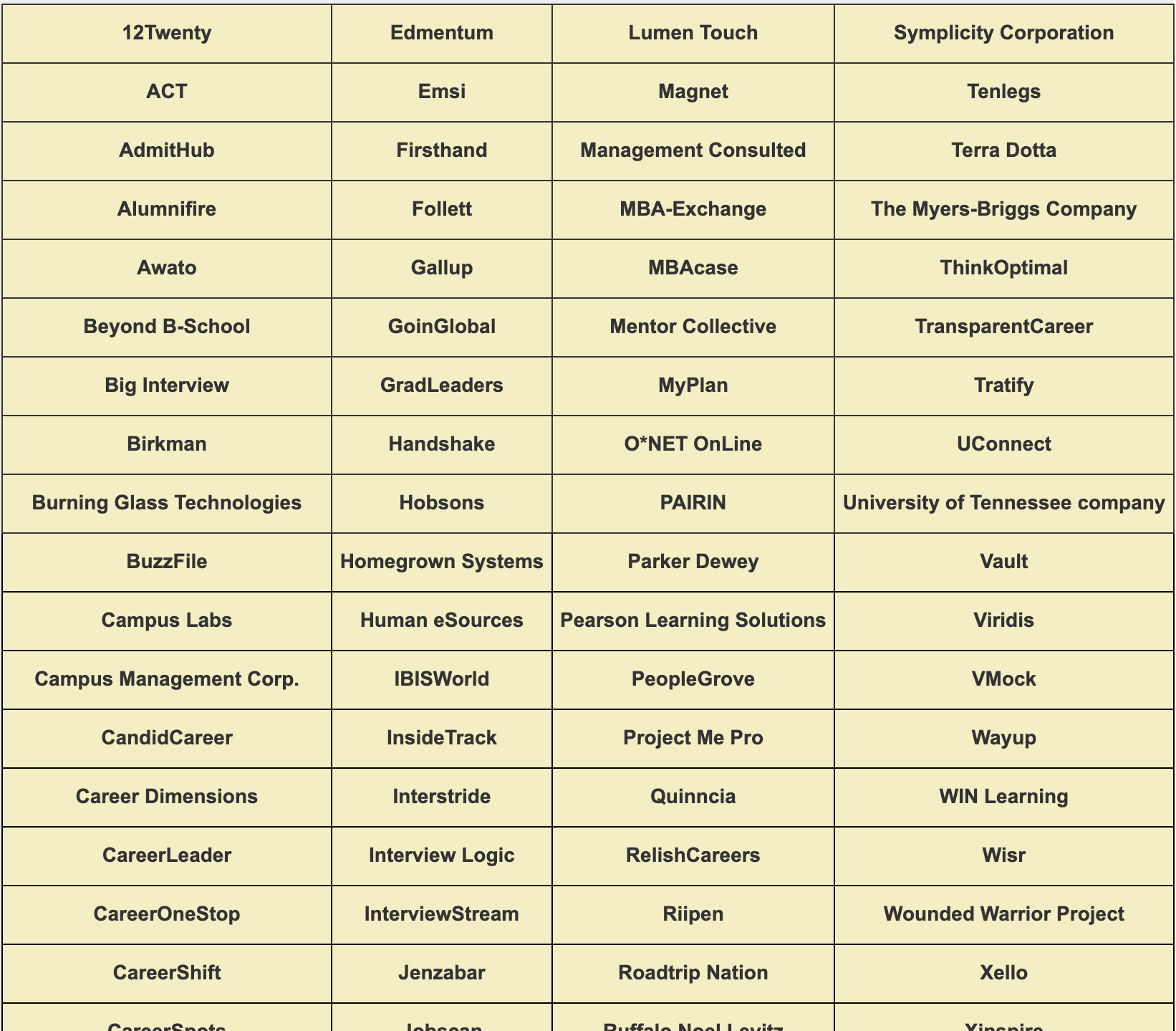 We have recently come to realize that our definition of Career Readiness Solutions was much too narrow. Youths in the HigherEd system are faced with many life challenges and institutions are now looking at ways of providing an education that will also teach them life skills normally learned outside the classroom, making students employment outcomes a priority at post-secondary institutions.
We have henced widen our definition for Career Readiness to include the following:
Assessment

Career exploration

Career services management

Interview preparation

Labour market information

Mentoring & networking

Resume building
Some articles speak of post-secondary institutions as places that prepare students for their fifth job, not their first, but as those post-secondary institutions are redefining their career readiness outlook, many are trying to supply faculty with the means to incorporate the necessary job-relevant skills in their curriculum. Other institutions are creating or modifying their professional development centre to offer the latest tools and necessary support to equip their students with the latest and relevant skills for the workforce using a variety of readiness management systems.
A good example of this change for professional development centres is the integration of technology solutions in their daily operations. The traditional bulletin boards are long gone; now students and education professionals are using SaaS to connect to the job market. For example, 12Twenty (12twenty.com) is developing an online solution to post jobs, manage events or on-campus interviews and schedule appointments. The idea is to connect the outside world with soon-to-be graduates during their co-op program or when they hit the job market.
Other online solutions will connect students with potential employers. Handshake (www.joinhandshake.com) specializes in first jobs and internships. Students can simply create a profile, search or filter job postings and apply within a few clicks. With university students more anxious than ever and stressing out about their GPA, Handshake proposes a more thorough approach: students get the chance to fill out a profile without having to meet with anyone.
Career readiness solutions also include career prospection tools. Even when they are enrolled in a college or a university, students often ignore their true passion and miss exciting careers because of a lack of knowledge. In high schools, guidance counselors (GC) have large groups of students as well as less and less time to perform orientation tests. MyNextMove (www.mynextmove.org) can help students find their future careers by offering lists of careers as well as domains and a questionnaire for students to fill out in order to obtain a list of careers matching their interests. This method may not be as accurate as an appointment with a GC, but it sure helps the younger generation know themselves better.
In the past few years, we have seen many new career readiness solutions become available to students and HigherEd institutions are gladly using these tools to ensure graduates transition to the workplace with all the knowledge needed to succeed.
Some of the companies that are part of our career readiness solutions definition.
| 12Twenty | Edmentum | Lumen Touch | Symplicity Corporation |
| --- | --- | --- | --- |
| ACT | Emsi | Magnet | Tenlegs |
| AdmitHub | Firsthand | Management Consulted | Terra Dotta |
| Alumnifire | Follett | MBA-Exchange | The Myers-Briggs Company |
| Awato | Gallup | MBAcase | ThinkOptimal |
| Beyond B-School | GoinGlobal | Mentor Collective | TransparentCareer |
| Big Interview | GradLeaders | MyPlan | Tratify |
| Birkman | Handshake | O*NET OnLine | UConnect |
| Burning Glass Technologies | Hobsons | PAIRIN | University of Tennessee company |
| BuzzFile | Homegrown Systems | Parker Dewey | Vault |
| Campus Labs | Human eSources | Pearson Learning Solutions | Viridis |
| Campus Management Corp. | IBISWorld | PeopleGrove | VMock |
| CandidCareer | InsideTrack | Project Me Pro | Wayup |
| Career Dimensions | Interstride | Quinncia | WIN Learning |
| CareerLeader | Interview Logic | RelishCareers | Wisr |
| CareerOneStop | InterviewStream | Riipen | Wounded Warrior Project |
| CareerShift | Jenzabar | Roadtrip Nation | Xello |
| CareerSpots | Jobscan | Ruffalo Noel Levitz | Xinspire |
| CenterPoint Education Solutions | JobZology | Salary.com | YouScience |
| College Central Network | Knowdell Card Sorts | SkillSurvey | ZipRecruiter |
| Credential Engine | LinkedIn | Sokanu Interactive | |