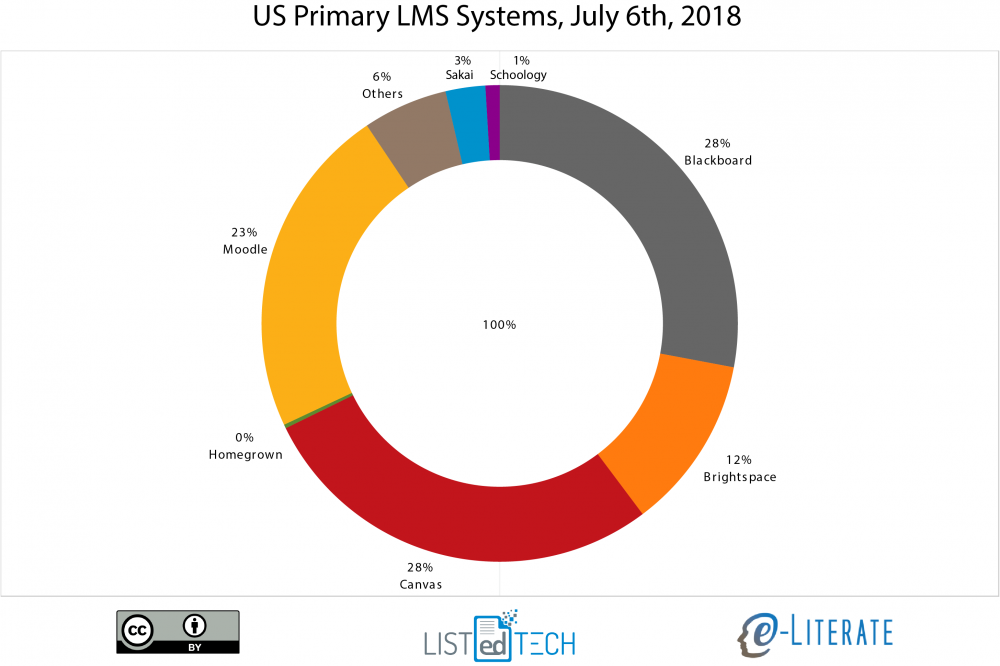 Other
Canvas Surpasses Blackboard Learn in US Market Share
As of July 6th, our data partner LISTedTECH informs us that Canvas is now the primary LMS in more US colleges and universities than Blackboard Learn. By a margin of two; Canvas has 1,218 installations, while Blackboard Learn has 1,216. Statistically speaking, the two companies are tied for US market share:
Source: e-Literate
---
Business Intelligence – Jefferson College
Jefferson College Taps Enterprise Reporting Software for Better Access to Data Insights
Jefferson College will be using Millennium's FAST Enterprise Reporting Suite across its finance, human resources and student reporting sectors.
With Millennium's pre-configured accessible reports, as well as analytics and dashboards for identifying trends and outliers, the College will be in a position to obtain reliable insight and information to distribute across departments.
Source: Campus Technology
---
Emergency Notification System – University of Guelph
U of G Launches Emergency Notification System
All faculty, staff and students currently on campus are now registered in U of G Alert, a new emergency notification system. The new system will send to uoguelph.ca email addresses, and their other contact methods, critical messages when an emergency happens on campus.
Source: University of Guelph News
---
Help Desk – McGill University
McGill IT Services Implements ServiceNow for Support Tickets
The July release of ServiceNow at McGill will include improvements to the ticketing process for managing IT support issues and service requests.
The goal of this new multi-year project is to standardize processes and improve the delivery and support of information systems and technology services used throughout the University.
Source: McGill Reporter
---
Online Program Management – University of Tennessee
UT's Haslam College of Business Launches Online Master's Degree with Noodle Partners
The University of Tennessee's Haslam College of Business, in partnership with Noodle Partners, will be officially launching its inaugural online graduate degree in mid-2019.
"We expect that this will be the first of many online programs as we continue to adapt to the changing needs of business students across the country," said Bruce Behn, Associate Dean for Graduate and Executive Education at Haslam College of Business.
Sources: Markets Insider | Nashville Business Journal
---
LEADERSHIP
Huffstutler named SIUE Associate Vice Chancellor for Information Technology and CIO
After serving as interim Associate Vice Chancellor for Information Technology and Chief Information Officer since 2015, Steve Huffstutler has now been named to that position by the Southern Illinois University Edwardsville. His appointment is subject to SIU Board of Trustees approval.
Provost and Vice Chancellor for Academic Affairs Denise Cobb, PhD, expressed her confidence in Huffstutler and gratitude for the work of the search committee, led by Associate Vice Chancellor for Enrollment Management Scott Belobrajdic, PhD.
Source: RiverBender.com