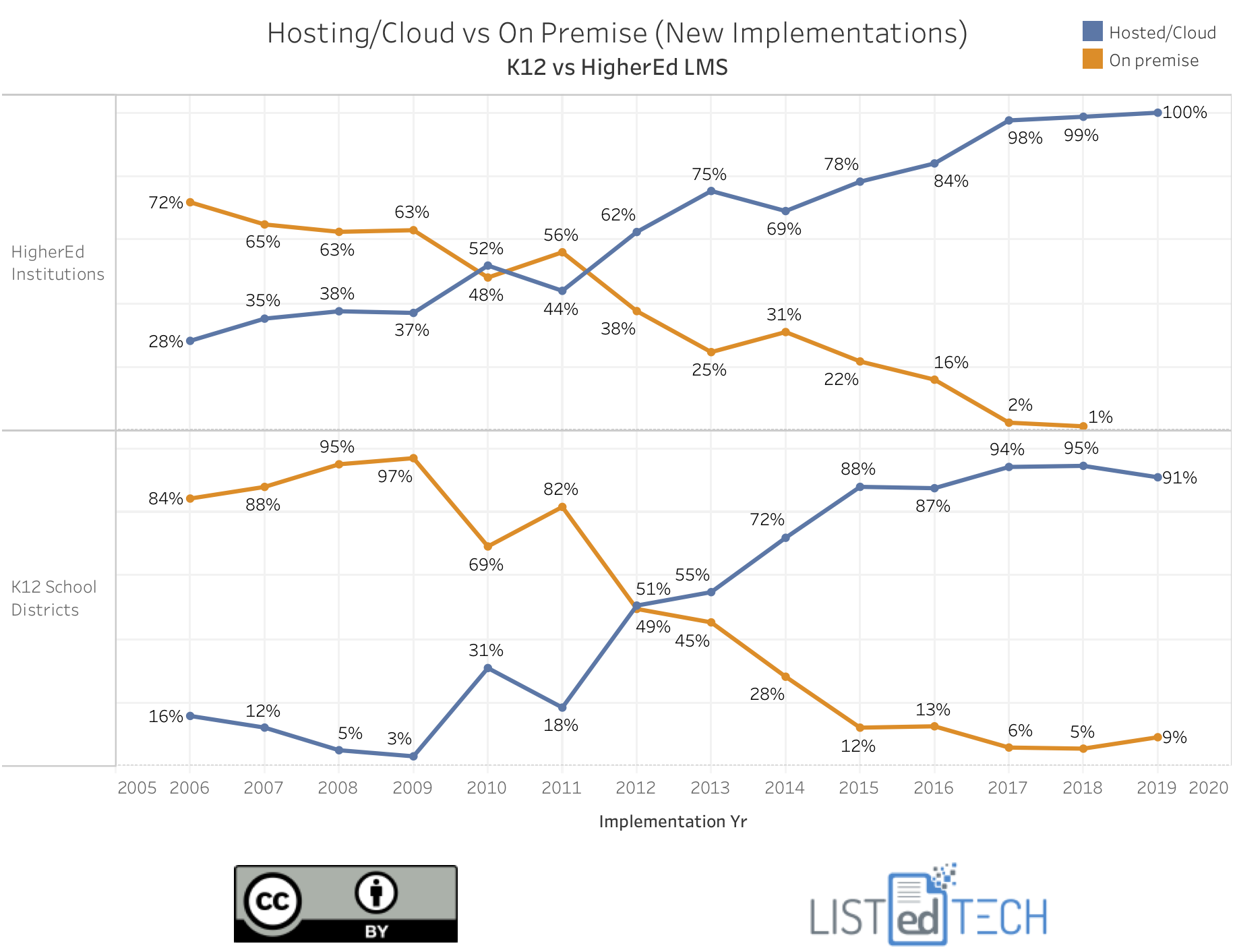 Progression of Cloud Hosting: Comparison of LMS Implementations
Cloud hosting has become more and more popular over the past decade. A few reasons can explain the switch from traditional (local) hosting to cloud hosting:
Performance: the cloud provides maximum server uptime and server duplication guarantees no single point of failure.

Security: it ensure data safety through identity management, data isolation and storage segregation.

Scalability: cloud hosting evolves with your needs and requires less investment in the early stages of the implementation.
As you can see in the graph, HigherEd institutions have adopted cloud hosting earlier than K-12.
For HigherEd institutions, about 50% of new LMS implementations were cloud-hosted by 2010.

For K-12 school districts, they crossed the 50% mark a bit later (in 2012) but once they reached it, they embraced this technology change more rapidly.
As of 2019, HigherEd and K-12 have similar rates of new cloud-hosted LMS implementations.
Our K-12 LMS subscription with MindWires will be launching in August. Stay tuned for details.
Data notes: we created the graph with USA and Canada primary implementations only.
Source: LISTedTECH
---
Other
Penn State World Campus Taps Google Cloud to Build Virtual Advising Assistant
Starting January 2020, academic advisors at Penn State World Campus will use a new artificial intelligence tool to assist undergraduate students. The new virtual assistant will help academic advisors with common requests, thus maximizing the school's resources and allowing advisors more time to meet face-to-face with students.
Source: Campus Technology
---
CRM/FIN/HR/SIS/Career Readiness – Del Mar College
Del Mar College Harnesses the Power of Technology to Deliver Dreams with Campus Management
The full-suite of CampusNexus solutions will be deployed at Del Mar College in an effort to support the growing need for a highly skilled workforce while ensuring greater access to higher education and training.
Modern, flexible, and configurable solutions will provide executives, faculty and staff with intuitive dashboards as well as real-time data and analytics which will provide valuable insights about the college's students.
Sources: Cision PR Newswire | Yahoo! Finance
---
FIN/HR – Baylor University
Baylor University Selects Oracle Cloud Applications to Gain Competitive Advantage
As a way to improve productivity and business insights, Baylor University chose to adopt Oracle Cloud Applications. Baylor is replacing its manual systems with the Oracle ERP Cloud, the Oracle EPM Cloud and the Oracle HCM Cloud, taking advantage of the cloud to standardize processes and manage financial, planning and workforce data.
"Education is evolving and the technology that drives our organization forward needs to reflect modern education best practices," said Becky King, associate vice president of IT, Baylor University.
Source: Yahoo! Finance
---
Student Information System – Capital City College Group
Capital City College Group Selects ebs to Transform their Student Journey
Capital City College Group, which comprises three of London's largest colleges, has selected Tribal's Student Information System ebs as a way to improve the way they collect, collate, analyze and share student information.
"Tribal's approach to student and teacher engagement aligns with the Group's strategy whilst offering strong core MIS functionality," says Colin Gibson, Head of Business Intelligence at Capital City College Group.
Source: Tribal Group
---
Textbooks – Bloomfield College
Bloomfield College Partners with Akademos to Manage Course Material Adoptions and Improve Textbook Affordability
Bloomfield College's students will now have access to low-cost textbooks and course material options as the college signed a new partnership with Akademos.
Beginning this fall, Akademos will provide the school with an online platform to easily access a wide variety of affordable textbooks and course materials. Additionally, it will support Bloomfield College's faculty and administrators with a comprehensive platform offering a modernized process for managing all aspects of course materials adoption.
Source: PR Underground