Other
Student Information Systems and Business Intelligence Systems Used Together in HigherEd
By combining high-performance systems' like Student Information Systems (SIS) and Business Intelligence Systems (BI), institutions can better understand the hot topics that might need 'massaging'.
The following chord diagram will shoe the BI systems used with the top five SIS systems.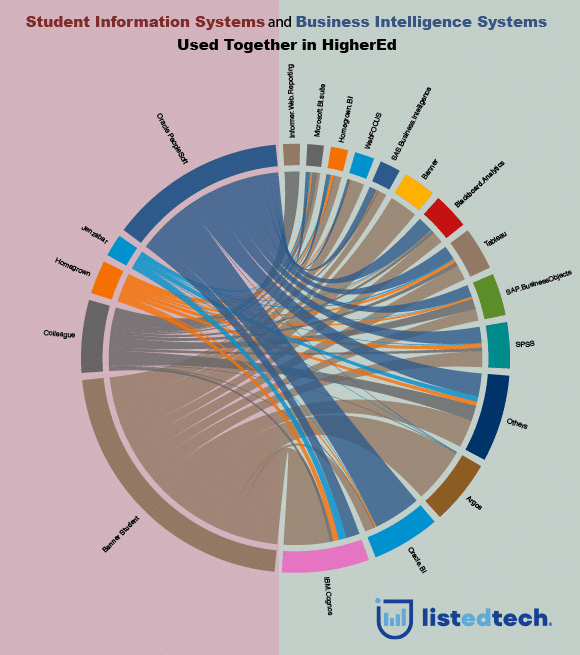 Source: LISTedTECH
---
Customer Relationship Management – University of Maine
University of Maine Selects Paciolan
The University of Maine has entered into a partnership with Paciolan in order to implement Salesforce CRM services, digital ticketing, and marketing services, thus providing a holistic solution to best serve the university's arts and athletics fans.
"We are excited to provide University of Maine with a campus-wide solution that will improve the experience of their Black Bears fans and arts patrons," said Paciolan President and CEO Kim Damron.
Source: Markets Insider | Globe Newswire
---
Georgia College Partners with Portfolium for GenEd Assessment and HIPs
In order to expand student engagement and assess competency through high impact practices (HIPs), Georgia College has partnered up with Portfolium.
As partners, Portfolium will lead Georgia College through their upcoming Georgia College Journeys program, an initiative created to expand course offerings of HIPs to their 7,000 students. The undergraduate curriculum will also be redesigned to align with the Association of American Colleges & Universities' Essential Learning Outcomes.
Source: Virtual Strategy Magazine
---
Library Information System – University of New Hampshire
University of New Hampshire Selects Ex Libris Alma and Primo
The University of New Hampshire (UNH) has chosen Ex Libris Alma library services platform and Ex Libris Primo discovery and delivery solution in its commitment to providing cloud-based solutions for higher education.
"As a medium-sized research library with a fairly lean staff, we must keep the duplication of work to a minimum. We see many ways in which the Ex Libris solutions will enable us to streamline our processes and work more efficiently," commented Kimberly Sweetman, UNH's associate dean of the University Library.
Source: Markets Insider
---
Learning Management System – Brigham Young University-Idaho
I-Learn Canvas Update
After a thorough evaluation, BYU-Idaho has decided to use Canvas as their official LMS. The process of conversion has already begun and courses are scheduled to be taught in Canvas beginning in the Fall 2018 semester; the full conversion is projected to be finalized by the Fall 2019 semester.
This decision was made with overwhelming faculty and student support, and the transition will bring cleaner usability to both students and faculty within I-Learn.
Source: BYU – Idaho News
---
Online Program Management – University of Tennessee
UT's Haslam College of Business Launches Online Master's Degree with Noodle Partners
The University of Tennessee's Haslam College of Business has partnered with Noodle to offer its first online graduate degree, a Master of Science in Supply Chain Management.
The course-building process will start this summer with Noodle's learning specialists and the program will officially launch in mid-2019.
Source: Markets Insider
---
Textbooks – University of British Columbia
UBC Faculty of Arts and Top Hat Partner to Expand Access to Higher Education
The Faculty of Arts at the University of British Columbia (UBC) and Top Hat, today announced they have partnered to expand student access to open educational resources and improve student engagement.
Expected to save more than $100,000 per year, UBC Faculty of Arts students will now have access to low-cost, high-quality and interactive course materials from Top Hat.
Source: Business Wire