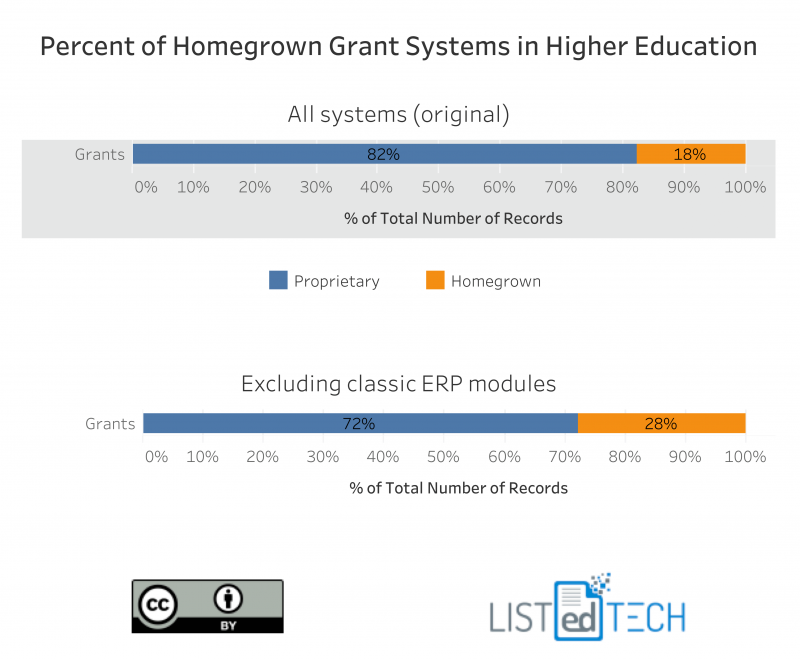 Other
Grants Systems Part 2
Our post on grant management systems from a few weeks ago generated a lot of interest. Software companies selling grant systems not only confirmed our findings but also told us that our estimated 19% of them being homegrown is probably too low a number.
The reason cited is that we have been counting financial add-ons to old/classic ERPs as grant systems.
Source: LISTedTECH
—
VitalSource Buys Acrobatiq, Expands Its Reach
VitalSource announced on Tuesday that it has acquired the assets of learning and data analytics platform Acrobatiq, positioning itself as more than just a deliverer of course material.
Marrying the data analytics and the adaptive technology of Acrobatiq's to VitalSource's publishing connections makes for a data-driven courseware company which offers a large choice of content to the masses.
Source: Inside Higher Ed
ePortfolio – California Community College
Portfolium Poised to Support California Community College CTE Initiative
A new investment from the State with the primary objective of funding innovative ways to fill the middle-skills gap found Portfolium's unique educational technology proves the platform to be crucial in supporting the initiative.
Portfolium addresses many of the challenges cited by the initiative, including the need to support traditional and non-traditional student transfers as well as creating clear career pathways while identifying the skills needed to do so.
Source: benzinga
Learning Management System – University of Suffolk
The University of Suffolk Selects D2L's Brightspace to Modernise Its Student Learning Experience
A couple of years ago, after gaining university status, the University of Suffolk decided it needed to upgrade its learning management system from Blackboard to a more modern, engaging and accessible system.
Following a rigorous tender process, the University of Suffolk selected Brightspace for its ease-of-use, responsive design, learning analytics capabilities and flexibility.
Source: Globe Newswire
Online Program Management – New York University
Noodle Partners Joins with New York University Robert F. Wagner Graduate School of Public Service to Grow Its Roster of Institutional Partners
Noodle Partners is announcing a new partnership with New York University's Robert F. Wagner Graduate School of Public Service to launch a groundbreaking online Master of Health Administration graduate degree program which is scheduled to begin in January 2019.
This comes at a time where the U.S. Department of Labor is predicting a 20 percent increase in the employment of medical and health service managers by 2026, making this new online program necessary for a marketplace demand of highly skilled healthcare administrators.
Source: Cision PRWeb
LEADERSHIP
Polk State College welcomes new CIO
Having recently worked for Ellucian as CIO for higher education institutions, Bob Stack just started in the position of Chief Information Officer at Polk State College.
Stack brings experience as an information technologist, manager, and administrator in higher education technology; qualifications that are crucial to a university which is transitioning to a new Enterprise Resource System.
Source: Polk State College News
—
Howard University Appoints Jonathan Piersol Chief Information Officer
Effective September 4th, Jonathan Piersol became Howard University's, Chief Information Office.
With over 30 years of business-focused technology and leadership experience, Piersol now supports the administrative, research and academic information technology and systems for the Howard University community.
Source: Howard University Communications