A lot of data on the Ed Tech Industry that you can get today.
A Data Portal with a lot of data on the Ed Tech Industry that you can get today, no-questions-asked.
Insights on who implemented what, the micro details and macro trends.
Across 21 product categories, worldwide, higher Ed and K12.
For product companies, consulting firms and investment firms.
Micro Details
Look up institutions and get historical data on their implementations.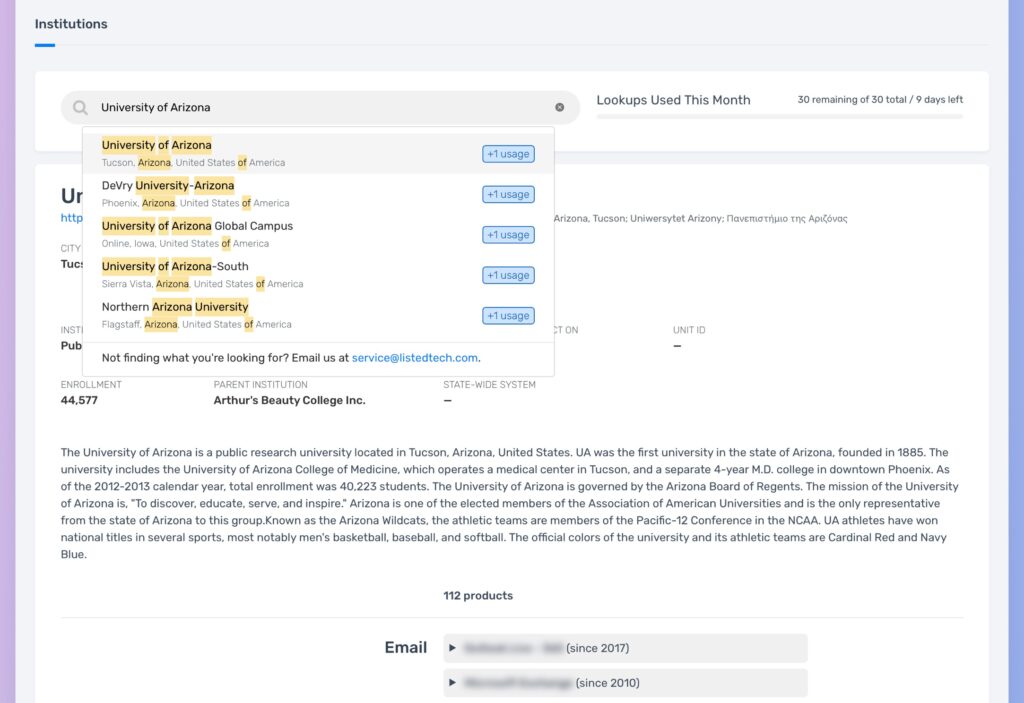 Macro Trends
See the trends by product category, drill down by enrollment, Higher Ed only, K12 only, and more.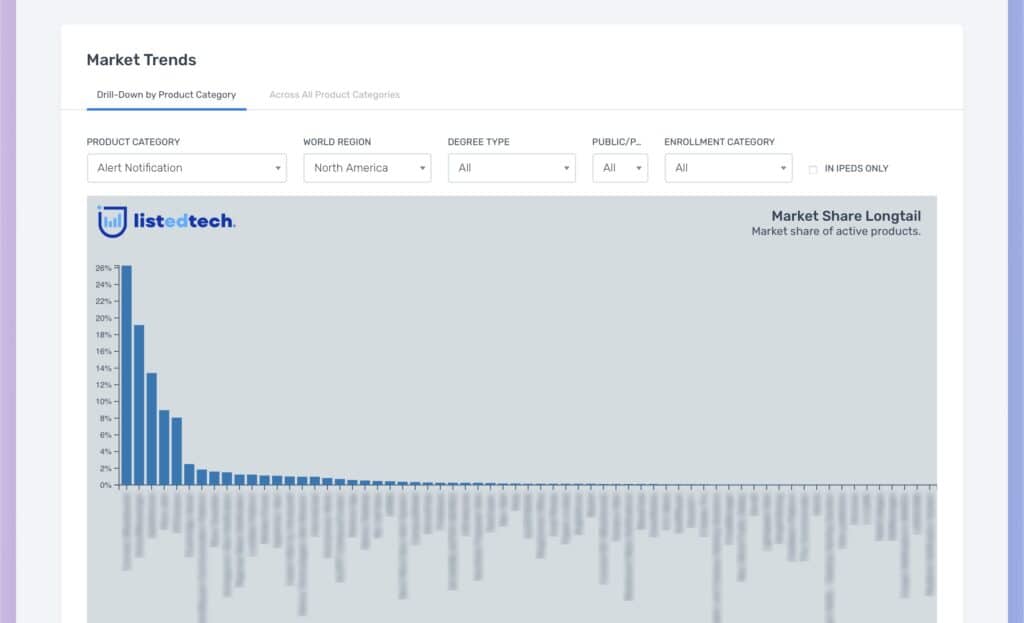 Zoom Way Out
Exclusive to you by purchasing the For Industry Plan
In a screenful, glance across all product categories. Find out the categories that peaked, compare overall market shares, filter by world region, worldwide, Higher Ed, K12 or both.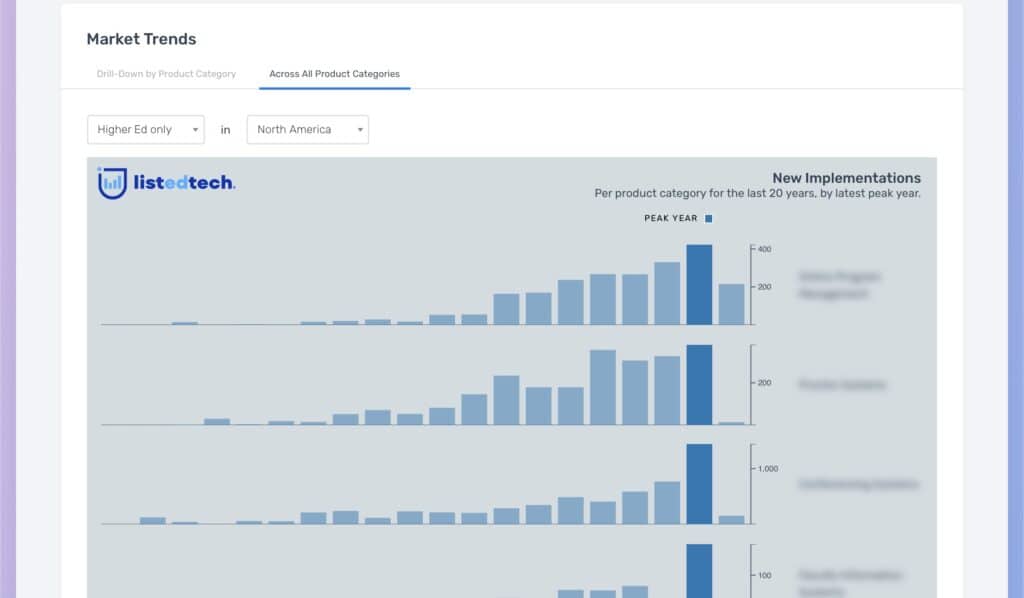 Drill Down
Exclusive to you by purchasing the For Industry Plan
Look up a specific product, and get the numbers on enrollment per year of the top products in a category, to get a sense of their per-seat revenue.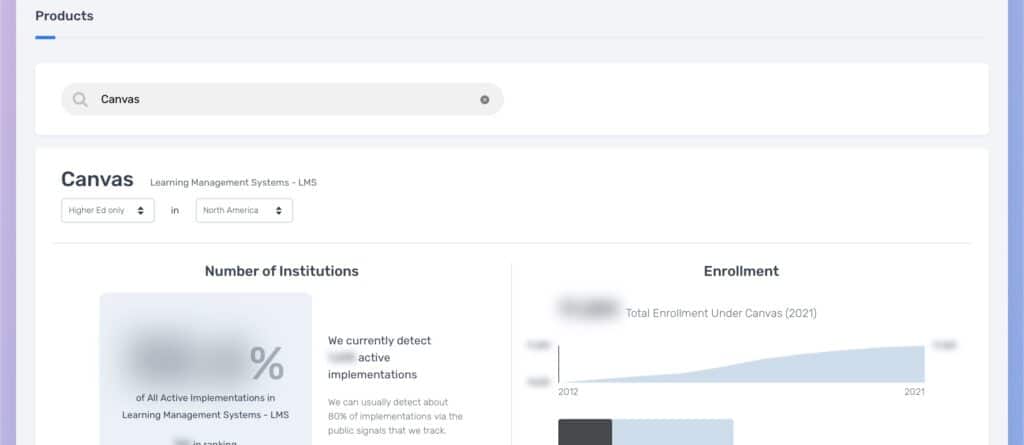 How We Collect this Data
We specialize in validating public signals about which institution (Higher Ed, K12) implemented which Ed tech product.
We use a mix of automated methods and manual verification, and the result: we have a lot of data. Chances are we have good data on your product and your competitors.
21 product categories
Customer Relationship Management - CRM
Learning Management Systems – LMS
Massive open online course – MOOC
Student Information System – SIS
Online Program Management
Learning Analytics Platforms
Faculty Information Systems
Library Information Systems
Career Readiness Solutions
Business Intelligence – BI
Retention Management
Human Resources – HR
Conferencing Systems
Financial Systems
Alert Notifications
Proctor Systems
EProcurement
Financial Aid
E-Portfolios
Grants
Email
(and you get this last one for free)
What You Get…
| | |
| --- | --- |
| Product Lookups | Unlimited |
| Institution Lookups | 30 per month |
| Team size | 5 members |
| Product Categories | All 21 product categories |
| World Regions | All |
| Zoom Way Out | See trends across all product categories |
| Drill Down | Look up stats on specific products, spot holes in the market |
| Custom Data Sets | 20% off Regular price quotes |
The price:
No need for us to meet. Get this data today.
No need to share your information with us. We collect all our data via public signals found online that we verify.
For Product Companies,
and Consulting Firms,
and Investment Firms
Are you a consulting firm?
We think this data will help you get the numbers behind the narratives, help get a clearer picture of what's going on in the market.
We recommend that your clients also sign up for one of our plans (either this same plan For Industry, or our Discounted plan for Institutions).
Are you an investment firm
or planning on making acquisitions?
You'll be able to spot some areas with no clear winner, get a feel for the trends, and see some of the up-and-coming companies.
Custom Data Sets, 20% off
"Can you give us a list of institutions who purchased X?"
We can give you a quote for a custom export of our raw data (in CSV format). Useful to import into a CRM for lead-generation, or to make your own analysis.
And if you purchased our For Industry Plan (above), you'll get 20% off the regular quoted price. Get that quote instantly by selecting your filtering parameters, right from the Portal.
And if you'd like to get a quote for custom data without a subscription to the For Industry Plan, simply contact us and we'll be happy to prepare a quote.
FAQ
Do I get a list of which institutions bought which products?
Our Data Portal gives you the ability to look up 30 institutions per month (e.g. looking up "Harvard University" counts for one lookup and you can see the products it implemented). To get a raw list, you can purchase an additional Custom Data Set. From within the Portal, you'll be able to select some filters to narrow the data set, and get a quote at a 20% discount. If you'd like to get a quote for custom data without purchasing a subscription to the Data Portal, please contact us.
Do you have information on my product?
We have information on 21 product categories, and we detect about 80% of product implementations via public signals we automatically find and manually validate. Hosted systems, cloud-based systems, in higher ed institutions or K12, in different languages. Chances are that the data we have compares with the data you have about your product.
Do you integrate with a CRM for lead generation?
We can sell you, as described above, a Custom Data Set (in CSV format) of our raw data on which institutions bought a certain product, which you can use to feed a CRM. See your CRM's documentation to see if it has the ability to import a CSV.
or start by trying the free forever plan with our data on Email products (Gmail, Exchange, etc.)