A Data Portal with micro data and macro trends on which institutions implemented what products and when.
If you're a vendor, an investment firm or a consulting firm, we also have a plan for industry.
Let's say you're in the market for a new…
Learning Management Systems – LMS
(That's one of 21 product categories you can choose from.)
And you represent…
Higher Ed
And you're asking questions like…
"Who else is using Blackboard?"
"What product are other people moving to?"
"Are there institutions that I can contact that have implemented Canvas, or went through a similar process?"
You don't have a good enough grasp of the industry right now, and it's starting to become urgent that you do because…
---
MAYBE IT'S THAT
You're in a lengthy selection process that you'd like to speed up.
One of the vendors has a speedy plan, but you don't want to be wed to one or two vendors. You'd like to widen your selection process without wasting up a lot of everyone's time, all while being consultative. Maybe you'd like to have everyone on the selection committee roll up their sleeves and contact other institutions, get everyone to participate in the research. But your first tool in your tool belt – that tool has to be better data about the industry: who are the unknown players, who's using these other products, which are the institutions that are in the same boat as us?
MAYBE IT'S THAT
There isn't a consensus on what product to pick.
Not every department is the same, and everyone's pulling to get their favorite to win. You're stuck with divergent wishes, a cost problem or a fragmentation problem, and you'd like to get the whole ship to move in one direction. Another high-stakes product replacement project is in everyone's memories, and you'd like to avoid another fiasco. It's political, so you want to make sure everybody can score points all at once because, well, you're the mediator. Your first step: look for data.
MAYBE IT'S THAT
You're part of a department that's pushing back.
Central IT seems to have short-circuited the consultation process, and maybe there's a consulting company in there pushing a solution, but you'd like to make a point. "Surely, there should be data we can use to make a case for a better selection process. Surely there are other institutions like us we can talk to."
---
We have data on many institutions implementing many product categories, and we most-likely have data on your institution specifically.
Give our portal a try with the Email category, completely free, and look up what data we have on your own institution.
---
You've tried…
Going to forums and mailing lists to ask: "Who else is using ?" But, you don't get a lot of responses;
Getting industry data by participating in a lengthy survey. But that survey takes you hours and hours over a couple weeks to fill out properly. And so you know that it doesn't get filled up by too many of your peers. You doubt the information is that complete. Plus, you have other things to do;
Being part of a paid membership that doesn't offer you much but costs thousands per year in fees. So you end up hiring consultants at a multiple of that price, getting big expensive reports. It's a bit of a racket, but what else are you going to do?
Instead, what if this is how things unfolded…
Let's pretend you're at the end of a very successful selection process, and you're celebrating because…
You found 5-10 institutions just like you that were completely outside your current circles. You talked to them and they told you tales that really helped you make the case for a better approach, or a better product, or a better process. Horror stories about implementation complexities and red flags to avoid. Glowing recommendations for useful third-parties that were a huge help.
You looked at trends and you noticed that most institutions like yours are getting a bad deal: prices per student that are inflating for no apparent benefit, that there are better alternative products than the ones you were initially considering.
You learned early on that the one product you were interested in was hitting a market plateau. It's popular, but you noticed this other up-and-comer that was a surprisingly good fit.
You were able to share the data with others in your institution, and you all got a level-playing field.
More of, less of…
More thoughtful decisions, less rushing to conclusions
More participation, less obfuscation
More backing, less guessing
More driving, less following
More evitable, less inevitable
More anecdotes, less hearsay
More data.
---
Our data portal… has a lot of data
Historical data on institutions implementing products in these 21 product categories:
Customer Relationship Management - CRM
Learning Management Systems – LMS
Massive open online course – MOOC
Student Information System – SIS
Online Program Management
Learning Analytics Platforms
Faculty Information Systems
Library Information Systems
Career Readiness Solutions
Business Intelligence – BI
Retention Management
Human Resources – HR
Conferencing Systems
Financial Systems
Alert Notifications
Proctor Systems
EProcurement
Financial Aid
E-Portfolios
Grants
Email
The micro
The ability to lookup an institution and get the details

You get 25 unique lookups per month, which means that you can check out the same institution multiple times in the month throughout your team.
Get details like:
History of product replacements
Active/Inactive systems
Hosting vs. Not hosted
Institution Type, Degree Type, Enrollment size
On 77.9 thousand institutions across the world
---
It's free, forever.
We have a lot of data on the Email category too, so you can get an idea of the amount of data we collected.
And if you'd like access to another category (e.g. Learning Management Systems – LMS), we have an affordable discounted plan for institutions. And you can get access to 4 more categories on top of that for your broader research.
Q: How did you get this level of data?
A: It's actually all public data. We use a combination of automated processes and manual verification, and we've been at this for a few years, blogging about our findings along the way and selling the data to companies. Now we have a plan for institutions like you.
---
The macro
Big picture trends on the industry

We have the charts, answering questions like:
Which are the market leaders (based on decades of implementations data)?
When product X gets replaced, to which product do institutions migrate?
What's the average age per product for the market leaders?
What do contract prices look like?
Is this product a good fit for our enrollment size?
How long does it take on average from RFP to Purchase to Implementation?
And your peers, too
Other institutions using similar systems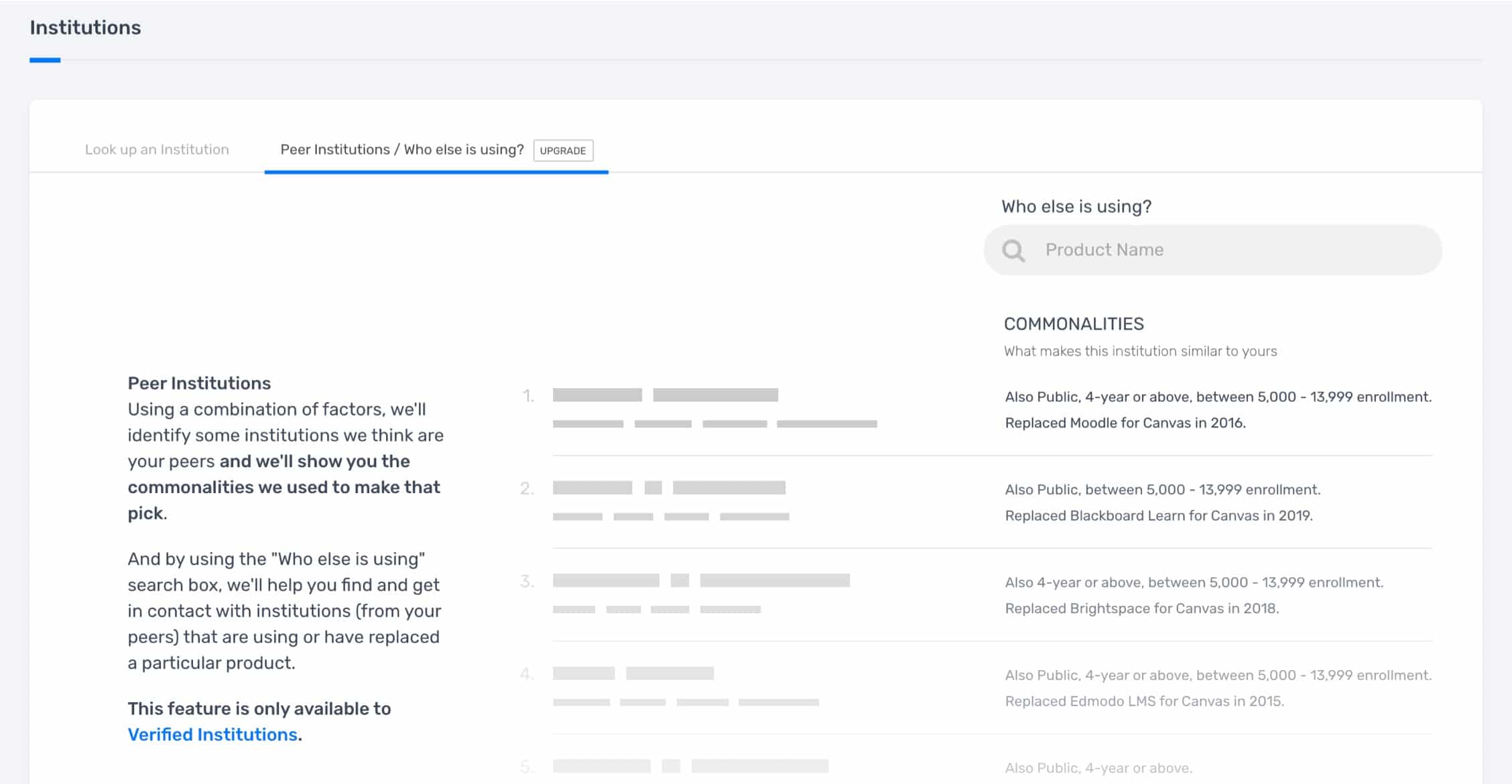 We think you'll find this useful. We've put together a list of 15 institutions we think you'll want to talk to (our best bets), determined by how many other systems you have in common.
Plus, you can get another list of 15 institutions by filtering for a specific product match (either replaced or currently using) in the "Who else is using?" field.
That part is only available if you upgrade to our discounted plan for Institutions, which requires a verification that you work at your institution.
---
The Plan For Institutions
All that stuff above, you get with an upgrade to the Discounted plan. Look up institutions, look at big-picture trends, get a list of peer institution you can contact.
Our price?
To be eligible, we'll first need to verifiy your employment at your institution. The first step is to sign-up for a free account, and then start the verification process. Look up your own institution, validate your email, and submit a URL showing you currently work at your institution.
What you get:
| | |
| --- | --- |
| Product categories | Email + Unlock up to 5 more |
| World Regions | All |
| Lookups per month | 25 |
| Team size | 3 members |
| Peer Institutions Data | 15 to contact |
| Search peers by | Product Name (Who else is using?) |
| Referral benefits | Unlock all product categories |
| Special Offers | Access to consulting firms we trust |
| Eligibility | Employment Verification |
We also have a plan for industry. If you're a consulting agency, an investment firm or a vendor, we also have a plan you can get for USD $10,593 / year with similar features.
We think this will save you time and save you headaches
To get this same level of data, you'd have to complete that survey that will take several hours over multiple weeks, only you might not get the same quality of data. You'd have to hire consulting firms at a multiple of that price, only you might not get the same impartiality.
We made this discounted plan so you can get the same industry insights as the big players, and we hope you'll be able to use our data to get more speed, get more organized, and get more collaboration going within your product selection process.