What sets the education world apart is its unique blend of competition and camaraderie. The common goal of institutions is to nurture knowledge and foster growth which tends to create a collegial environment of lending a hand.
One of the many examples where we see this solidarity is when one university is implementing a new IT system. The CIO/CTO/Director/Manager regularly contacts colleagues in other colleges to seek information, reviews, and appreciation of solutions to select the best product on the market for their institution.
There are other challenges that higher education may face with IT systems. They want to know…
which institutions are using a specific product?
which ones are upgrading their product suites?
what's the average time to implement a system?
are we overpaying for our LMS?
which ones are in an RFP process? (to come)
how many IT employees do their competitors have? (to come)
what is a reasonable budget to implement a new SIS? (to come)
[the list goes on…]
Current Options for the Institutions:
Option 1: A Private Phonebook
THE GOOD: This is a good option if you know many people.
THE NOT-SO-GOOD: If you want to get a sense of the market share or obtain accurate user experience feedback, this option will take time.
Option 2: Send a Message to a ListServ
THE GOOD: You can reach a broader audience.
THE NOT-SO-GOOD: You hope somebody will answer… (not a sales company)
Option 3: Use Survey Results from an Association
THE GOOD: High-level view of [the market/trends/product usage]
THE NOT-SO-GOOD: Limited to a small sample of a targeted subset.
Option 4: The ListEdTech Portal
Since August 2021, ListEdTech has developed a convivial portal to connect to its database. If your institution has never tried the portal, we encourage you to create a free account today.
With the recent upgrade to ListEdTech Portal 2.0, you can select a free account (with data limited to four years back and some other restrained functions) or a standard plan.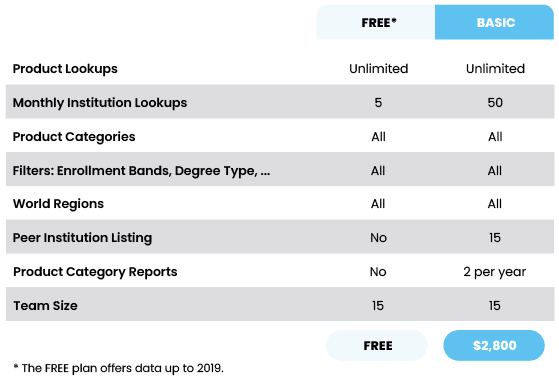 When you buy the standard plan, you get the most recent data on all product categories. You can create your own set of peers to compare your institution with others. You will also get a list of a specific product's most recent implementations and decommissions.
At ListEdTech, we have created the Tech Peers grouping, allowing all standard plan subscribers to find institutions with similar technology implementations.
As many of our team members used to work for HigherEd institutions, we are confident the ListEdTech portal will help your institution make the right decision for any edtech questions.