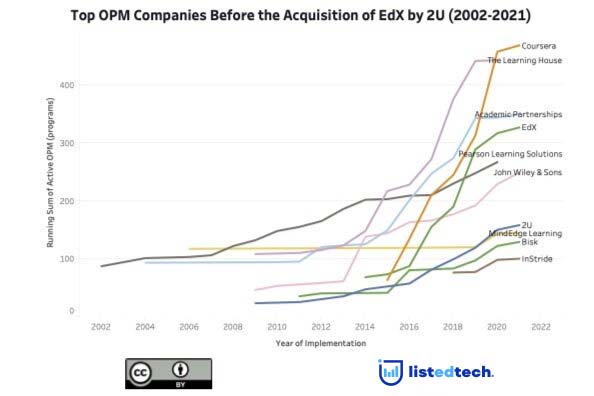 On June 29, the online education community was redefined. After several years of trying to compete against the leaders of this product category, MIT and Harvard have agreed to sell their nonprofit MOOC/OPM solution to 2U for 800M$. The consolidated company will reach over 50 million learners and offer more than 3,500 digital programs thanks to 230+ partners.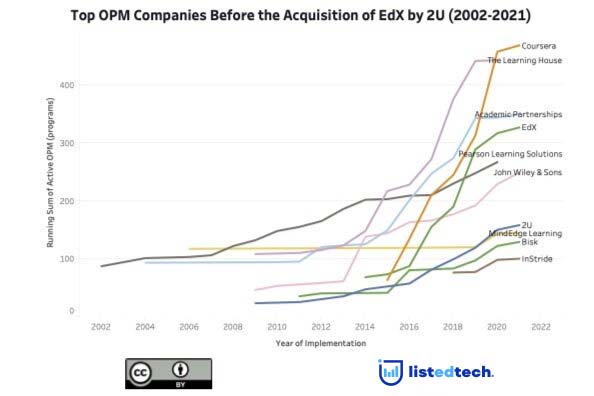 The graph numbers are based on the number of programs implementations of all OPMs for each company. We define OPM as a program (a grouping of courses offered as a certificate, Degree, BA, MA, etc.) offered in partnership with higher education institutions. This does not include single courses/MOOCs.
History of edX
Resulting from the collaborative work of scientists from MIT and Harvard, EdX was launched in 2012 to offer a massive online open course solution to educational institutions and companies. From 155,000 users after the first year of operations, its user base is now estimated to be more than 38 million registered learners. Each day, an estimated 164K people connect to the platform to take one of the 3,300 courses offered by 160 member universities. Outside of the United States of America, several partners are located in China, France, Mongolia and Japan.
Over the years, the platform has evolved to offer specialized products to targeted audiences: EdX.org, EdX Government, EdX Online Campus, EdX Business and Open EdX. The primary platform proposes different program structures: MicroBachelors Programs, MicroMasters Programs, Professional Certificates (to acquire an in-demand skill of the job market), XSeries (to understand a topic deeply) and Online Master's Degrees (top-ranked programs, affordable, and fully online).
Since June 2013, the source code is open-sourced and is accessible under the Open EdX solution.
History of 2U
Like EdX, 2U aims to offer online education to universities and colleges, with the difference that its organizational structure is for-profit. Founded in 2008 as 2Tor, 2U was developed to support the growing online education offer, especially for highly-ranked universities where online education lacked. 2U's first client was the University of Southern California with a meagre 120 students. In 2009, enrolling students was done over fax. A year later, USC and 2U were offering an entirely online degree in social work.
With this first success, multiple venture capital companies backed up 2U as of 2011, and the company later became public in March 2014. During the first few years of existence, 2U grew its client base to include Georgetown and the University of North Carolina. Later, Yale, Syracuse, and the University of California at Berkeley partnered with the company. Contrary to several MOOC/OPM platforms, 2U focuses on paying students rather than offering free (or low-tuition) program options.
After long focusing its efforts on graduate programs, 2U launched in August 2019 its first undergraduate program in data science and business analytics with the participation of the University of London and the London School of Economics. While most of its program offerings require a more significant investment from students, 2U and its partners wanted to keep tuition fees at around $ 20,000 for the total duration of this program. After this initial change in its business strategy, 2U expanded its market share by acquiring non-credit training program companies.
2U has offered 500 different courses to 300K students in collaboration with 80 education partners throughout its existence.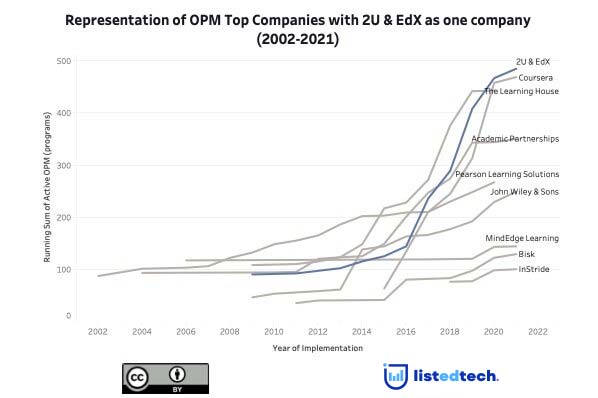 From fourth (EdX) and seventh (2U) places in the market until the merger, 2U-EdX is now considered the OPM market leader, followed by Coursera, Learning House and Academic Partnerships if we look at the number of programs offered.
How this acquisition changes the OPM market?
This acquisition seems logical for 2U. Coming from a niche market of highly-ranked clients and struggling to expand its user base, 2U saw the opportunity to buy an indirect competitor strongly affected by the pandemic. "Covid drove an explosion in remote learning, which spurred huge investments into EdX's commercial competitors," wrote MIT's president L. Rafael Reif, in an open letter in late June. "This put EdX, as a nonprofit, at a financial disadvantage. This new path recognizes this reality and offers a solution that allows EdX to continue to support and maintain the key aspects of its mission."
It is expected that EdX will become a public, for-profit company and that the Open EdX platform will survive the acquisition of a new nonprofit organization.
Looking at the active implementation graph post-merger, it looks like the OPM market is about to be redefined. Coursera, with its 75 million educational learners, certainly has new competition on the program offering side.