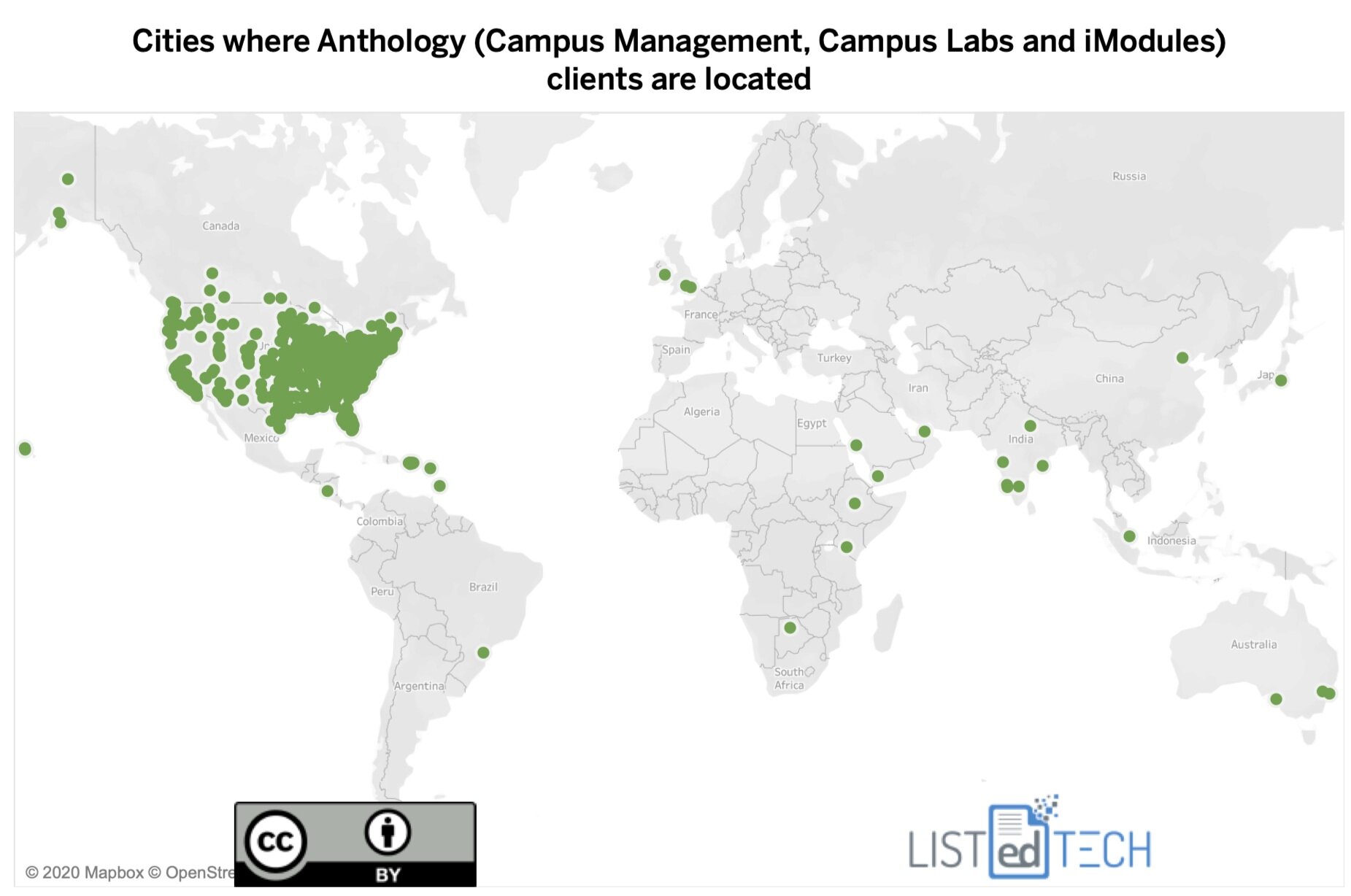 July 7, 2020, marked a turning point in the HigherEd IT sphere. On that day, Veritas Capital ("Veritas") and Leeds Equity Partners ("Leeds Equity"), two private investment firms, announced the joining of education technology companies: Campus Management, Campus Labs, and iModules, to create one of the biggest consortiums in HigherEd IT. And as of November 16, 2020, this new group continues to grow as it acquired last week xRM Software, a leader in advancement and alumni engagement. Let's paint a portrait of this new company.
First component: Campus Management
Now well established in multiple product categories, Campus Management started as a small company in 1988 called Integrated Solutions with only one product: Class Software. Over the years, it acquired several companies: Spectrum Software (1995), Donor2 Fundraising (2005), Talisma (2008), and TopSchool (2018) to name a few. It also changed its name in 1995 and is called Campus Management since then. In terms of ownership, we can mention two milestones: the agreement to be bought in 2008 by Leeds Equity and the recent acquisition by Veritas Capital (July 2020). Since 1988, they developed/bought a series of software and they are now active in many product categories: Financial Aid, SIS, CRM, Financial Systems, HR, BI, E-Learning, Portals, and Retention Management.
Historical Evolution of Campus Management in the SIS Product Category (1988-2020)

Campus Management's Main Products
(source: campusmanagement.com)
CampusNexus Student – Unite your campuses, departments, faculty, staff, and students on a flexible, cloud-based student information system that scales with your institution's needs.

CampusNexus Engage – Drive successful student outcomes with a higher education system of intelligence built on Microsoft Dynamics 365, Power BI, machine learning, and AI.

CampusNexus Finance, HR & Payroll – Gain greater operational efficiencies, optimize resources around student success, and empower faculty and staff with self-service tools.

CampusNexus Occupation Insight – Align academic programs and student skills with the needs of employers through advanced workforce analytics.

Talisma Fundraising – Build and enhance relationships using the leading advancement solution.

Radius – Make deeper connections with students from inquiry to application and enrollment with higher education's best-in-class admissions management solution.
Their website states they offer services to more than 1,100 institutions in over 30 countries. At LISTedTECH, our database includes more than 870 customers of Campus Management, mostly private for-profit universities from North America.
Second component: Campus Labs
Campus Labs (est. 2001) originated from an idea to gather student feedback to improve campus services. Over the years, the company has grown from 30 employees to more than 150 and from 350 clients to more than 1,400. They now provide their services in areas such as assessment, retention, teaching and learning, student engagement, and institutional effectiveness.
After being bought by Edcentric in October 2015, Campus Labs continued to acquire other companies: OrgSync (March 2016), CoursEval (September 2017), and Chalk & Wire (April 2018).
Campus Labs' Main Products
(source: campuslabs.com)
Campus Labs Enterprise – Integrated platform leverages your data-rich ecosystem by connecting data across areas of your institution to create one complete picture of learning on your campus.

Campus Labs for Institutional Effectiveness – Customize and connect your planning, accreditation, and outcomes assessment processes.

Campus Labs for Teaching & Learning – Focus on effective teaching and meaningful learning. This solution includes the Course Evaluations and ePortfolio tools.

Campus Labs for Student Success – Harness the power of student data to impact retention. Identify at-risk students with predictive analytics and early alerts as well as customize strategies for individual students using campus-wide communication tools.

Campus Labs for Student Engagement – Create meaningful involvement experiences to promote student success. Designed for both the student and administrator, our tools empower students to discover opportunities and take charge of their own co-curricular involvement, all while helping administrators manage their office workflow.

Campus Labs for Student Affairs Assessment – Manage your strategic planning and program review processes by seamlessly connecting data about the effectiveness of co-curricular programs and services to gain insight into how your outcomes are supporting institutional goals.

Campus Labs for Skills & Achievement – Guide, motivate, and improve the student learning experience. Support students from the start with incremental learning assistance and path achievement goals, bolstered by validated badges and credentials to increase confidence on their skill progression.
LISTedTECH database includes more than 400 clients for Campus Labs, mainly public universities from North America.
Third component: iModules
Founded in 2002, iModules creates tools to support other systems in categories such as constituent engagement management, website management, event management, membership management, volunteer fundraising, and social network integration. It was acquired in 2014 by Edcentric, a SaaS provider of planning, assessment, engagement, and compliance solutions to higher education institutions.
iModules' Main Products
(source: imodules.com)
Encompass: iModules Integrated Solution – Build and sustain lifelong relationships with alumni and supporters through Encompass, the integrated platform for fundraising, communication, and engagement built by the educational advancement experts at iModules.

Encompass Enterprise is designed for large organizations with multiple business entities, such as departments, regions, chapters, or clubs, that have unique needs but also share constituent data. With Encompass Enterprise, each business entity can manage and execute its online strategy with its own set of tools.

Scoreboards from iModules – Engage and excite your community of supporters with a little healthy competition and a major dose of fun. With visualization features designed to gamify your online campaigns through Encompass with challenges and incentives, you'll be armed with tools that attract an audience, spark competition, and track constituent participation.

Engagement Scoring – Understand your audience for more effective outcomes. It helps you understand the level of engagement that each alumnus/a, donor, friend, and supporter has with your institution.
Their website mentions a client base of more than 600 clients for 50 million constituents. LISTedTECH database includes 117 iModules clients, most of them being public universities from North America.
Even if they share a few product categories (CRM for instance) and could be considered as competitors in some markets, the three companies that exist under Anthology are mostly complementary. They bring the idea of a holistic approach to a student's lifecycle, especially when it comes to collecting data, integrating solutions, and sharing knowledge. Anthology inc. partners with more than 2,100 colleges and institutions in over 30 countries to address the needs of all constituents in higher education.