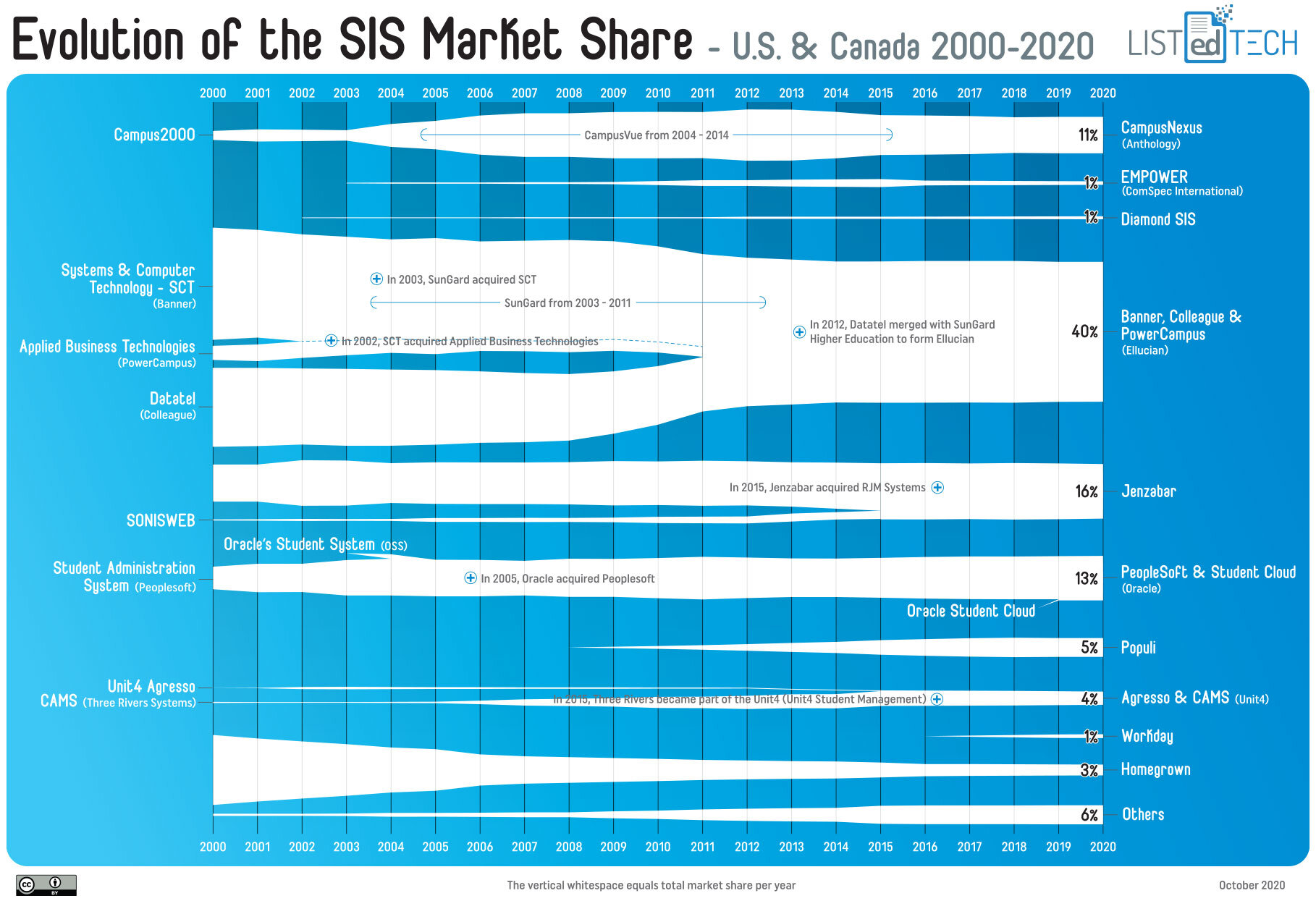 This article is Cross-posted at Moran Technology Consulting
By: Charlie Moran, Sr. Partner & CEO, Moran Technology Consulting
Justin Menard, CEO, LISTedTECH
Key points:
While there has been some diversification in offerings, the four SIS vendors with the greatest market share take up almost 80% of the total SIS market share, and this has been stable for the past five years.

The SIS market is running in neutral while higher education institutions wait for new solutions / releases. We expect market share percentages to change over the next five years as these releases become available and schools begin to tackle pending migrations.

Many schools are assuming that they will be able to move to new SIS systems in the 2022-2024 timeframe, but the availability of qualified implementation consultants is questionable if the huge wave of implementations occurs.

The long-term financial impact of COVID on the ability of schools to fund and staff the expensive move to new, more functional products is still unclear.

Homegrown systems have been on a consistent downward trajectory for decades and there is no indication this will reverse.
As we observed in 2018, the SIS market is currently running in neutral. This was largely related to institutions holding off on major SIS commitments until new products and major revisions of existing products became viable. We expect market share percentages to begin to shift over the next five years as these new / revised offerings become available and schools move from a holding pattern to active RFPs and procurements, but current data reflect a period with little significant market share change over the past five years.
LISTedTech has released a new data set of the higher education SIS market that provides more insight into this unique period. This graphic shows SIS market share by vendor since 2000. While it does indicate that the SIS market has seen some vendor diversification in recent years, the share held by Ellucian, Jenzabar, Oracle, and Campus Management has remained relatively stable over the past five years, changing less than 1.2% across each vendor over that time and adding up to over 79% of market share in 2020. Consistent with trends across the entire ERP sector, homegrown SIS systems have been on a persistent downward trajectory since 2000, and we expect that percentage to continue to shrink as schools marshal the resources to migrate to vendor-provided solutions.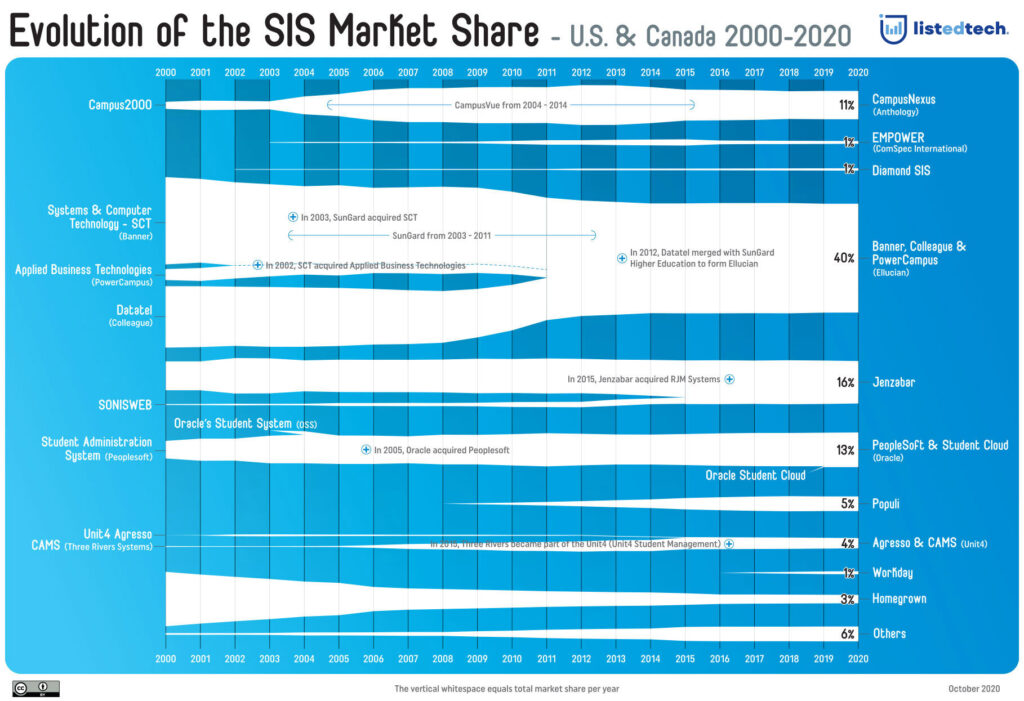 Download a PDF version of the "Evolution of the Higher Ed SIS Market Share, 2000 – 2020" Graph.
Although we do expect that major product releases from multiple vendors over the next three years will shift market dynamics, it would be unrealistic if we did not temper those expectations with both availability of consultants and the impact of the COVID-19 pandemic. On the consulting front, many schools are assuming they will be able to move to new SIS systems as soon as their institution wishes in the 2022 – 2024 timeframe. However, if a huge wave of demand for implementations occurs, we question whether there will be enough qualified implementation consultants to meet demand. Schools may have to wait longer than they expect to implement a new SIS if consultant availability becomes an issue.
With respect to COVID, while we have seen plenty of institutions move forward with major ERP projects during the pandemic, we also believe that long-term fallout from COVID is likely to have at least some impact on the rate at which institutions begin to shift out of this holding pattern. An institution considering an SIS change that had been waiting to see how solutions evolved still may not be financially positioned to make a move even when the new offerings are available for review after the disruptions caused by COVID. Ultimately, we expect institutions will begin to move and market dynamics to change over the next five years, but the rate of change and percentage jumps in market share is likely to be less dramatic than in a pre-COVID world.
Watch this blog for future entries as we delve into additional ERP topics that we know from our clients are top of mind for many in higher education right now. Got a topic you want us to cover? Let us know at info@morantechnology.com!
NOTE: We have created a new 'for fee' ERP Research Service that will provide regular in-depth views of the state of the Higher Education ERP market. What to learn more? Let us know at info@morantechnology.com.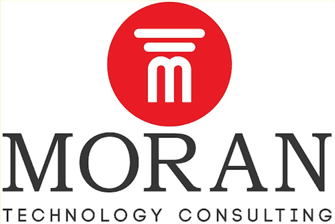 Moran Technology Consulting helps institutions cost-effectively address their technology-related challenges, providing: Strategic IT planning, Assessments and Governance development, ERP/SIS planning, support and audits, Cloud migration planning, IT Security Assessments, Enterprise Authentication Solutions, Process Reengineering, and interim IT and Project management services.

LISTedTECH is a market research company that provides analytics for technology systems used in the educational sectors. Our unique data sets include technological systems like Alert, BI, CRM, Email, ERP, Grant, LMS, OPM, Retention and SIS.