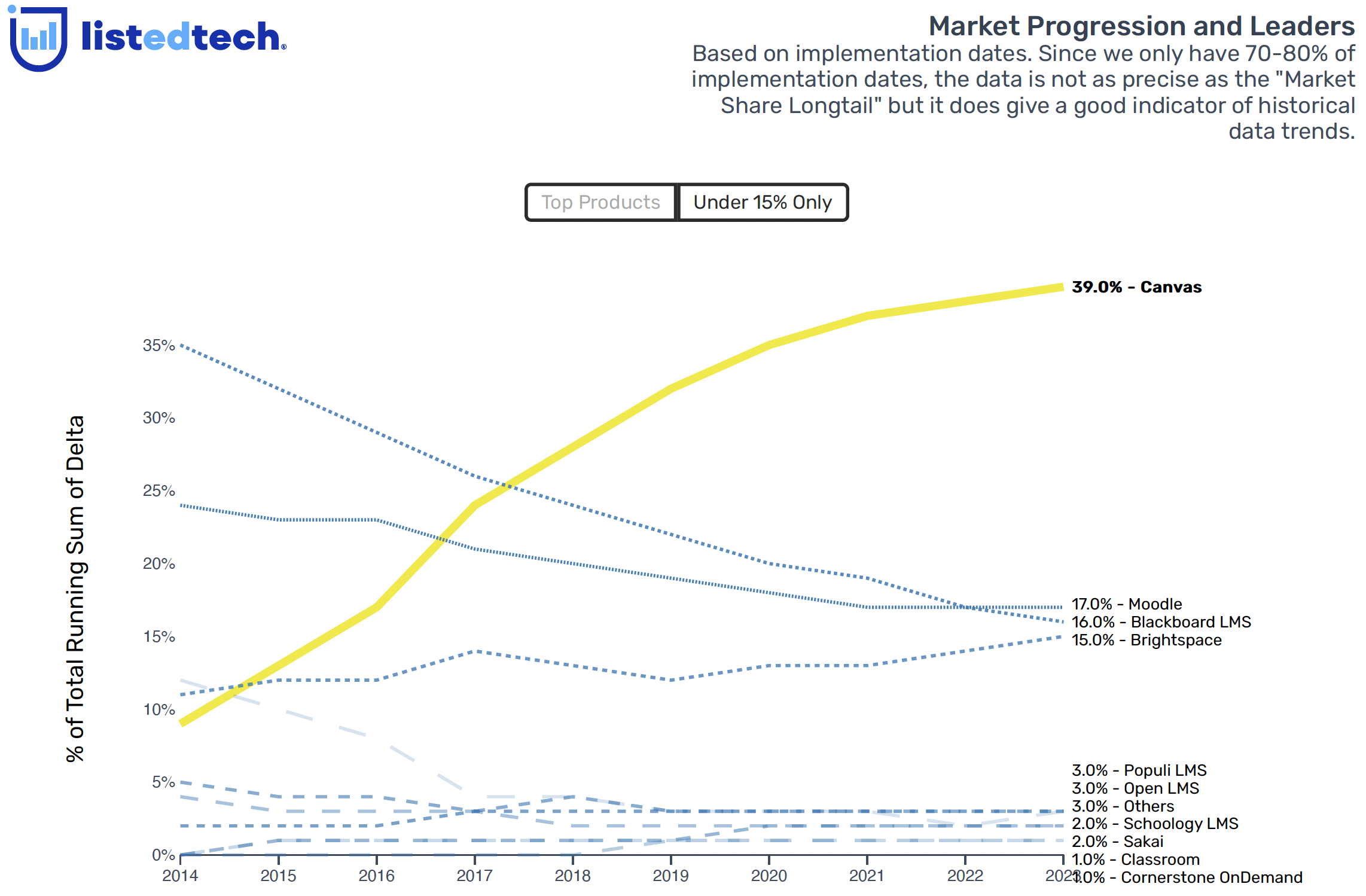 Instructure's story is similar to many other companies: one day, a few friends or colleagues joined forces to develop a new product to overcome current challenges. Instructure's learning management system stands out from the competition by its fast adoption rate: in less than eight years, Canvas implementations reached over 1,000 clients, with continued sustained upward growth. What explains this? And will Instructure be able to maintain this upward trend?
History
Instructure started in Utah in 2008 when two Brigham Young University graduates, Brian Whitmer and Devlin Daley, had the idea to create a learning management system to compete with existing LMS solutions. At the time, Blackboard (which bought WebCT a few years before) and Moodle (an open-source LMS) were the two most selected solutions in the product category. The common critique of the two solutions at the time was that they were difficult to use and not exactly user-friendly.
Since its inception, two features have distinguished Canvas from its competition: its ease of use and cloud hosting. Jared Stein, once Vice President at Instructure and previously an executive at Utah Valley University, explained to EdScoop in 2018 that teaching staff found other solutions at the time too painful to use, did not have modern capabilities and were not reliable. What Whitmer, Daley and the Instructure team proposed was "simplicity, ease of use and engaging modern tools from day one."
The year 2010 marked an important milestone for Instructure with the signature of an agreement between Utah Education Network and Instructure, making Canvas the statewide LMS for all public schools, colleges, and universities. This recognition from their home state led Instructure to a whopping 4.5 million users by 2014. Today, more than 28 million people use the platform regularly.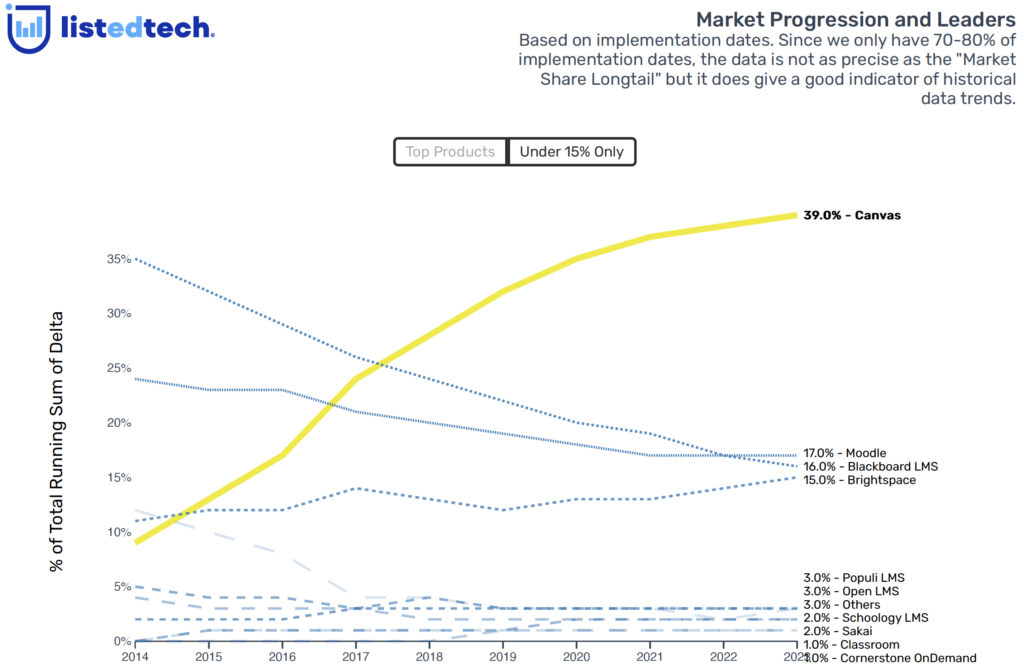 In addition to its flagship product, Instructure also developed or acquired solutions in other product groups. Canvas Studio, a collaborative video-learning platform, was launched in 2016, and the company also acquired Portfolium and MasteryConnect in 2019.
Over the past 15 years, Instructure went public twice. "It's a return of the INST ticker symbol for the company, which first went public in 2015, but then was taken private last March when Instructure was purchased by private equity firm Thoma Bravo for nearly $2 billion. The initial price today was $20 per share, meaning the company estimates it will raise $250 million," mentioned Edsurge.com in July 2021. When Thoma Bravo bought Instructure to make it private in 2020, it was explained that more flexibility was needed to "help drive continued growth with a focus on innovation and customer success tailored for the modern learning environment."
Acquisitions Made by Instructure
Talking of acquisitions, Instructure has been active in the past seven years to support its mission of "elevate student success, amplify the power of teaching, and inspire everyone to learn together."
Between 2017 and 2022, Instructure acquired eight companies:
Practice, a video microlearning solution in November 2017;
Portfolium, an e-portfolio solution in February 2019;
MasteryConnect, an assessment and curriculum platform in April 2019;
Certica Solutions, compliance and accountability solutions for K-12 in December 2020;
EesySoft, an educational technology adoption platform in July 2021;
Kimono, a solution that handles interoperability needs in November 2021;
Concentric Sky, creator of Badgr, a digital credential solution in April 2022; and
Learn Platform, an edtech effectiveness system in December 2022.
As you can see, the acquisitions made by Instructure were not of competitors in the learning management system group but rather solutions to support its growth in its secondary product groups: e-portfolio, conferencing systems, learning analytics platforms and assessment and evaluation.
Current Market Share
In the LMS category, it looks like Instructure could remain the leader of this product group for at least the next few years. It also shows a promising future in the e-portfolio category, as does its more recent incursion in other product groups, like catalog management. Canvas Catalog is currently in fourth position with about 10% of the market share.
Although its acquisition pace is not as fast as PowerSchool, Instructure could quickly become the leader of a significant portion of the HigherEd submarket. The growth it experienced in less than 15 years shows how committed Instructure is when it comes to development and implementation.