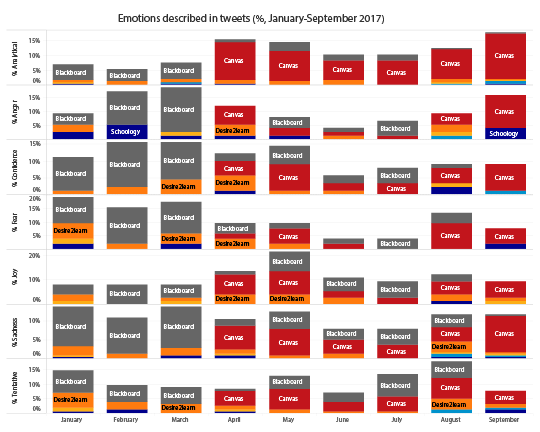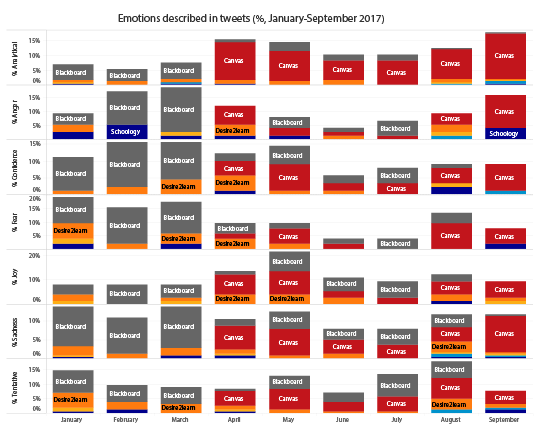 Twitter is a massive data source. In the past, we have looked, in our post Blackboard Down!, at student tweets saying that a particular LMS was down.
In this post, we will look at students expressing feelings about all the LMS notification they receive. I general, students are mostly unhappy about the volume of notifications. But, in opposition, they hate to wait for the initial notification once they register for the course and also hate to wait to get the notification giving them a grade.
I used the Tone Analyzer service that uses linguistic analysis to detect joy, fear, sadness, anger, analytical, confident and tentative tones found in tweets. Not all tweets get tagged but several have been tagged in one or a multiple of the following categories:
Analytical: A person's reasoning and analytical attitude about things.

Anger: Evoked due to injustice, conflict, humiliation, negligence or betrayal. If anger is active, the individual attacks the target verbally or physically. If anger is passive, the person silently sulks and feels tension and hostility.

Confident: A person's degree of certainty.

Fear: A response to impending danger. It is a survival mechanism that is a reaction to some negative stimulus. It may be a mild caution or an extreme phobia.

Joy: Joy or happiness has shades of enjoyment, satisfaction and pleasure. There is a sense of well-being, inner peace, love, safety and contentment.

Sadness: Indicates a feeling of loss and disadvantage. When a person can be observed to be quiet, less energetic and withdrawn, it may be inferred that sadness exists.

Tentative: A person's degree of inhibition.
Based on the tags above, the following graph shows about 2,000 tweets by month.
The data shows that in our seven months timeline, we had a higher percentage of happy tweets in the month of May and an equal volume of sadness in the seven months.
A note to the reader: the Tone Analyzer looks to have some difficulty spotting irony. Examples that are tagged as Joy:
I love receiving Blackboard notifications at 1 AM

thank god for moodle notifications

Love how my canvas is already sending me assignment notifications!!!!!!!

No email or notification on D2L. I hope I'm not actually missing something lol.
The second graph is all the 2,000 tweets. You can sort them by month and LMS system. It's a fun read…