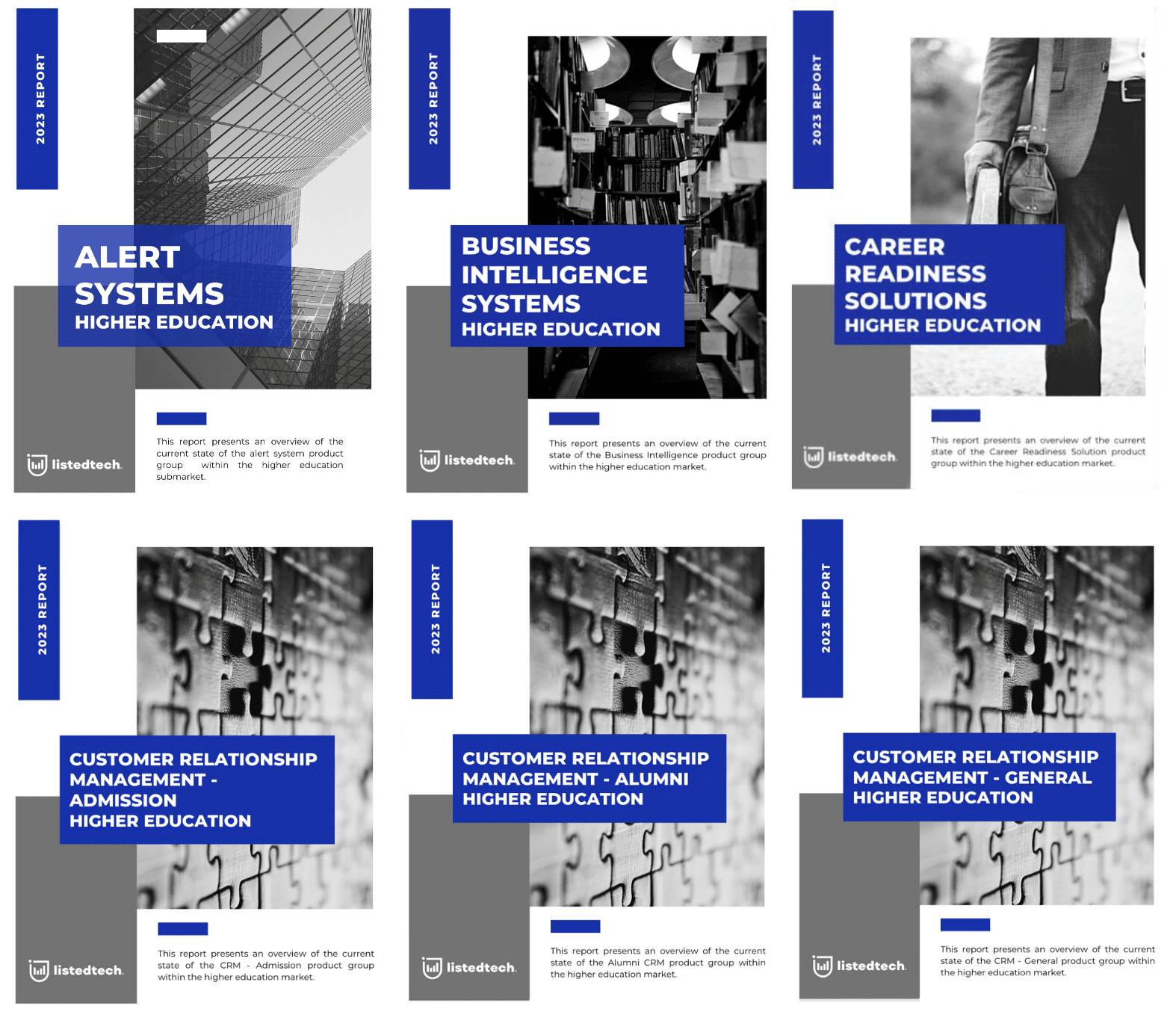 Like many Americans and Canadians, we celebrated in the past week with family and friends. These celebrations didn't stop us from continuing to work on our product category reports. Even though we announced that our reports are now available for purchase in May, we never took the time to explain the information in these reports.
Each product category report includes the following sections:
Introduction: We explain the product category and provide the report's purpose.
Executive Summary: A concise overview highlighting the report's key points and main findings.
Category Definition: This section defines the category. If the group has several subcategories (Career Readiness or Grants, for example), it also describes all subcategories.
Category Dynamics and Recent Product Updates: On this page, we present the most recent category dynamics (acquisitions, investments, new companies in the segment, etc.), as well as product updates and technology innovation.
Current Market and Historical Market: We explain what happened in the product group in the past decade and the market context supported by the current market share chart and the historical progression graph.
Market Forecast: This section details our estimation of market changes over the next five years.
Pricing: We provide the most up-to-date information on the price per student an institution could expect to pay for a solution in the product category based on the contract information we found.
Conclusion: Using the market forecast information, we present the future of this product category.
List of Vendors: We list all vendors in the product category for which we have data.
New Product Category Reports Available
As of July 6th, 2023, we are currently selling the following reports:
Alert Notifications (K-12 and HigherEd)
Business Intelligence (HigherEd)
Career Readiness Solutions (K-12 and HigherEd)
Catalog Management (HigherEd)
CRM – Admission (HigherEd)
CRM – Alumni (HigherEd)
CRM – General (HigherEd)
E-Portfolios (HigherEd)
Grants (HigherEd)
Anyone can benefit from the product category reports, whether it's an institution looking to implement a new system, a company looking to expand its market share, or an investment firm looking to acquire a new company.
If you want to purchase a product group report that is not yet available or have a question about our report offering, please do not hesitate to contact us.