Student graduation rate is a challenge that many universities and colleges face. We often see student success/retention systems being implemented to tackle this situation, but what about coming back to the basics and simply helping them find courses to finish their program? As part of our monthly series on edtech companies, this month, we showcase Quottly, a new platform that helps students discover courses offered at other universities to complete their degree requirements.
What is Quottly exactly?
As mentioned on its website, Quottly "is a course discovery, registration, and equivalency platform. [It] combine[s] system-wide class schedules and transfer rules with proven SIS integration and one-click registration." It is currently implemented in several institutions and systems across the United States of America and aims to expand to Canada and Europe in the near future.
The best example to prove the effectiveness of the platform would be in a university system. In a given program offered by universities A, B and C, all students must complete MAT101 – Introduction to Calculus. Before Quottly, all three institutions had to offer the course each academic year. With Quottly implemented in the university system, each constituent can offer the course on a rotation. In addition to this feature, institutions can ensure their classrooms are filled to the capacity by inviting more students to join their courses, outside of the system using the platform.
From a student point of view, the platform is very easy to navigate:
After the initial login using an SSO authentication, they browse for courses using the search functionality. They can filter courses by institutions, by cost, by transferable capacity, etc.

Once they have selected a course, they see for which program requirements the course counts.

If they see it fit, they can enroll in the course through a one-click process. The platform is designed to work with any major SIS currently implemented in universities and colleges.

Once the registration is completed, if the university uses Canvas, the students will see the course taken in the other university within their home university's Canvas implementation.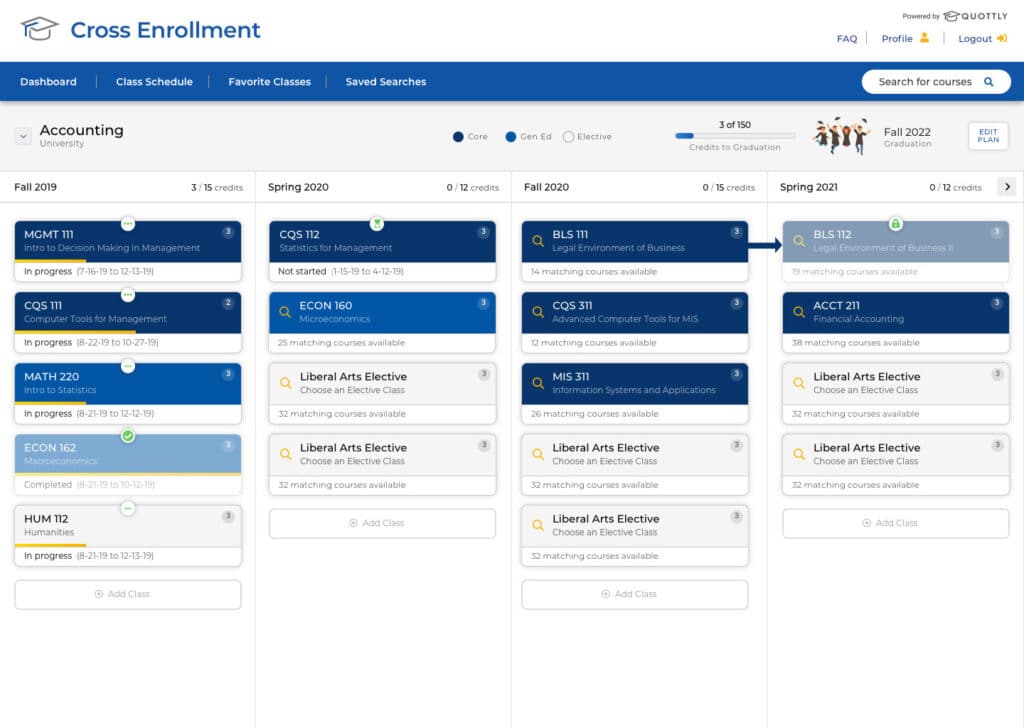 Depending on the institution's needs or limitations, the one-click registration process can be streamlined and automatic or require human intervention, mostly for approvals regarding degree requirements. Institutions can also "advertise" or limit the visibility of other institutions' courses based on their criteria: term, course, classification, etc.
Objectives of the solution
Quottly reduces costs by cross enrolling students between institutions. With a one-click registration, it is even possible for students to register to another university without previously having a student account in this school.
Another incredible feature of this solution is the capacity to inform the students of their program requirements in real-time while browsing other university course lists. This works for regular registrations or with articulation agreements.
The system is also configured to automatically detect changes to program curricula. Therefore, once implemented, the platform can be, to a certain extent, self-sufficient regarding updates to degree requirements.
Not only is this solution beneficial to thousands of students close to completing their degree, but they also help universities be more efficient with their resources.