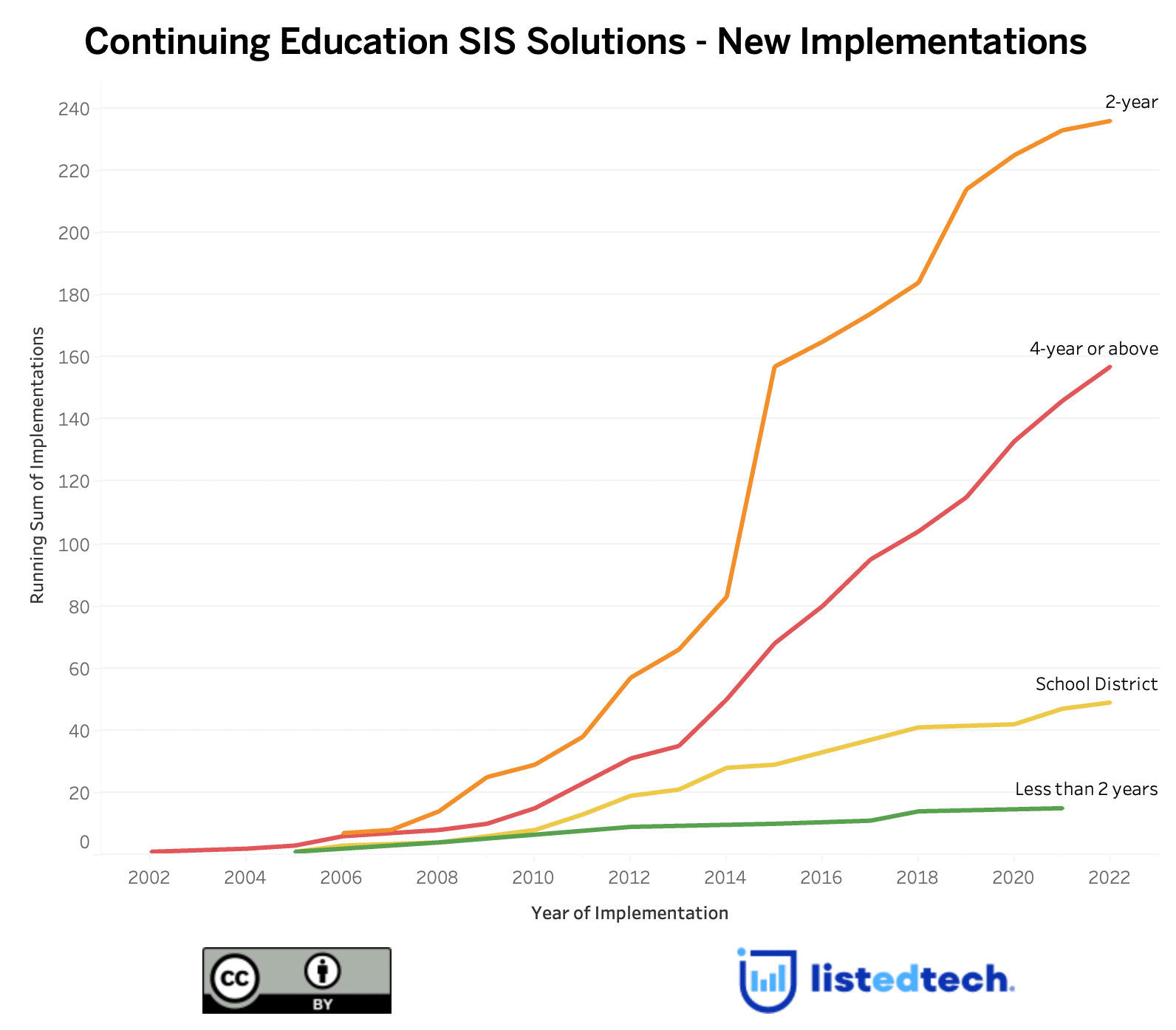 Used every day by millions of users to manage student data, student information systems are expanding into the professional world. Since universities now offer lifelong learning opportunities to increase revenues, the once-used spreadsheet method no longer answers the management needs of continuing education centres across North America. This post looks at some SIS focusing exclusively on lifelong learners.
What Distinguishes a Lifelong SIS From a Traditional SIS?
As its name indicates, the lifelong learner SIS (also called non-traditional SIS or continuing education SIS) focuses on professional development courses and programs. Similar to a traditional SIS, the core functions of a continuing education SIS may include:
Registration and Enrollment: Facilitate the enrollment process for non-degree-seeking students, capturing relevant personal and contact information.
Course Management: Manage course offerings, schedules, availability, and instructor assignments.
Fee and Payment Processing: Handle payment processing for course registration and managing financial transactions.
Attendance Tracking: Monitor student attendance and participation in continuing education programs.
Grading and Certification: Record assessment results, generate certificates, and track students' progress.
Communication: Enable communication between students, instructors, and administrators through integrated messaging features.
Reporting and Analytics: Provide data analytics and reporting capabilities to assess program effectiveness and student outcomes.
Integration: Seamlessly integrates with payment gateways, learning management systems, and other relevant tools to enhance the overall experience.
Learners and institutions may face several challenges in a continuing education setting:
Continuing education usually counts courses and training progression in clock hours instead of credits.
Professional learners may not be assigned an institutional ID and therefore cannot access college materials (library books, etc.).
Students might be hesitant to share private information (i.e., social security number, physical address, email address, phone number, etc.) with the college, making it hard for the institution to capture and store educational records.
Therefore, a lifelong SIS must do everything a traditional SIS does while navigating some administrative differences specific to continuing education: capturing data about different types of educational attendance, enabling stackable credentials, allowing course registration for non-traditional students, and creating educational records without some data.
Solutions Specific to Continuing Education
We have identified in the ListEdTech database a few solutions that focus strictly on lifelong learning experiences: Ellucian Elevate, Genius Enterprise, Modern Campus Destiny One and Lumens, and Jenzabar SONIS. As we acquire this data sporadically, we do not have enough data to present a market share graph.
However, we can notice a considerable increase in product implementation since 2015.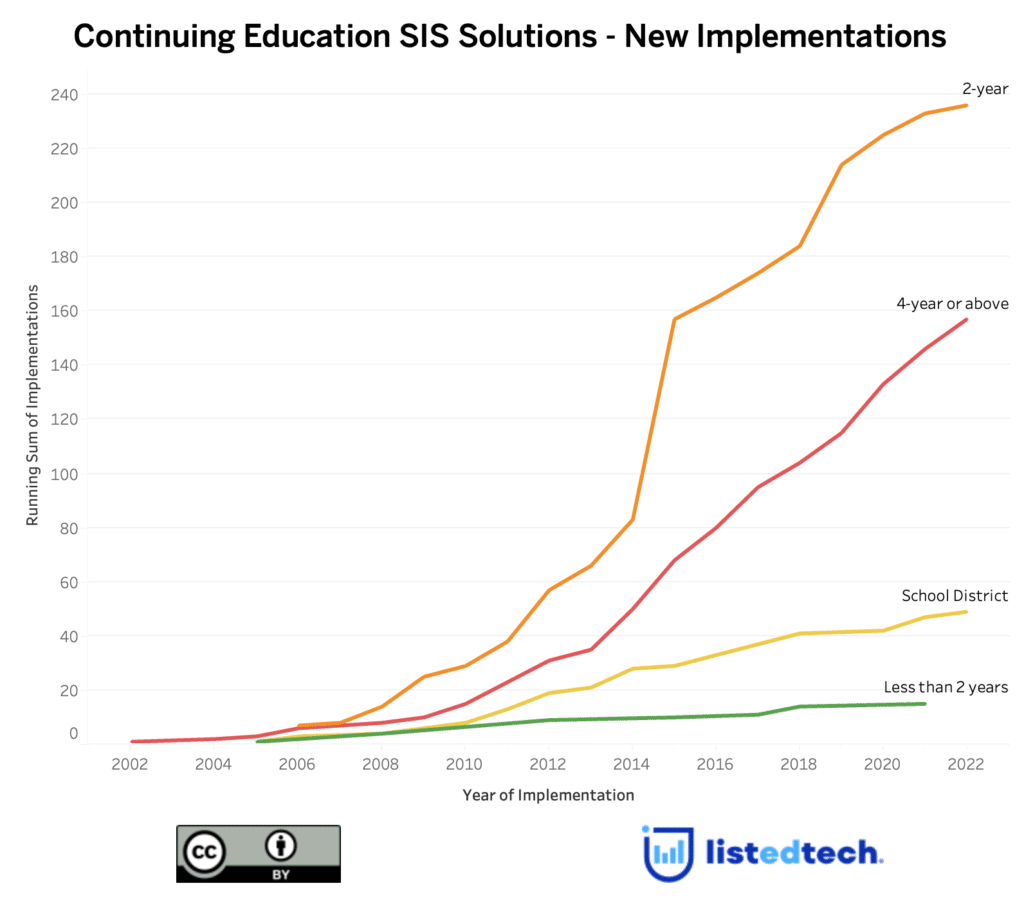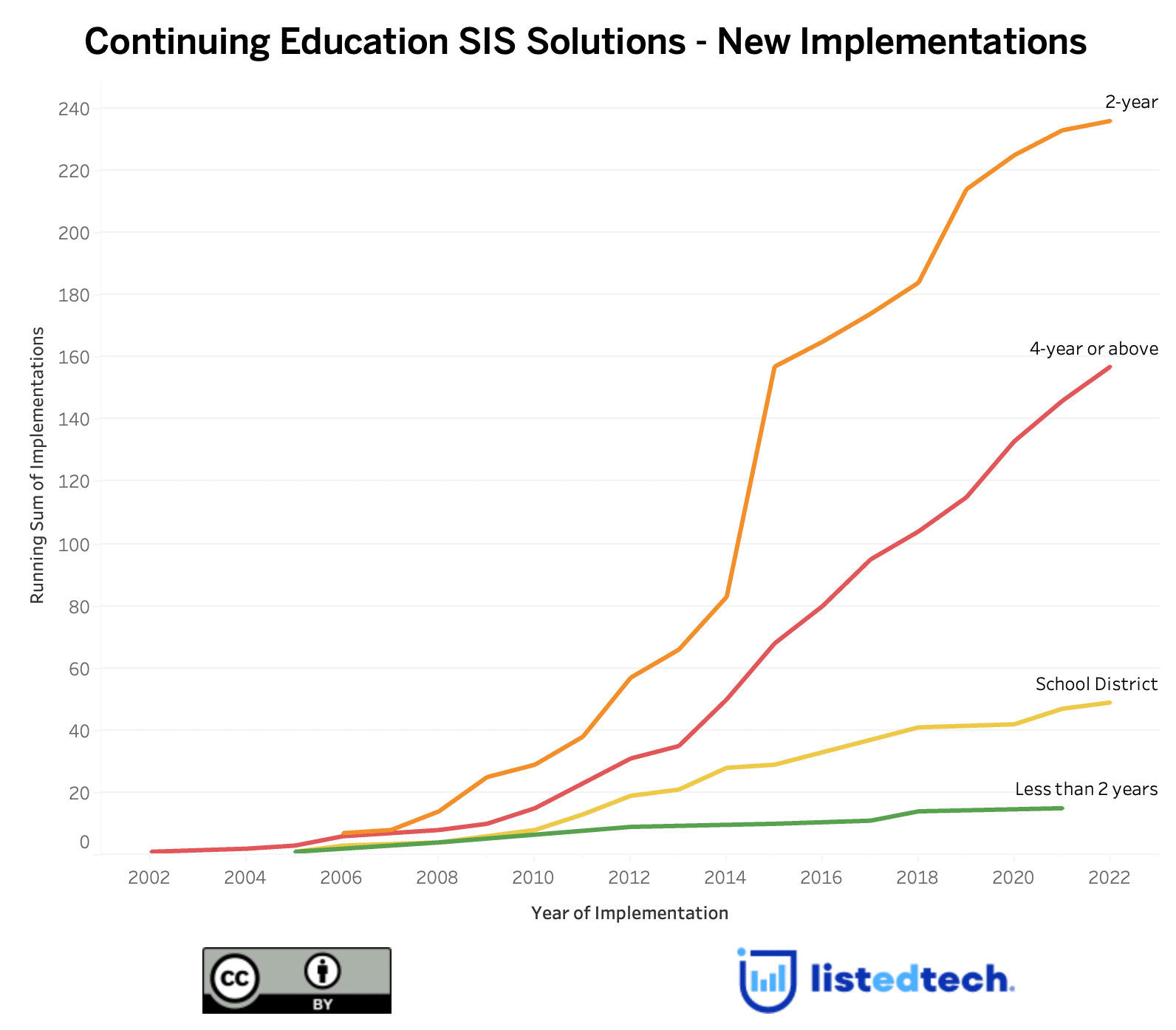 Continuing education centres are nowadays a typical department in all universities and other 4-year institutions. One can be surprised to notice that 2-year colleges are leading the lifelong learning offering in North America.
As mentioned, our data on lifelong learning solutions is preliminary. With more enterprises, government agencies, universities, and colleges requiring their employees to continue to learn during their careers, we do not expect this subcategory of SIS to fade out in the next decade.