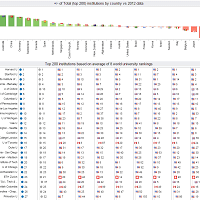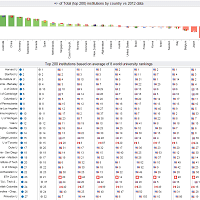 As stated in the post I published 6 months ago (9 World University Rankings – Side by Side), the different world university rankings are somewhat controversial. Their methodology are often dissected to show flaws, and universities often dislike them because of the influence they have come to wield. Not one ranking has been hailed as "the" definitive ranking, although the new European Commission Raking, to be published in early 2014, will certainly be a contender.So how do you make heads or tails of all of this? Don't worry, we won't try. We simply decided to take all of them and average out the rankings to see who is where.
How did we do this? We only kept the world (not regional) rankings that have posted a minimum of 400 universities and are at least dated 2013. Once the data was compiled and we matched up the universities, we simply averaged out the numbers. Only the universities that are on all 8 rankings are in this list.
The 8 world university rankings that were used are:
Academic Ranking of World Universities (ARWU) – commonly known as the Shanghai Ranking – from China – 2013
HEEACT—Ranking of Scientific Papers – from Taiwan -2013
Leiden Rankings from the Netherlands – 2012/2013
QS World University Rankings – from the United Kingdom – 2013
SCImago Institutions Rankings – from Spain – 2013
Times Higher Education World University Rankings (or THE World University Rankings) – from the United Kingdom – 2013-14
University Ranking By Academic Performance (UR by AP) – from Turkey – 2013
Webometrics – from Spain – 2013.6
What methodology has changes since the last time I did it: I'm only using 8 word rankings (G-factor hasn't been updated since 2011); I have added last year's results as a comparative point; Last year's compilation was a mix of most recent data (ie 2011, 2012, 2013), this time its only 2013 data; This year I'm displaying 200 institutions vs 100; For the reasons cited above, the rankings in the '9 World University Rankings – Side by Side' are different from what is posted in the '2012 Rank' column below. For those who have a keen eye, there are several ties: #10, #24, #56, #64, #137, #153, #164, #172, #176, #198. Please take the time to sort and select a country.