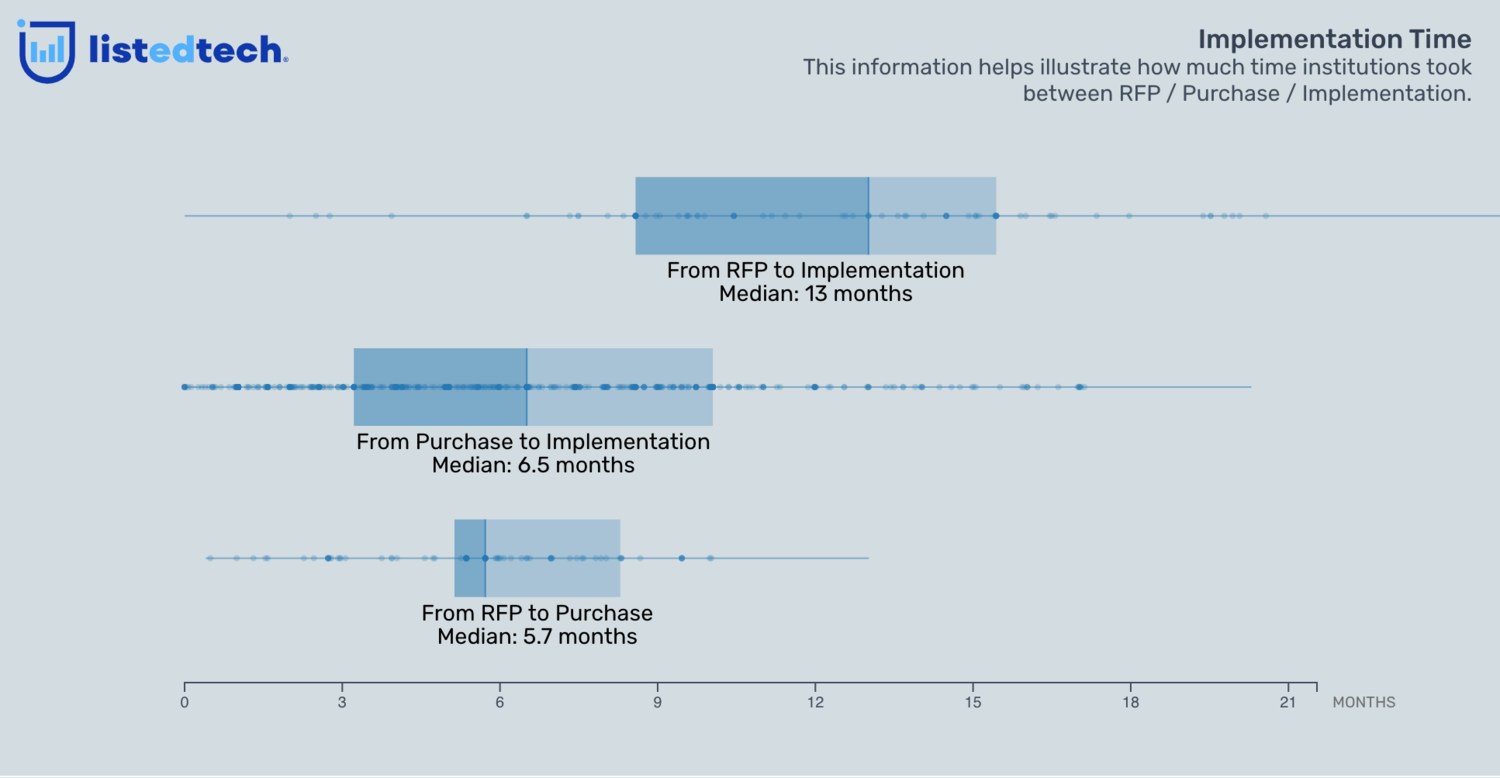 Since August 2nd, we have given access to an early-release version of our institution portal to many institution representatives. This free-of-charge limited access shows the data we have on e-mail systems. When August 16th comes around, the portal will launch with 20 product categories.
Today, we want to show you one of the graphs available on the portal when it is officially launched: the implementation time visualization. This graph helps illustrate how much time, on average, institutions took between the request for proposal step, the purchase of a solution and its implementation.
LMS Implementation Viz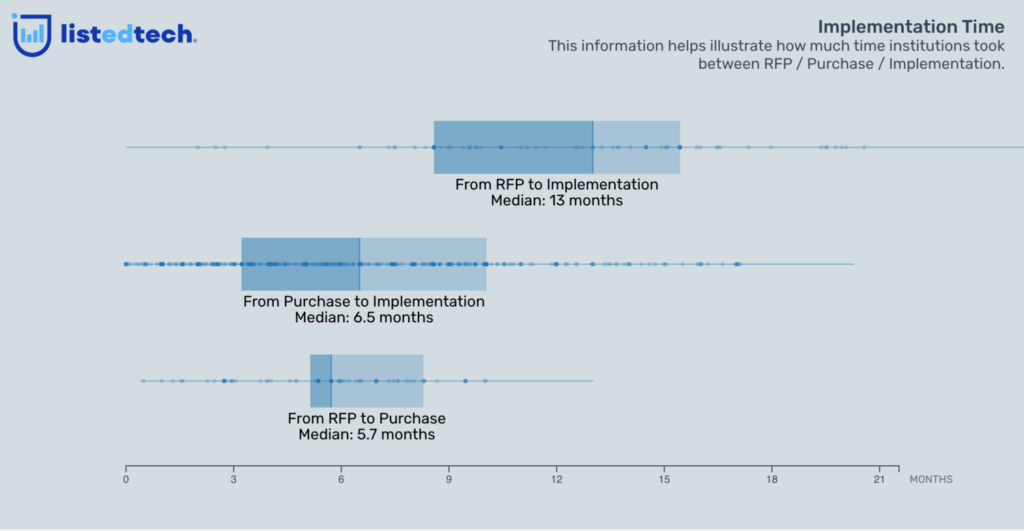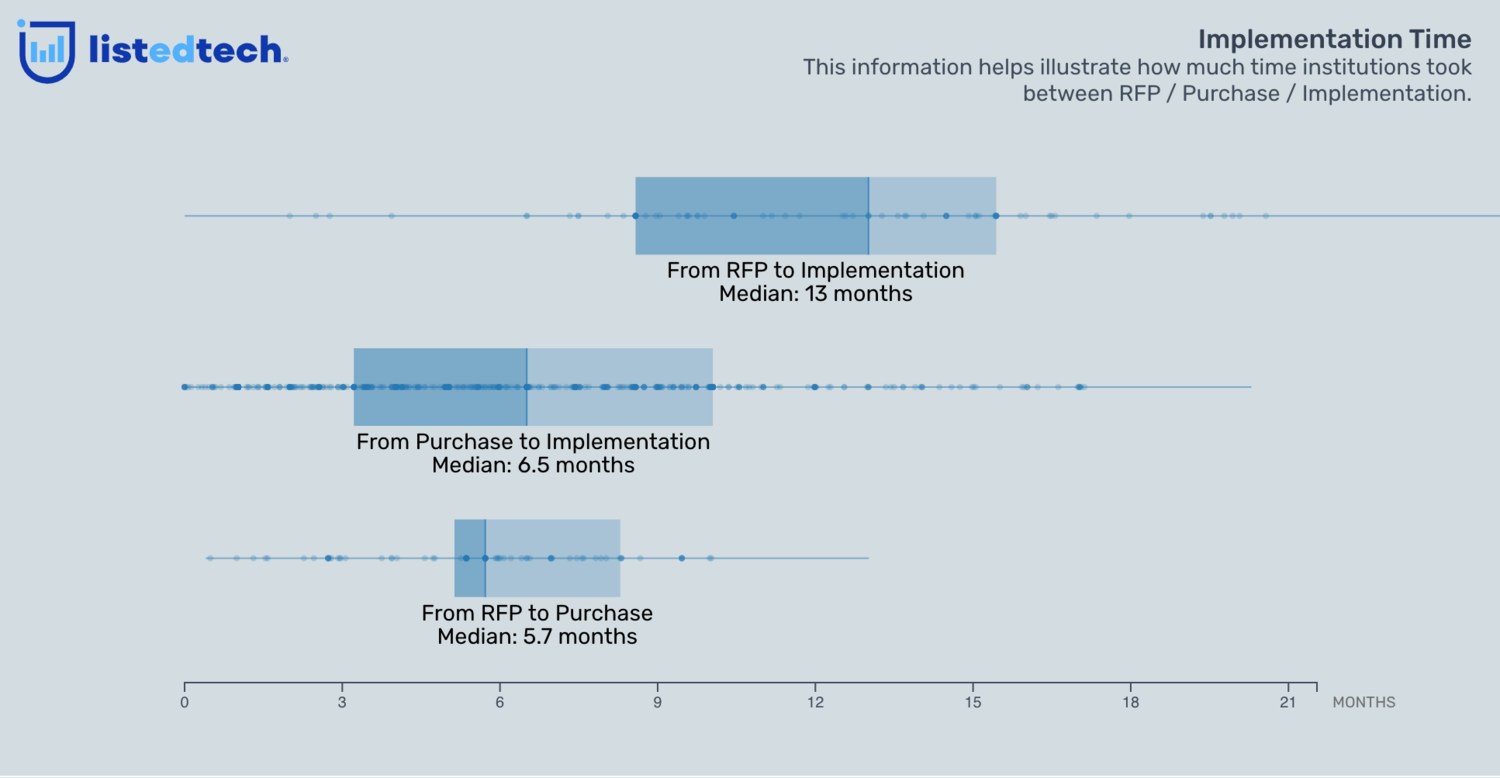 In our Implementation Time visualizations, we break down the data into three graphs: from RFP to purchase, from purchase to implementation, and the overall from RFP to implementation. At a glance, we can see the median for all the steps.
K12 SIS Implementation Viz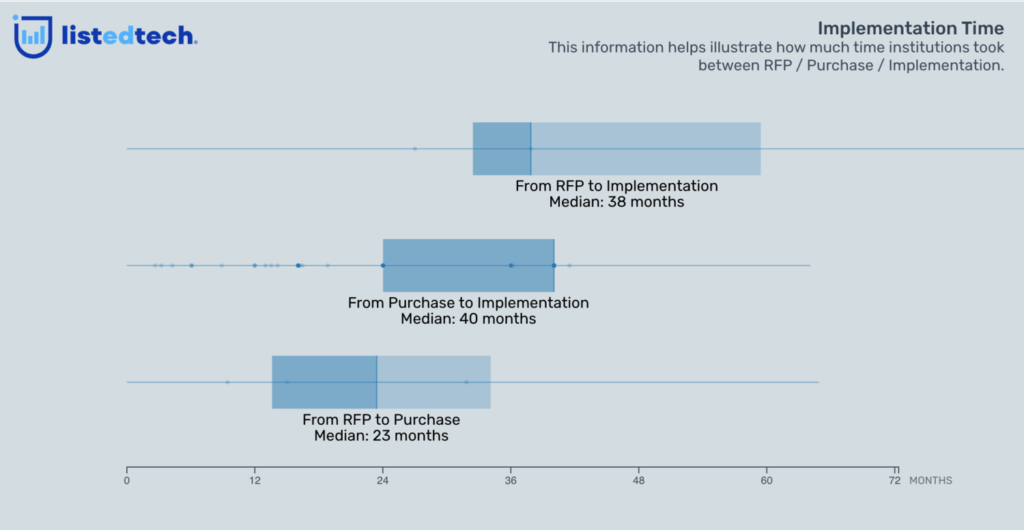 When we compare the LMS and the SIS implementation times, we notice that the SIS process takes much longer. Since this is a core component of the institution's business structure, it is expected.
CRM Implementation Viz

We also wanted to show you a third product category. As you can see, we don't show the RFP to Implementation timeline for the CRM solutions. The reason is that we don't have enough data to show it. To represent an adequate reality, we set a minimum threshold of data for the portal.
Market Trends Filters

The implementation data graphs are part of the Trends section on the institution portal. When a user visits this page, they can decide to filter the several charts based on their own institutions filters: world region, degree type, institution type, and enrollment category. So, if you are a North American, public, 2-year college with a total enrollment of between 2,500 and 4,999, you will be able to see how much time similar institutions have taken for their implementation. We also propose a technology peer institution comparison, as mentioned in previous posts.
The institution portal proposes ten visualizations in the Trends section in addition to the lookup functionality, which searches in the database for specific institution data. All our graphs and data are updated each day. We hope you will give the institution portal a try. And if you already did, we thank you and ask you to share any feedback you may have.