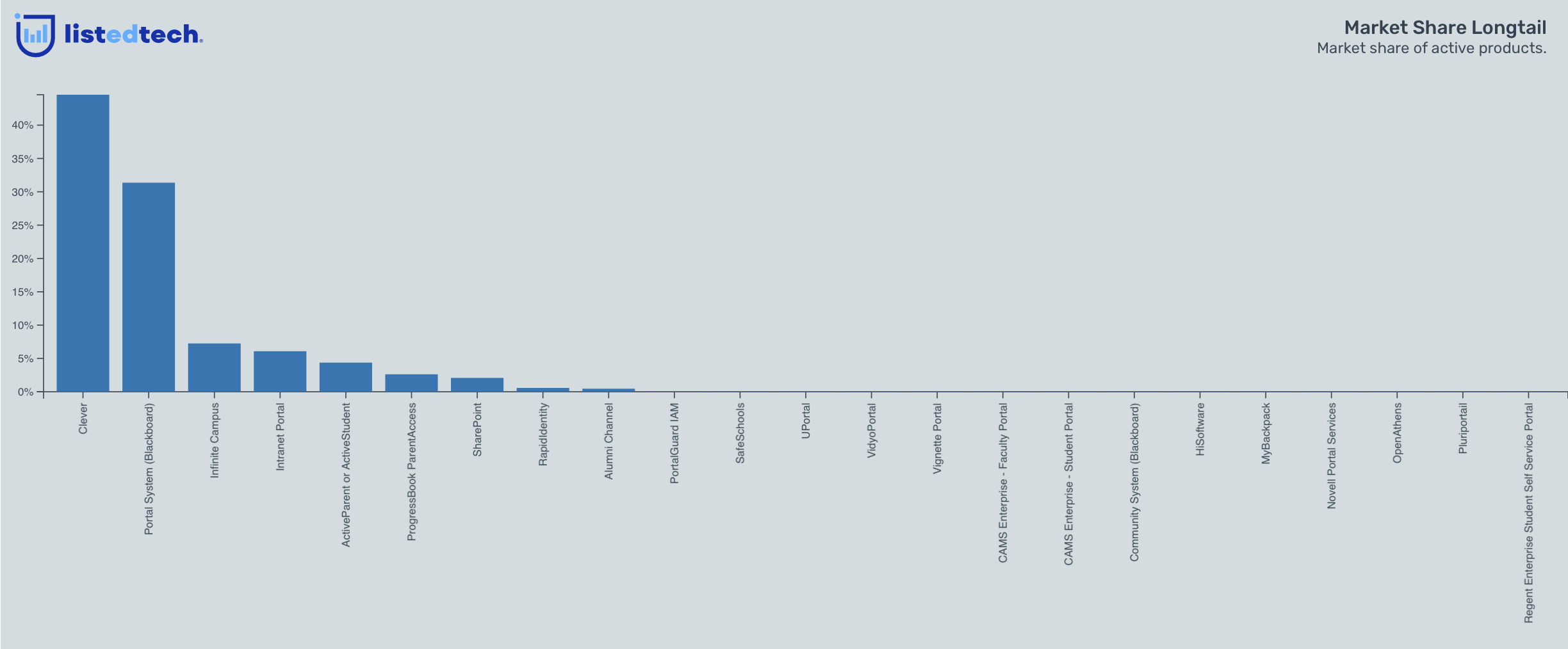 The evolution of portals over the past twenty years is substantial. When it first hit the HigherEd sphere in the 1990s, most solutions were homegrown and consisted of a series of links to software used by the institution. Most institutions did not invest in integrations within the portal. Thanks to APIs and the evolution of the commercial portal offering, these solutions have evolved.
We are releasing this product category because we now have over 2,000 K-12 school districts and 3,000 HigherEd institutions. This is still a work in progress, and we are still working on implementation dates.
What Is a Portal?
A portal (sometimes called an intranet portal or corporate portal) is a gateway that gives access to applications and personalized information to its users. It is a tool that makes it easier for an institution to manage its data, applications, and information through tailored perspectives. Some portal solutions can manage thousands of user queries while integrating legacy software and objects from other solutions.
In HigherEd institutions, it is common to see the student portal separated from the employee portal. Sometimes, the solution implemented in the background is the same, but the content proposed to the users differs. The employees have access to their social benefits, paystubs and vacation management software, while students can see their class schedule, obtain a (un)official transcript and drop classes.
The portal's objective has not changed since the 1990s: it connects users to information and solutions. The difference resides in the amount of information now included in the portal without leaving the portal environment.
Advantages of Portals
Better communication: in addition to other systems (alert systems) and hardware (TV screens on campus), the portal can inform the university community of events on campus, important deadlines or potentially harmful situations.
One-stop-shop for personalized information: by definition, a portal uses an SSO (single-sign-on) technology. It can then showcase personalized information from several systems, allowing users to navigate them seamlessly.
Reduce the pressure on administrative staff: providing an efficient system where users can update their personal information, modify their class schedule or transmit authorization forms allows administrative staff members to focus on more problematic cases instead of spending precious time on casual tasks.
Improve community engagement: portals participate in community engagement because it proposes institutional activities, suggest content to support the brand, and sometimes offer forums for users to interact.
Disadvantages of Portals
Security and information breach: because a portal connects with many APIs and other software, institutions must consider portal security as a top priority. Anytime you are collecting all your most important data and information in one place, you are putting it all at risk.
Superabundant information: although having access to personal information in one place can be interesting, it could lead to counterproductivity and confusion. Institutions must propose menus designed with their users in mind to avoid the situation.
Management of another system: in addition to the many software already implemented by the institution, the portal requires time, people and money to stay up to date. Although advertised as easy to manage and maintain, portals cannot manage themselves.
Market Leaders for HigherEd in North America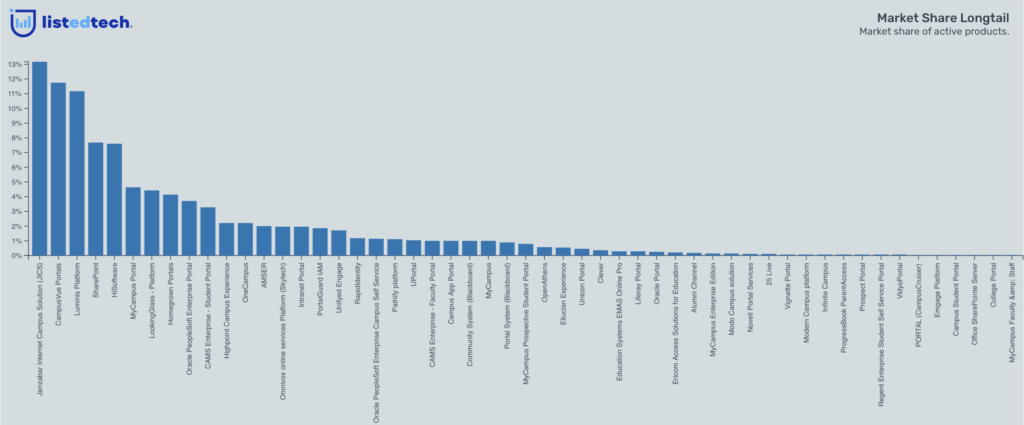 The education market is far different from the corporations when it comes to portal product selection. While almost 80% of Fortune 500 companies use Microsoft SharePoint, the proportion of HigherEd institutions choosing this solution for portal purposes does not even hit 10% worldwide. We note that many enterprises use Sharepoint as document or project management, not only for its portal capabilities.
In the HigherEd submarket, the three market leaders (over 10% of market shares) are Jenzabar Internet Campus Solution (JICS; 13%), CampusVUE Portals (11%) and Luminis Platform (11%). We can appreciate the very longtail of solutions present in the HigherEd submarket. Most solutions do not hit 5% of the total market share.
Following an important announcement on the sunsetting of Luminis Platform, the portal landscape will change in the next two years. Ellucian has announced that it will no longer support Luminis past June 2024 as the company decided to build Ellucian Experience to replace Luminis, Portal and Mobile.
To this date, many institutions still use their homegrown systems. These systems represent 4% of the HigherEd market.
Are Portals Making a Comeback?
Although portals were considered a novelty in the 1990s, this product category saw an overall slowdown in the past decade. With many post-secondary institutions shifting their course delivery to distance learning (even with most of the pandemic behind us), we will have to wait another year or two to see if the 2020 bubble will last longer.
If you haven't tried our portal, we encourage you to test it out! Sign up today!