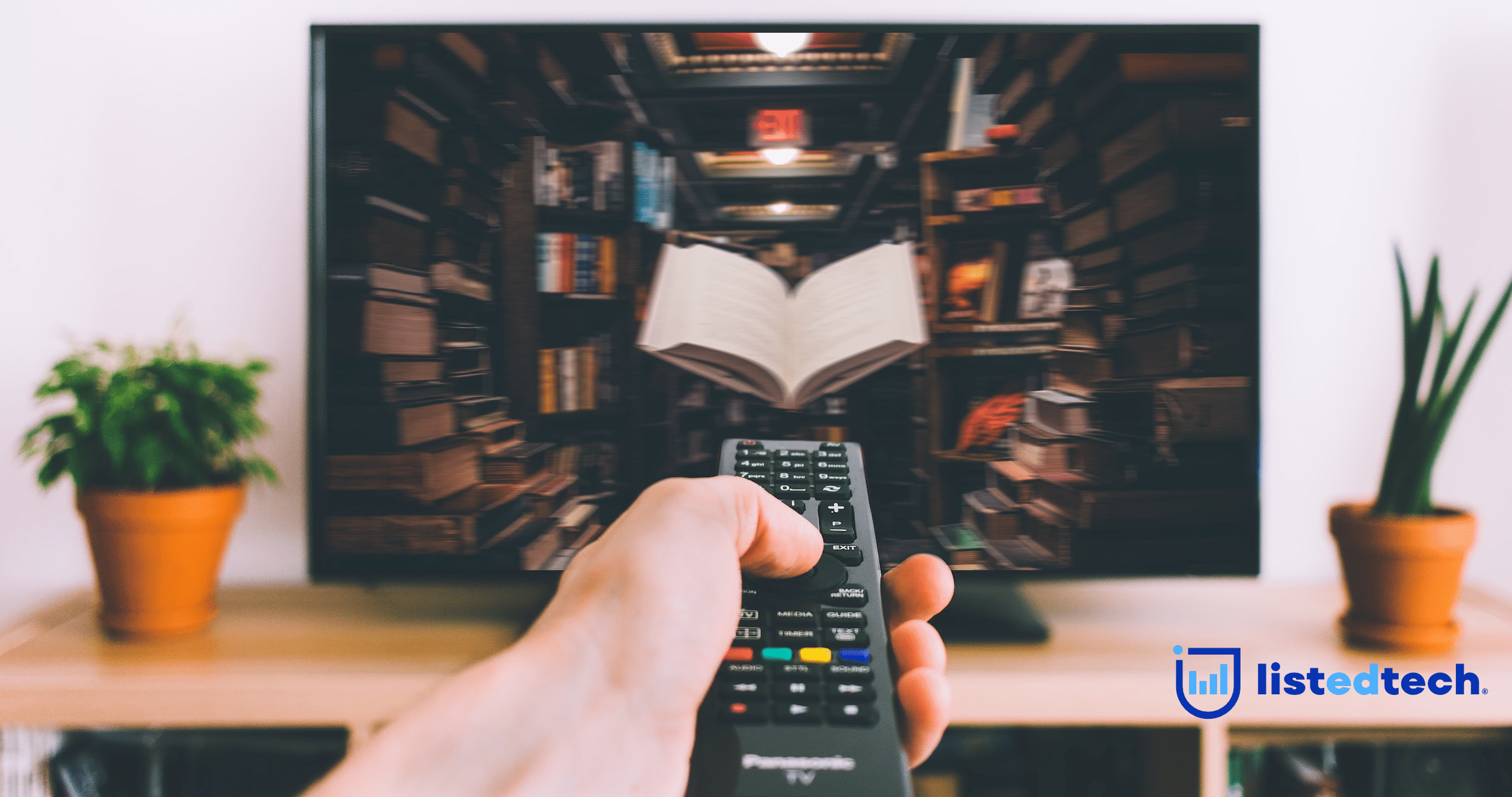 Over the past years, I've been thinking a lot about subscription models. Nowadays, we see this business structure for several services: video-on-demand, music streaming, even meal kits delivered to your porch. The continuous relationship between clients and providers is put at the forefront and remains central to this business structure. At ListEdTech, we have also switched to a subscription model in 2022 to offer a constantly updated version of our data through our portal.
Some universities are experimenting with subscription systems when it comes to lifetime education. Stanford University was the first university in 2014 to launch such an initiative. When asked to imagine how their college would function in 2025, "[Stanford] researchers proposed allowing students to sign up for six years of classes in any major and take them whenever they want — a chunk after high school, perhaps, followed by a refresh a couple of decades into their professional lives," mentioned by a Washington Post article back in 2018. At the time, the Open Loop University initiative was not implemented. To this day, the website is still active as Stanford is still figuring out the appropriate model. The most recent update dates from 2019.
Despite the mixed results, this led to many universities working on their own version of a lifelong education subscription. Northwestern University and the University of Michigan's Ross School of Business are two examples of this subscription model. Another example is the National University of Singapore, which has a lifelong program called NUS L3 designed for alumni to support their "personal and professional growth so you remain relevant to the evolving demands of the workforce." NUS assists its students for 20 years from the point of admission. This program structure allows graduates from these schools to come back to their alma mater to enhance their education when it's convenient or required by their career path.
A key component of a successful academic student path, financial aid is not currently designed to work with the subscription model. As the lifelong education structure offers non-degree education and is based on a short-term offering, it is not adapted to the scholarship programs offered by many universities.
Businesses Are Experimenting the Subscription Model
In addition to universities and colleges, other businesses propose the subscription model to their users to help them acquire advanced knowledge. Among them, LinkedIn Learning is probably the best engineered solution since it offers a platform for people often looking for a career change. When I browsed my feed page in early 2022, I stumbled upon this post from a professor at Conestoga College: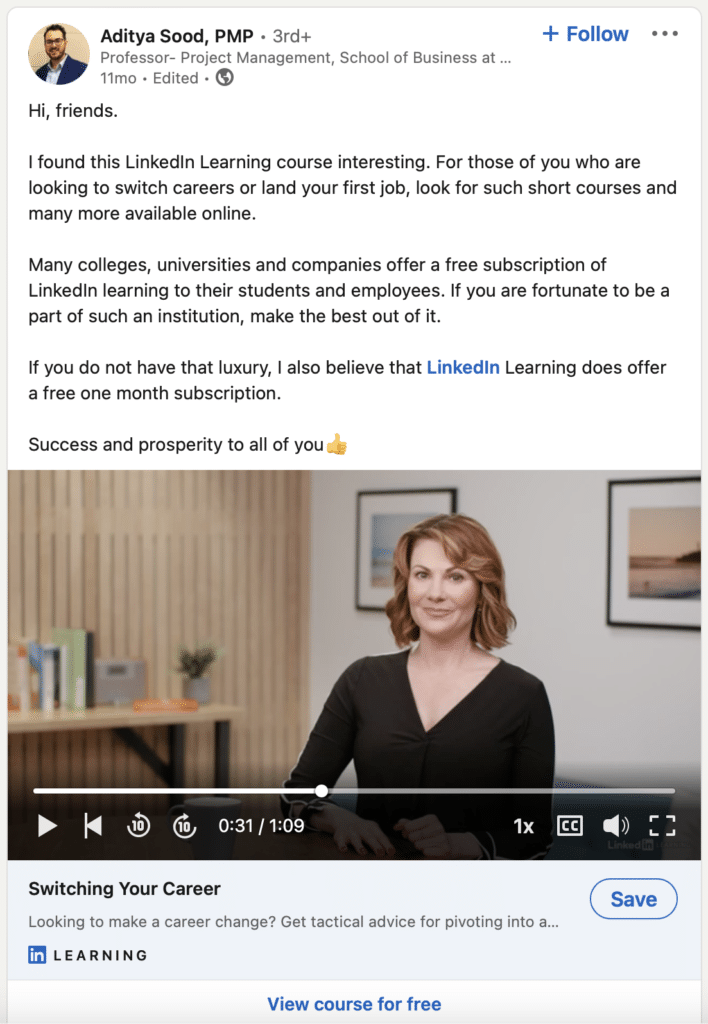 Not only does this post talk about switching your career (something most of us will face at some point), it also promotes the lifelong subscription model many universities offer to their alumni.
Is the Subscription Model the Solution?
These days, we all pay subscriptions: Netflix, Prime Video, Spotify, Apple One, etc. By definition, a subscription is "an arrangement for providing, receiving, or making use of something of a continuing or periodic nature, especially on a prepayment plan." (source) It can be based on a specific period of time, on usage, as a one-time charge, or all of the above.
Imagine that you would like to implement the subscription model at your university, a simple "all the courses you want" model, a buffet so to speak. If the students or the alumni pay the monthly subscription fee, they have access to any courses they want. In theory, this is an excellent idea, a great way to keep your community engaged with the institution. Then, you present the idea to the registrar and IT teams and mention that you would like this project to start in six months.
They will certainly have a list of questions and objections:
All courses but not graduate courses, right?
Who will validate that the subscribers have the appropriate prerequisites?
How do we limit allocated spots for the subscribers in the courses?
Is this online courses only?
Are the subscription fees based on the science or the arts tuition fees?
What about laboratory facilities: is the subscription model fees adapted to this reality?
…
In the current operation-centric systems and structure, universities would not have enough time to implement this new business model, including a new pricing option: the subscription. Board approvals and implementation of the new fee structure in the ERP system would make things almost impossible.
IT team members would have to build workarounds in the current ERP system. The possibility of losing subscribers would be high since it would require them to act on their subscription every four weeks. This situation only deals with the pricing issue. Don't forget that the system will have to link subscribers to courses. How will they be activated in the student information system? Do we even need them in the SIS? Many more questions to answer…
Another scenario: you are in charge of the Office of Continuing Professional Development at your university. A company reaches out to buy 200 courses for its employees. Your answer would probably be: "Sure!" With the current SIS, you will need to register the employees individually to each class. Then each employee would request a reimbursement to the company. But that's not what the company is asking. There must be a way to make this easier and offer a better user experience.
Such a situation could be worked around thanks to bulk upload of bulk enrolment. However, these workarounds are not an integral component of the systems and might be deficient at any given time.
CRM, SIS and ERP systems, even if they are interconnected, often communicate in a linear fashion. For the past 30 years, we have been focusing on standardizing the offering: the programs (the product). With a subscription model, we need to focus on the students (the clients).
The IT architecture used in HigherEd needs to change so that the individuals (students, alumni, clients) are at the center. A few companies have started to offer systems with this perspective in mind (see note). If institutions prioritize it, more companies will develop SIS and ERP systems that allow such business models.
Please note that we have started compiling data on SIS built for continuing education. So far, we have identified three companies: CampusCE, Jenzabar and Modern Campus. Anthology Student is also designed with a learner-centred perspective. If you know any SIS specifically designed for continuing education, please reach out to us.