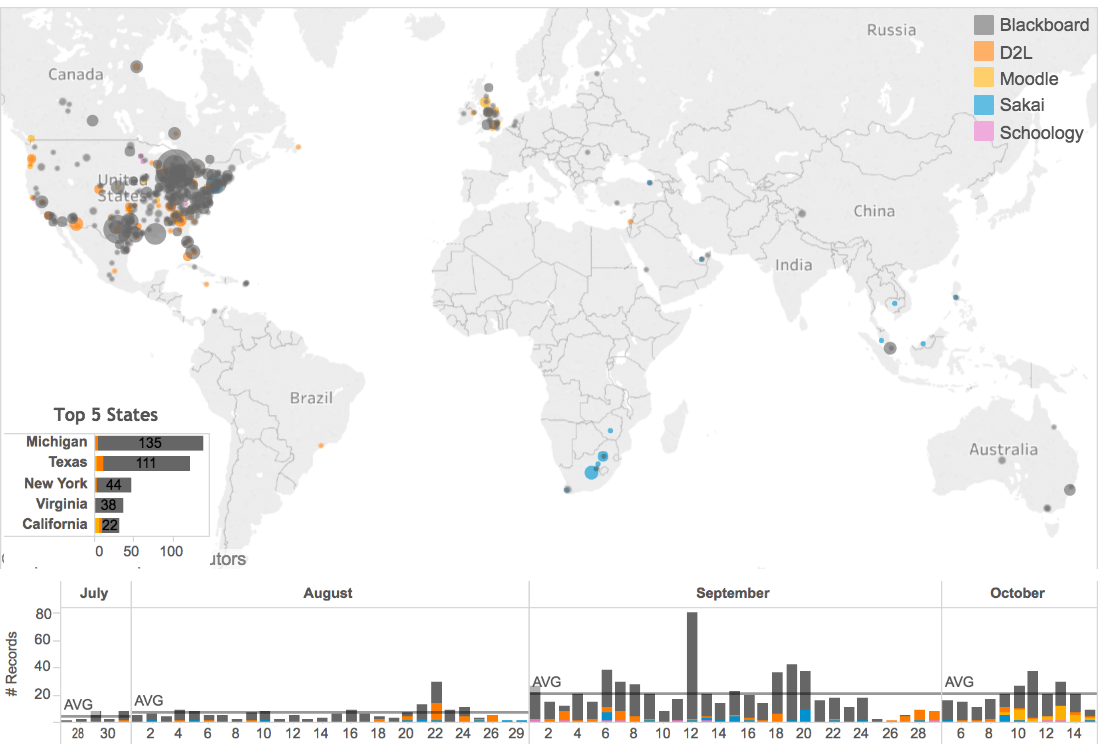 With the help of a social media monitoring service from Cyclope Labs, we have been tapping into the massive amount of data from Twitter. The goal was to see if we could find useful data that would help enrich our understanding of the LMS market dynamics (including our LMS subscription service). We used several filters to identify tweets about Blackboard, Brightspace, Canvas, Moodle, Schoology, Sakai, etc. The number of tweets received is overwhelming, in the order of over 200,000 tweets for the period covering 2016-07-20 to 2016-10-15.
Some of the data on which we have focused our attention on are tweets saying that a particular LMS was down. Again using filters, we are able to identify tweets that share students' reactions to those events. See full unedited list below… (Warning, students often use colourful and sometimes very funny language)
In order to find the location of the tweet, we used the self-declared location of the twitter account, if they had one. You can see that on specific days (September 12 is a great example), we get large numbers of tweets. If you click on stack bars of September 12, we can even zoom in on Michigan State, you will further see that 35 tweets are from Mount Pleasant, home of Central Michigan University (CMU).
To read the actual tweets related to this CMU outage, simply paste the date (16-09-12) in the search bar just above the list of tweets.
Most of the tweets are about Blackboard, but please take into account the three following points:
Most blackboard clients are self-hosted;

Blackboard has more clients;

Our filters are skewed to show English and French-speaking countries.

Moodle is filtered out (accidentally) until the last week of this extraction
The map's points' point's size are representative of the number of tweets by location.
Please note that the self declared location has its issues. The student could be having a twitter handle indicating his location as Paris but be studying in the USA.
***Update***
Just to clarify, we looked at data for all major LMS providers including Blackboard, Brightspace, Claroline, Canvas, itsLearning, Moodle, Sakai, Schoology and Stud.IP. No data on the map equals no tweets that indicated a system was down.
Now, we know that our filters are not perfect and still a work in progress. We also know that an outage in Norway for itsLearning was not detected by our filters. The reason is that we filtered out tweets that were not English or French. This will be corrected…
***Update***
For full disclosure, please note that the owner of Cyclope Labs is part owner of LISTedTECH.