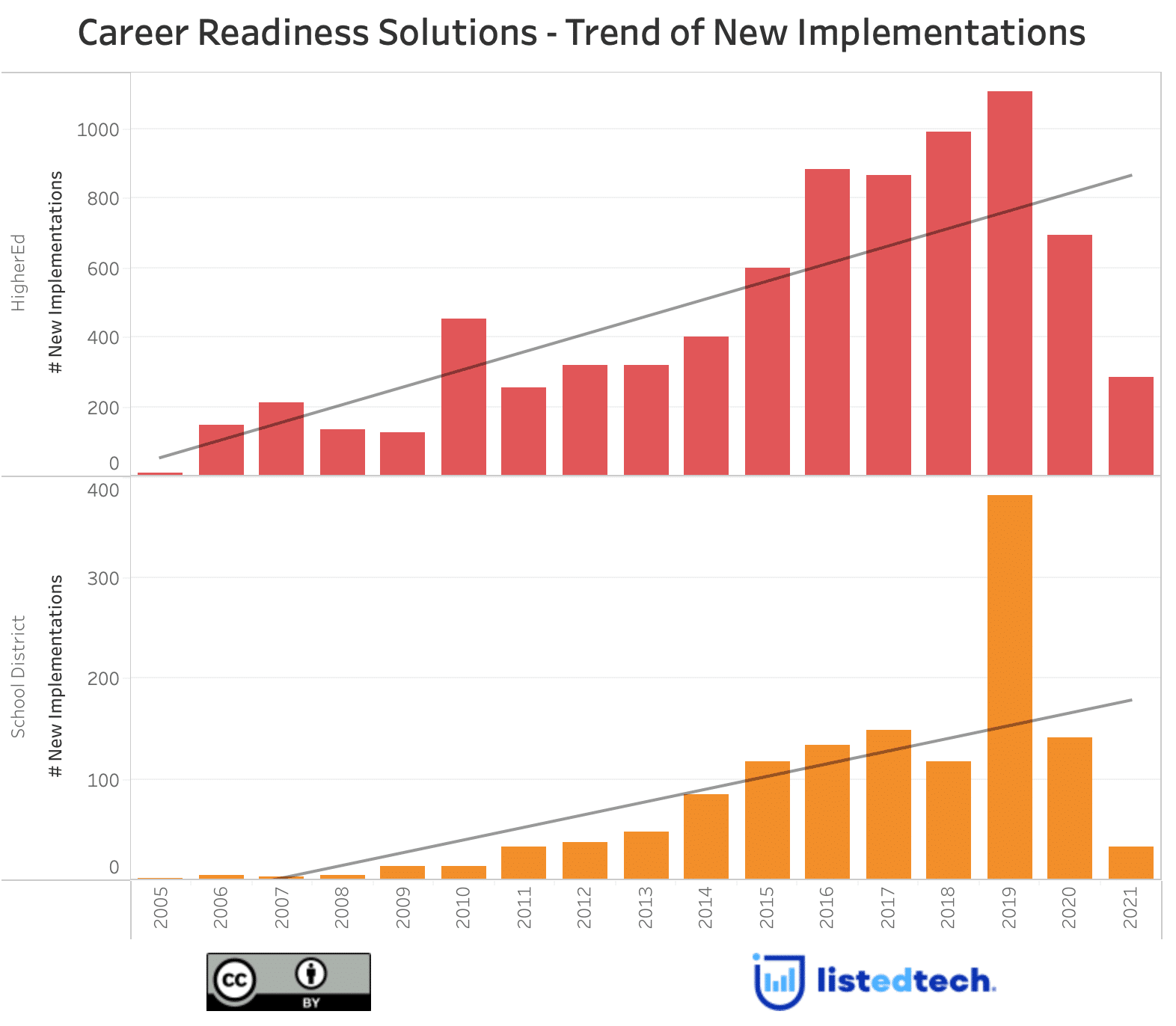 The name says it all: career readiness solutions are there to help students of all ages get prepared for after-school life. Also called student success technologies, these products are implemented in K-12 and HigherEd. A question may arise: what could a grade-10 student and a senior-year student have in common when it comes to their career? They both want to be as employable as possible.
What Are Career Readiness Solutions?
"Career readiness solutions allow college career services teams to assist undergraduate and graduate students in preparing for the workplace. Functionality includes course-competency mapping, access to counselors, mentors, and alumni, advice on career options, and resume building." (Source: Eduventures' James Wiley article)
With this definition in mind, it is clear that communication, critical thinking, financial knowledge, time management and stress management among others are key components of successful career preparation. Often, student success services in colleges and universities offer these workshops to their students. But teaching to K-12 students how to handle a budget or to better organize their schedule can be a challenge.
This is why, for K-12 institutions, career readiness activities are defined as visiting to a local college, helping in the process of requesting transcripts or setting up a shadowing program to ensure students select the right academic path.
What Do We Consider Career Readiness?
For LISTedTECH, we have included in this product category many software and solutions such as assessment; career exploration; career services management; interview preparation; labour market information; mentoring and networking as well as resume building.
In the graph below, we show implementation trends for both HigherEd and K-12 since 2005. We can see that, despite a few bumps here and there, this product category sees an upward trend.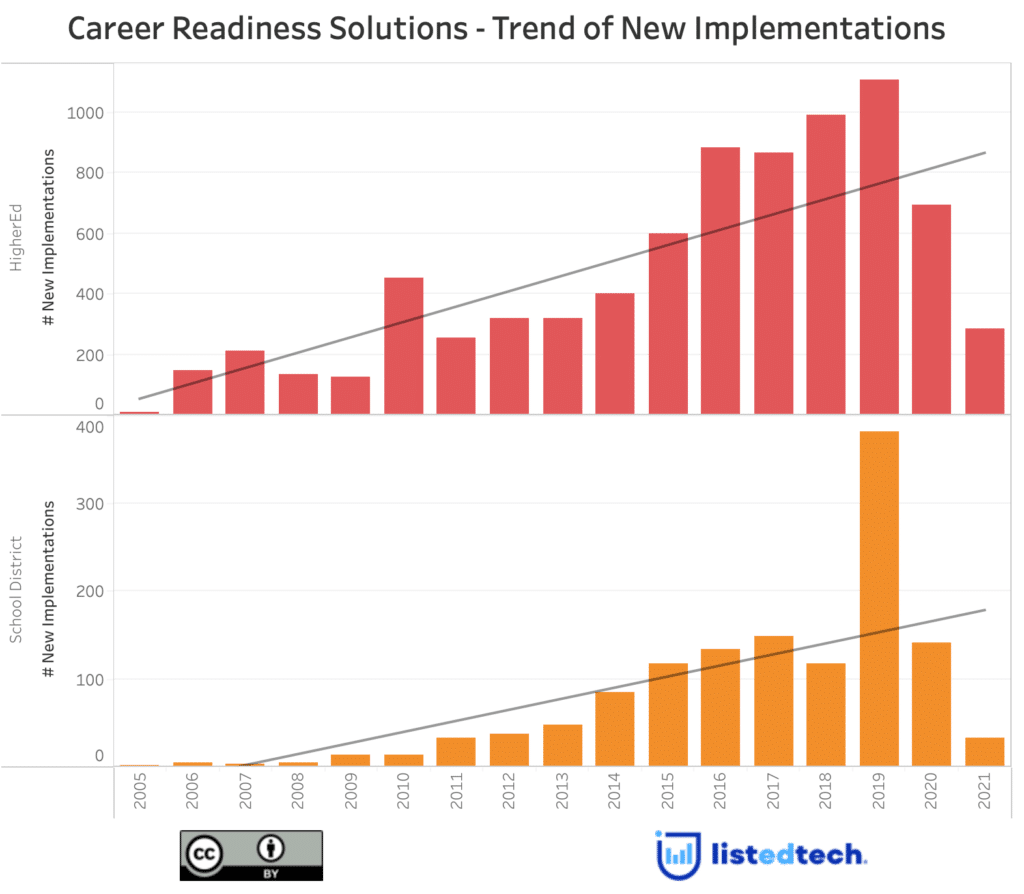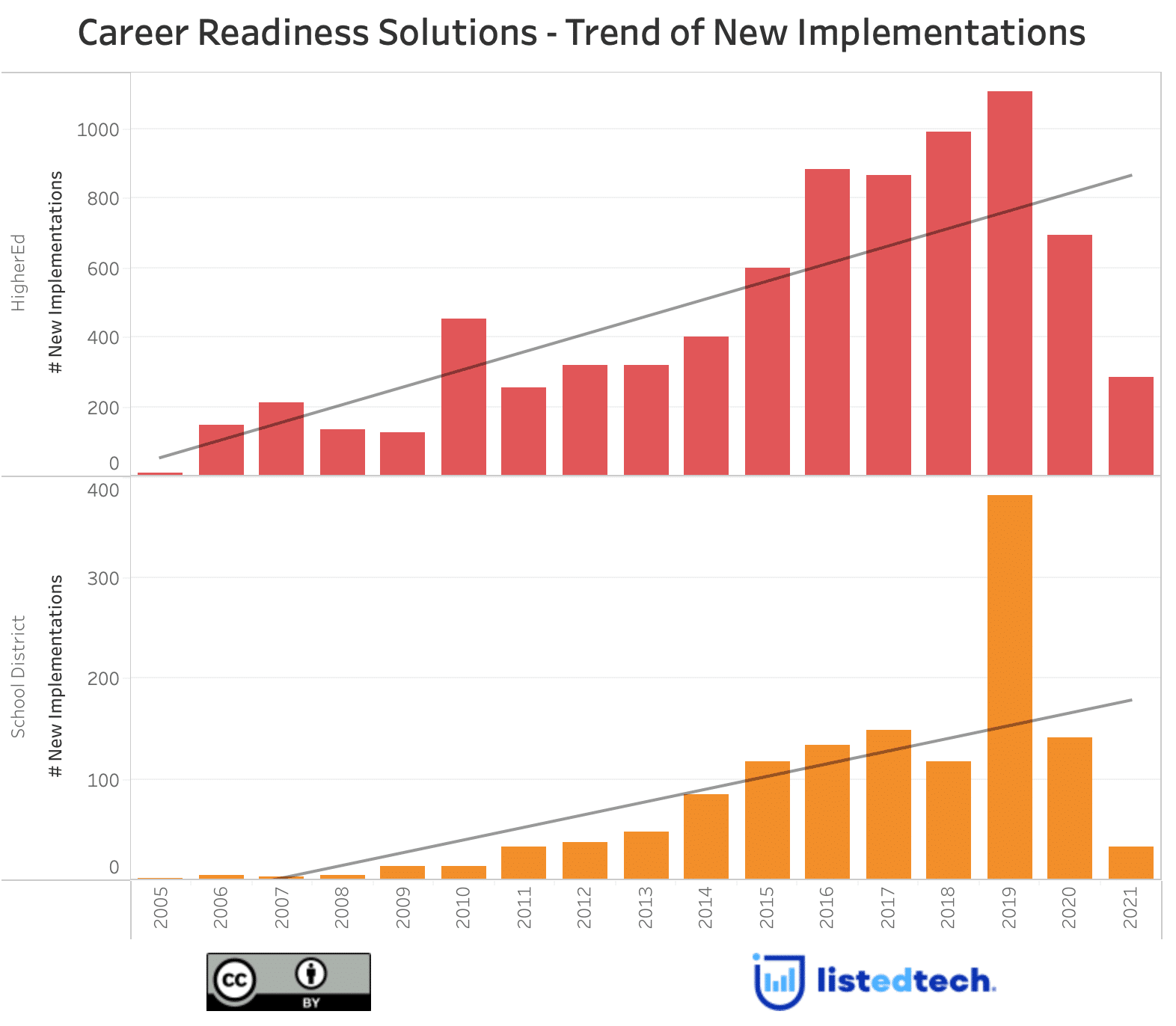 Universities and Colleges Are Evolving
Recently, post-secondary institutions are redefining their career readiness outlook to supply faculty members with the means to incorporate the necessary job-relevant skills in their syllabus. Other institutions are modifying their professional development centre to offer the latest tools and necessary support to equip their students with the latest and most relevant skills for the workforce using a variety of readiness management systems.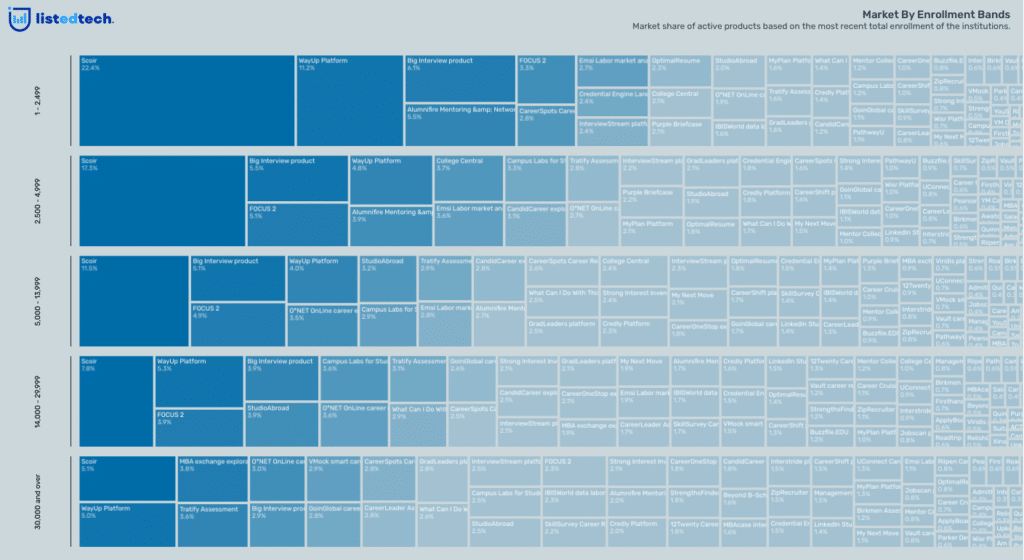 A good example of this change in professional development centres is the integration of technology solutions in their daily operations. The traditional bulletin boards are long gone; now, students and education professionals are using SaaS to connect to the job market. For example, 12Twenty is developing an online solution to post jobs, manage events or on-campus interviews and schedule appointments. The idea is to connect the outside world with soon-to-be graduates during their co-op program or when they hit the job market.
Career readiness solutions also include career prospection tools. Even when they are enrolled in a college or a university, students often ignore their true passion and miss exciting careers because of a lack of knowledge. In high schools, guidance counsellors have large groups of students as well as minimal time to perform orientation tests. MyNextMove can help students find their future careers by offering lists of careers as well as domains and a questionnaire for students to fill out in order to obtain a list of careers matching their interests. This method may not be as accurate as an appointment with a GC, but it sure helps the younger generation know themselves better.
Career Readiness Is Strongly Implemented in School Districts
Contrary to the HigherEd market, the K-12 landscape has two main competitors: Naviance Insights and Career Cruising. These solutions focus on building skills and knowledge while giving tools to determine the best academic path and career. Career Cruising starts the student journey as early as elementary school and offers a platform to identify interests. The platform follows the students throughout elementary, middle and high school and even integrates a multi-year course planner. It also features a lesson platform similar to a language-learning app with a progression bar through the years and different required skills.
Naviance Insights is accessible to over 10 million students, representing 40% of all high schools in the U.S. The basic steps remain the same: Naviance offers self-discovery tools, career exploration and planning, lesson platform and course planning. Where it seems to distinguish itself from its main competition is with its college research and application feature. As mentioned on its website, "[s]taff can connect students with college and military reps and seamlessly manage the entire college application process in Naviance."
There is no doubt that career readiness products are increasingly in demand. While governments want to ensure the employability of graduates, companies are looking for candidates with results-oriented skills. HigherEd institutions and school districts are gladly using these tools to ensure graduates transition to the workplace with all the knowledge needed to succeed.