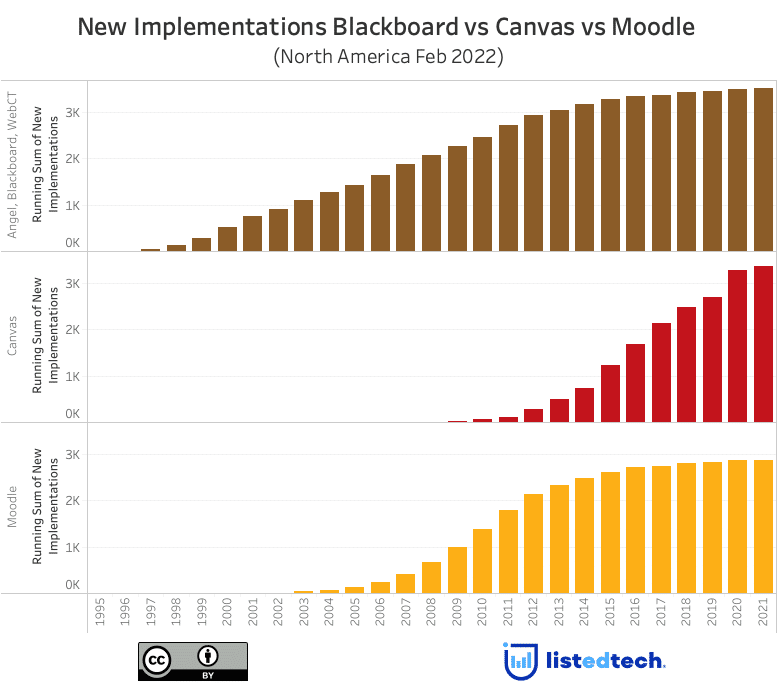 In the many product categories we track, we often spot a player who has unique characteristics and who pushes us to dig a little deeper into our data. In the learning management system category, this company is Instructure, with its product Canvas. Since its inception in 2008, Instructure has seen an impressive and unmatched run in North America, dominating new implementations.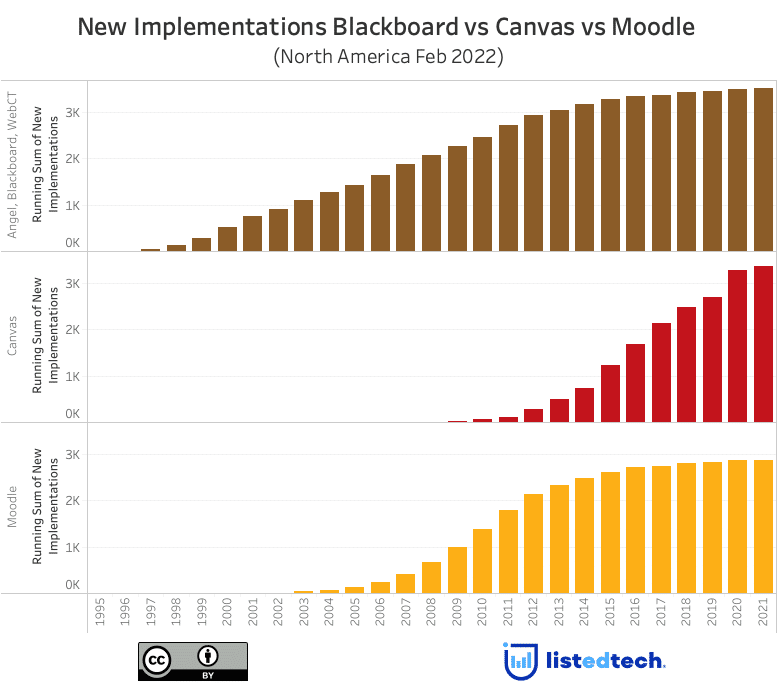 In comparison to its main competitors, Canvas has an unprecedented track record. The numbers speak for themselves (the graph combines the K-12 and the HigherEd in the North American markets):
It took Blackboard 14 years to get 2,000 implementations. As our readers may know, Blackboard succeeded in this product category mainly by acquiring competitors in the 2000s. We have included the following acquisitions in this number: WebCT in 2005 and Angel in 2009.
For Moodle, this 2,000-implementation mark was attained in 11 years.
Instructure achieved the same result in only 9 years.
In addition to this speedy result, Instructure has almost a perfect record when it comes to higher education in North America. The only accounts it lost are from institutions that have closed, not because its product was replaced by one of its competitors.
Instructure in the K-12 Market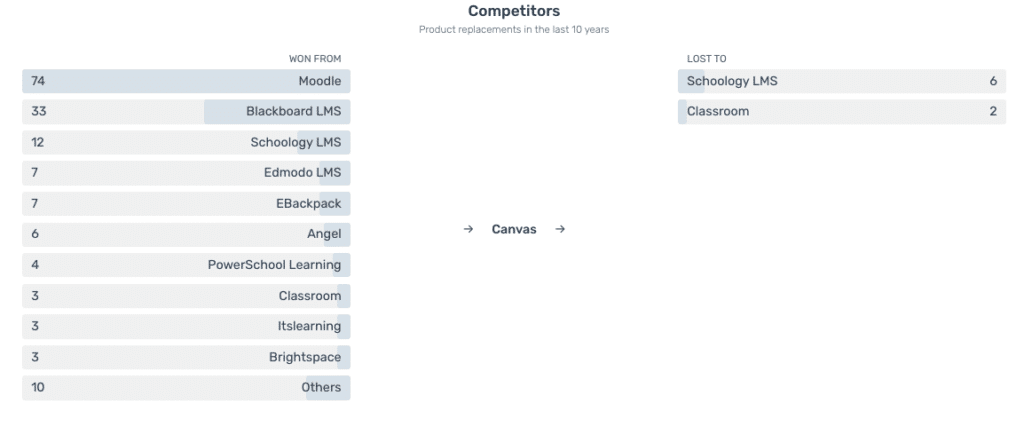 Instructure's K-12 record is almost as good. It still is one of the dominating players, with Classroom and Schoology. To be clear, it has not lost market share, but about a dozen school districts have selected another product to replace Canvas. From these decommissions, it has lost two to Classroom and six to Schoology in the past ten years. During the same period, it has a positive record for the same companies (see left column) and has replaced Moodle and Blackboard more than 100 times, in total.
Primary Systems in Relation to Secondary Systems
The following graph shows primary systems on the left side and secondary systems on the right side. This graph is based on 700 HigherEd institutions in North America using a secondary system. We did not include institutions for which we only have a primary system.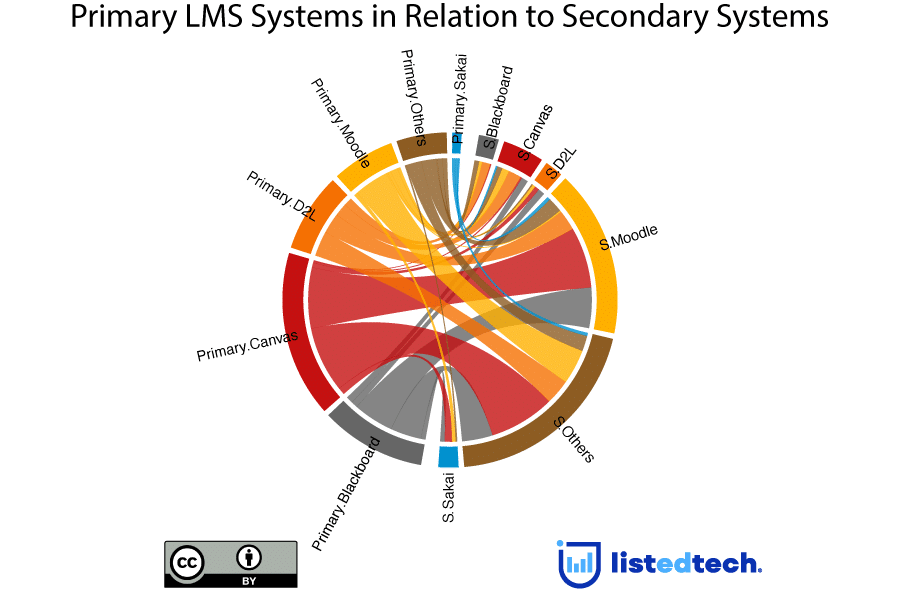 When we isolate Canvas implementations, we notice that this LMS is used with many secondary systems. Proportions are about the same as the other products.
In our database of 700+ secondary implementations, the most popular LMS systems used as a secondary system are:
Moodle
Canvas
Edmodo
Classroom
Schoology
Remember that secondary systems are often only used in one faculty or school. We can imagine that Edmodo and Classroom implementations may be used in the Faculty of Education to better prepare future teachers.
Two Primary Learning Management Systems
You may believe that a primary system is implemented on its own and oversees all LMS capabilities at one institution. But, while digging in our data, we found out that many institutions (over 400 in North America only) use two primary LMS. Here is a graph of these institutions.
Note: Some of the institutions could be transitioning from the old system.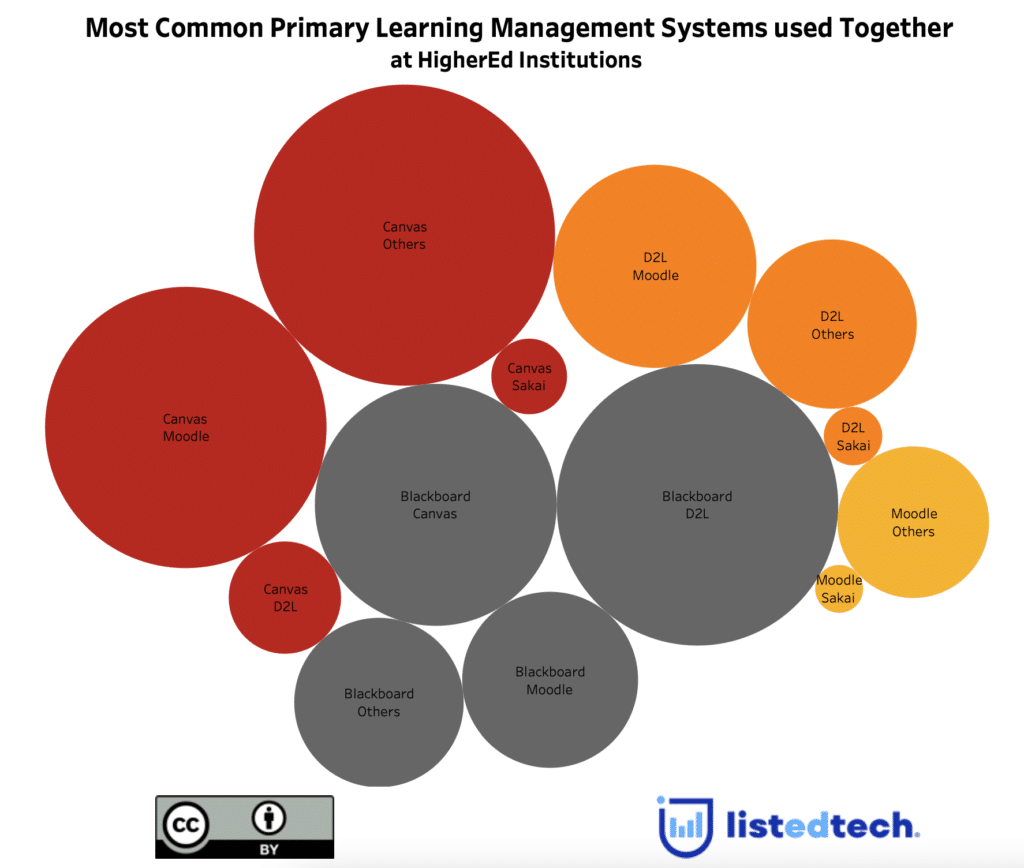 We always appreciate the feedback and questions our readers have. Do not hesitate to reach out to us through email or on social media @listedtech