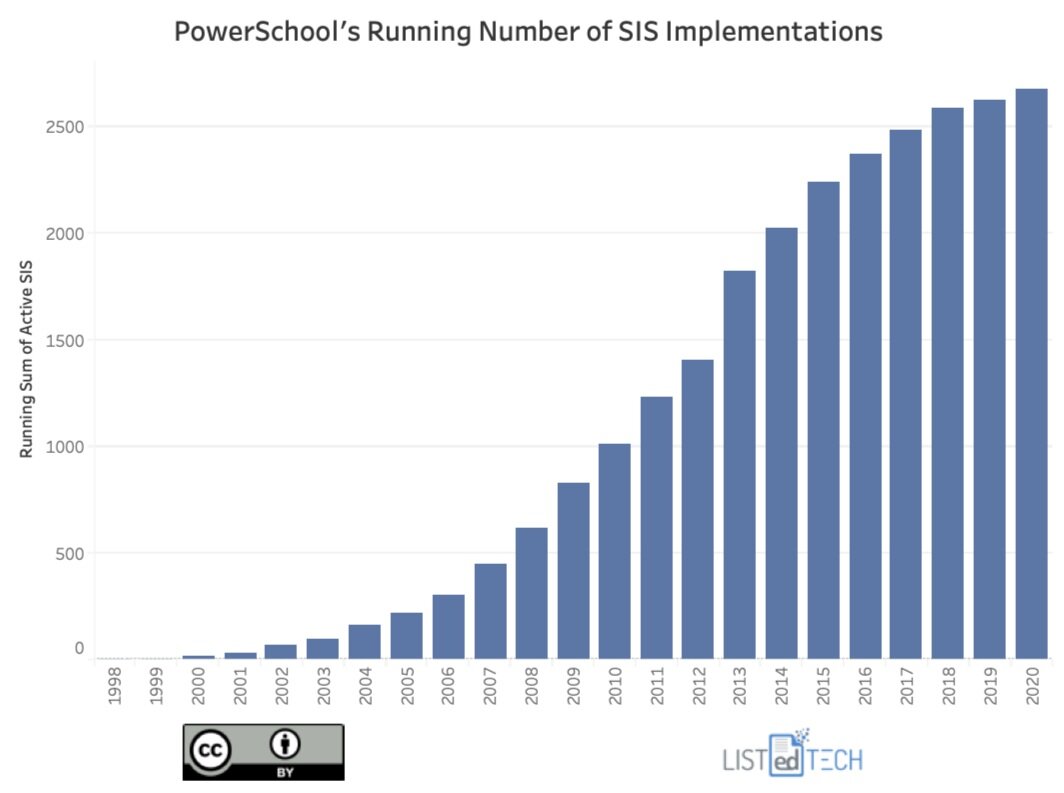 Like many IT stories in the 1980s and 1990s, the creation of PowerSchool initiated from one specific need: getting attendance tracking (as well as other information) to be sent through the school district's network. From this initial class project, Greg Porter (founder of PowerSchool) worked on his project to build the first version of PowerSchool Student Information System in 1997.
Contrary to many companies at the time, Porter focused the development of PowerSchool on one core element: a web-based platform. In the times of Macintosh versus Microsoft, Porter's vision added a third (and stronger) player to the battlefield. To gain more clients, he also attended competitors' presentations the day before he was scheduled to present, noted all the missing components of these systems, and added functions to his PowerSchool system that same night. The business model attracted the attention of Apple, to which he sold his company for $62 million in stocks in 2001.
PowerSchool's Growth
Since this announcement, PowerSchool has been acquired twice. It was first sold to Pearson Education in 2006 for an undisclosed amount and then to Vista Private Equity in June 2015 for $350 million. What is intriguing about PowerSchool is not really its owners, but the several acquisitions they have made over the years.
With Porter's method of gaining clients, the company became well known in the SIS market in the early 2000s. In recent years, it acquired 10 companies. Here is a table of these acquisitions, sorted chronologically:
Date

Company

Products

Supplemental information at acquisition

November 2015

Infosnap

Cloud-based online registration management for public K-12 schools

A clientbase of 10,000 K-12 schools

February 2016

Interactive Achievement

Award-winning standards based instructional assessment and analytical solutions for school districts

Used in 12 states and is piloted in the United Kingdom.

May 2016

Tienet Solutions

Part of MAXIMUS, a solution that helps educators manage instruction, intervention, and special education.

Maximus has more than 16,000 employees worldwide and partners with six government bodies.

June 2016

Haiku Learning

Innovative cloud-based learning management and classroom collaboration solution designed to meet the needs of K-12 educators.

From November 2015 to June 2016, PowerSchool has invested $100 million to build its unified classroom platform.




Haiku has 3 million users worldwide.

August 2016

SRB Education Solutions

Provider of complementary administrative and ERP solutions for K-12 school boards and districts in Ontario and throughout the Canadian provinces : Trillium, atrieveERP, SchoolLogic, and L4U Library management systems

First acquisition in Canada.

October 2016

Chalkable

Student achievement and regional education data management solution

Clientbase of 5,000 schools in 50 states.

December 2016

SunGard K-12

Finance, HR and payroll solutions for school districts and K-12 schools.

FIS (Sungard K-12 previous owner) has 20,000 clients in 130 countries. It employs more than 55,000 people.

April 2018

PeopleAdmin

Talent solutions, including TalentEd and Performance Matters

The combined entity will reach over 45 million students and 13,000 school and district organizations including 88 of the top 100 districts in North America.

October 2019

Schoology

K-12 learning management system to be part of Unified Classroom

PowerSchool offers its services in more than 80 countries.

October 2020

Hoonuit

K-12 education analytics and data management solutions

Hoonuit's clients represent more than 14.5 million students, including 12 state and territory-wide deployments.
PowerSchool's Top Products
PowerSchool focuses on several objectives to stay on top of its game:
It empowers teachers to help them in their classrooms.

It gives educators a comprehensive view of performance at every level.

It enables administrators to do more with existing budget resources.

It nurtures an environment to engage and attract teachers.

It builds bridges between parents, students and educators.
PowerSchool divides its product offerings between four categories:
With this product line, we see that PowerSchool has a vision of dominating the K-12 market, not only in the SIS product category but in all the categories. Although we may think that PowerSchool has slowed down its acquisition pace since it is owned by Vista Private Equity, its last two acquisitions were among the leaders in the K-12 education technology. It will be interesting to see what will be the next move for PowerSchool. Will CEO Gulati continue to buy more to become the K-12 education technology company? Only time will tell.
Main content source: Powerschool.com