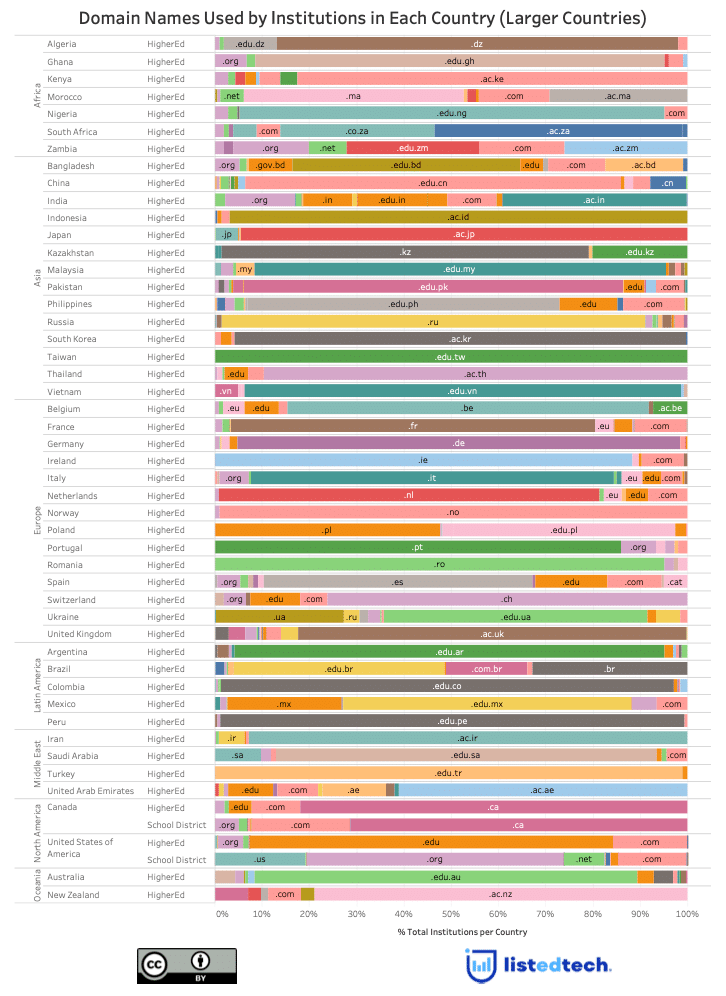 Today, we are digging into a topic outside of our regular sandbox: Institution URLs and the type of information they can provide on an institution. To produce this post, we have gathered the data from the ListedTech database to sort the domains used by over 77,000 institutions across the globe.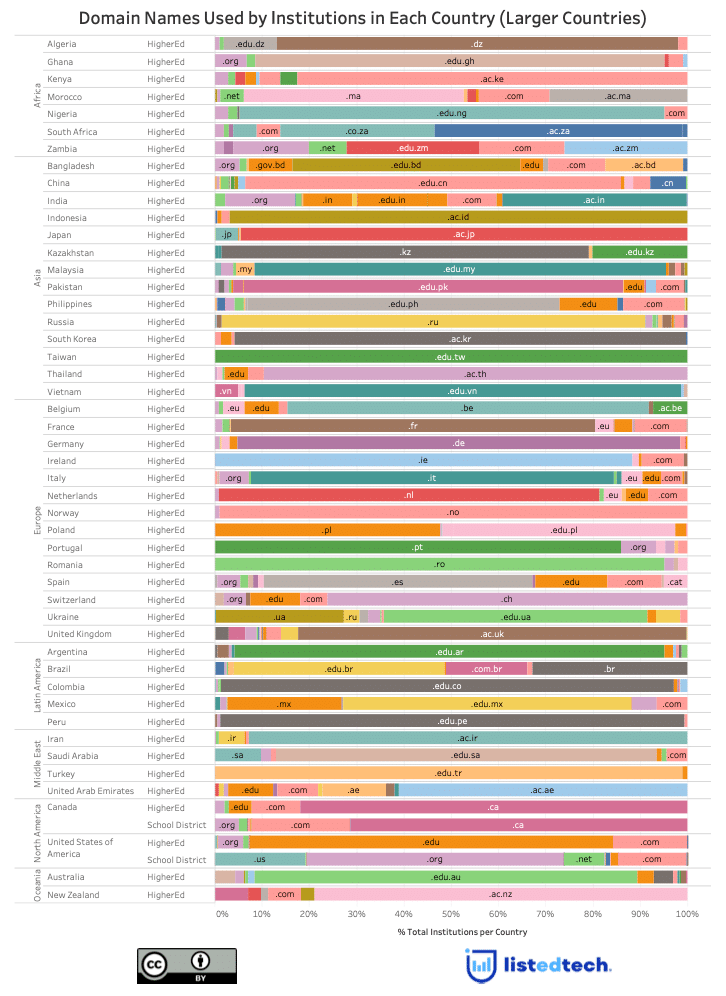 Our database of 77,000+ institutions allowed us to discover some interesting facts:
In Africa, most countries use a mix of domains (territorial, .org, .edu.xx, .com). In some instances, all institutions use the same domain. In the Central African Republic, they use .org; in Comoros, it's .km; in The Gambia, they have .edu.gm; in Seychelles, it is .ac.sc, etc.
In Europe, this proportion of unique domains seems larger and they are all territorial-related: Faroe Islands (.fo), Finland (.fi), Gibraltar (.edu.gi), Greenland (.gl), Iceland (.is), Liechtenstein (.li), Norway (.no), San Marino (.sm), Scotland (.ac.uk).
In Asia, the domain .edu.xx is largely used across the continent and is often the most popular option selected. When the domain .edu.xx is not the most popular, the .ac.xx replaces it. Japan, Indonesia, India, and Thailand have selected this domain for their educational institutions.
In Latin America, most countries are dominated by the domain .edu.xx. Panama seems to be the only country with .edu.pa and .ac.pa used concurrently.
The Middle Eastern institutions follow the same format as Asian countries: .edu.xx is very popular with some countries preferring .ac.xx.
Oceania is a mix of the rest of the world. We see a multitude of domain options: .edu.xx, .edu, ac.xx in addition to some territorial domains (like .fm for Micronesia). Like Panama in Latin America, the Solomon Islands and Tonga institutions use equally .edu.xx and .ac.xx for their domain names.
When we look at the United States (the country for which we have the most significant numbers of institutions in our database), HigherEd institutions and school districts use a variety of domains: .edu, .org, .com, .us. Universities and colleges select .edu more often while school districts turn to .org most of the time. We could expect these results since .edu is restricted to USA post-secondary institutions, and that school districts have to select other options.
Download the complete list of domains used by institutions around the world.
Number of Institutions per Domain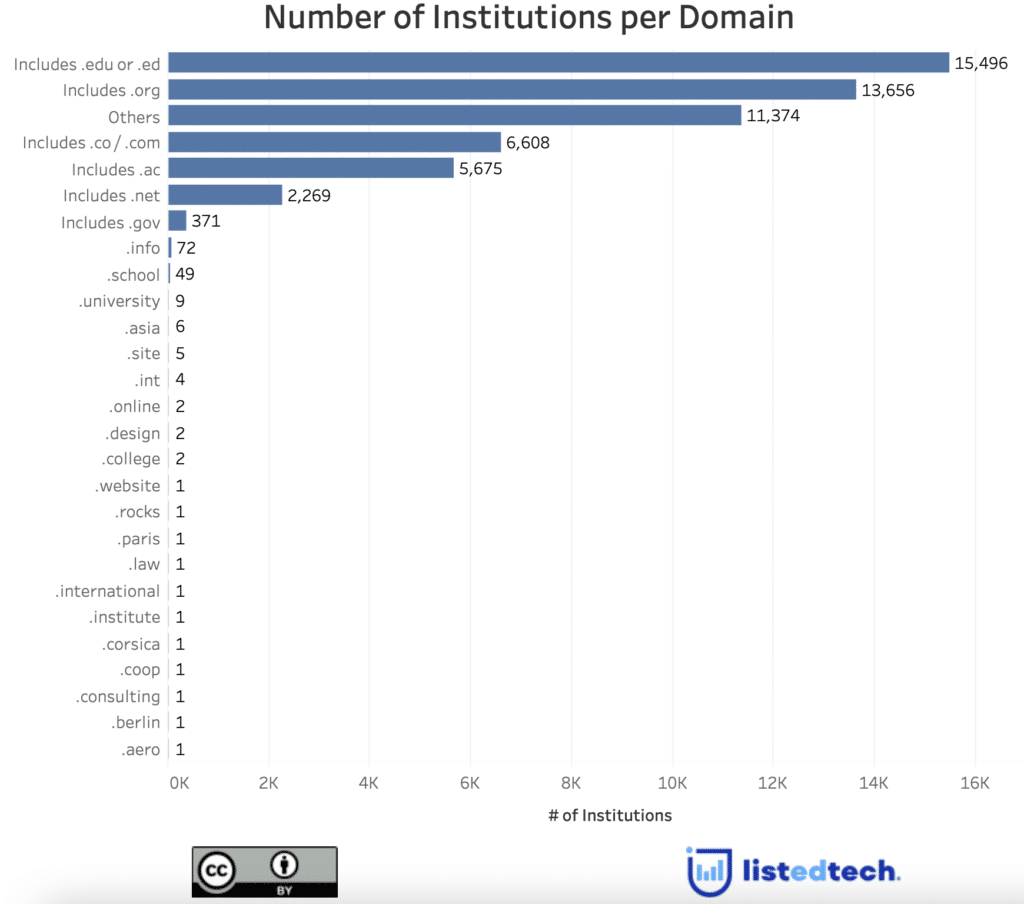 We also dug into the domains without linking them to a specific country. We have found that the domain .edu (including territorial .edu like .edu.gm) are selected more often than: .org, the territorial domains (Others in the graph, like .fi, .no, .li, etc.), .com, .ac, and .net.
Despite being an option since 2012, very few universities, colleges and school boards have opted for an extended domain form like .school, .university, .college. These domains may still not be recognized as trustable by university boards of governors and other authorities. Another reason is that the existing brand (like bu.edu) has more traction and is easier to remember (compared to boston.university).
Average Enrolment Size per Domain
We also decided to look at the average enrolment size per domain. For the HigherEd institutions, we see, without big surprise, that Asian universities represent 40% of the top 10. The rest of this group comprises countries from all over the world: Italy (.it), Turkey (.edu.tr), Mexico (.mx), Argentina (.edu.ar), France (.fr) and Australia (.edu.au). The Top10 have average enrolment of more than 11,000 students.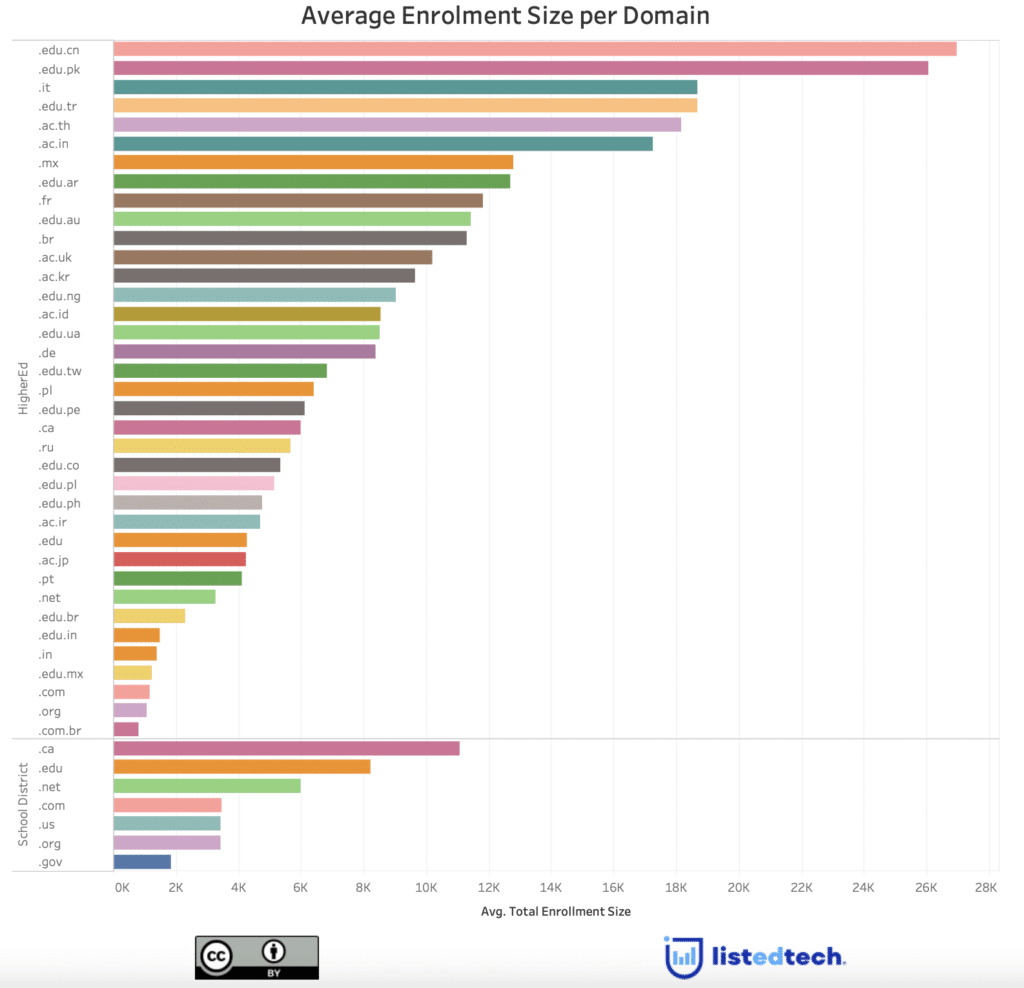 Looking at school districts, we see that .ca dominates the other domain names for the enrolment size. This is caused by the fact that, in comparison to the US, the Canadian system usually sees fewer school districts (Canada has fewer private schools compared to the US) and that 70% of school districts in Canada use .ca for their domain.
Data Notes:
The ListedTech database only includes school district data from the United States and Canada.
Unless it is part of an education group mentioned on its website, a private school counts as one school district.