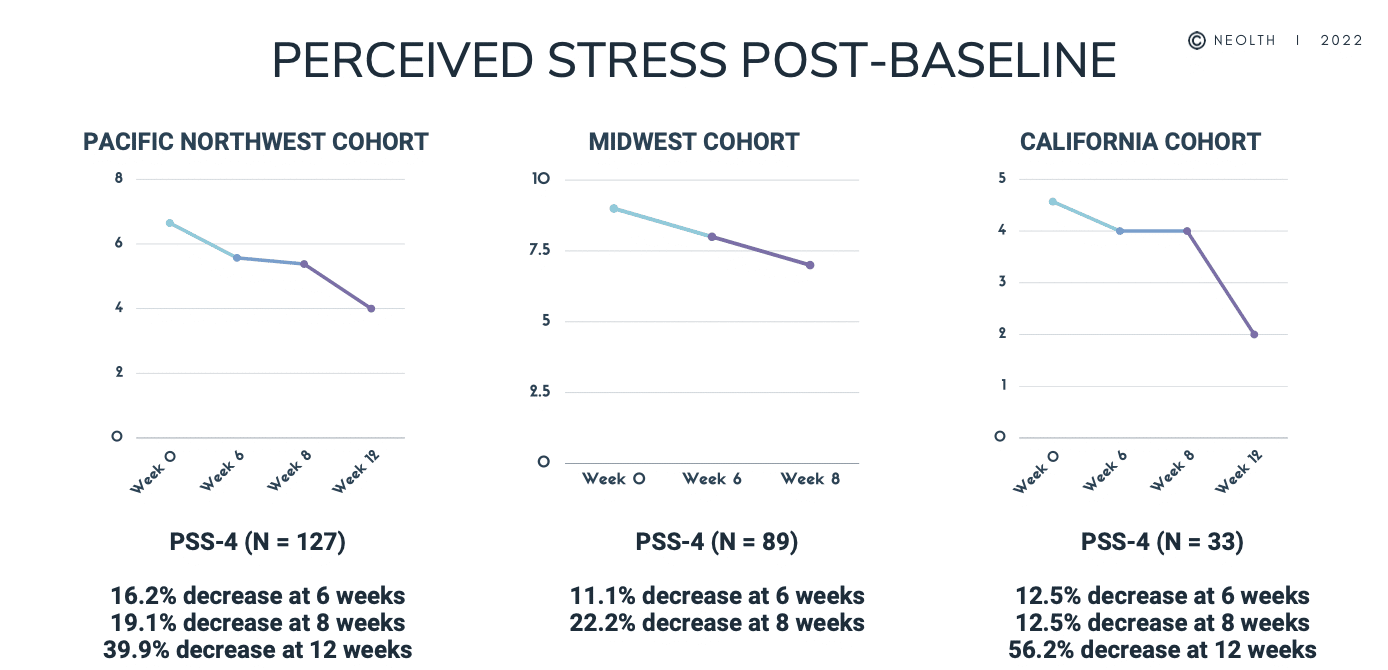 Student mental health challenges have occurred for decades, but the recent pandemic brought the subject to the forefront. Universities, colleges and even school districts propose different support systems to ensure students achieve their program requirements. In addition to institutions, companies also develop tools and diverse solutions to help students and establishments overcome mental health challenges.
Neolth works to empower students with resiliency skills to face stress and pressure as part of its mission. This startup also ensures that schools have the necessary resources to support their students in need. Neolth believes that 'you must build something that answers a need.' Therefore, it has created a Student Advisory Council and a Student Ambassador Program to constantly make sure the tool responds to students' demands and aspirations.
Dr. Katherine Grill, Neolth's co-founder with her husband Lukas, studied biological psychology and behavioural neuroscience before working in a pediatric hospital with teens and young adults to research mental health. After realizing the importance of providing mental health support to the next generation, Katherine and Lukas moved to the Bay Area to use technology to help the most significant number of people dealing with personal issues. Noting that there is a void in technological neuroscience-informed professional services destined for the youth, they decided to establish Neolth, thanks to their expertise in neuroscience, business and engineering.
A Product Line Created to Support the Whole System
Neolth's offering is grounded in science. As mentioned on its website, the uniqueness of each person is reflected in our brains, which explains why a treatment can work for one student but may not be as effective with another. Neolth's solution encompasses several behavioural techniques due to this concept called neurodiversity.
Neolth divides its solution into three systems: one self-guided student app, one educator platform and one health analytics platform for counsellors and administrators. The goal of Neolth is to provide support to the whole educational system when and where it matters.
Neolth for students is an app (also offered through regular web browsers) that provides personalized solutions to overcome mental health issues. It includes self-guided tools and tracking. Depending on the existing support system in the school, the app can be used on its own, in conjunction with counselling sessions or as part of the classroom curriculum.
The advantages for students are numerous:
Develop resilience with individualized practices.
Increase emotional awareness.
Identify difficult situations and learn how to cope with them.
Grow individually as part of an online community.
Have access to real-time support care if they are in an emergency situation.
Neolth for educators offers practice and video libraries to help educators guide the students through their mental health education and social-emotional learning (SEL). Through the video library, educators have access to student stories to share with their classrooms as part of their curriculum. The software also includes a tracking system to ensure students complete the activities. All these resources have the same objective: to reduce the stigma around mental health issues and provide students with skills to manage their stress.
Higher administration and counsellors also have access to de-identified analytics, including real-time updates about students' stress, health and engagement. If a student gives consent, counsellors can also pull out information about individuals to ensure identified struggling students get the support they require. Schools can even opt to enable a 24/7 crisis monitoring system that uses AI to identify struggling students and make real-time referrals to clinical resources of their choice.
Impressive Statistics
As ListedTech does not yet track mental health solutions, we do not have numbers to share with you. However, we obtained some statistics on how Neolth's solution improves student lives.
After eight weeks, Neolth users demonstrated reduced stress, depression, and anxiety.
After three weeks, almost two-thirds of teens using Neolth reduced a lot or significantly their stigma about mental health. All respondents said Neolth reduced their stigma in some capacity.
Teens spend on average 160 minutes per week on the app. Satisfaction and retention rates are significantly higher than industry standards.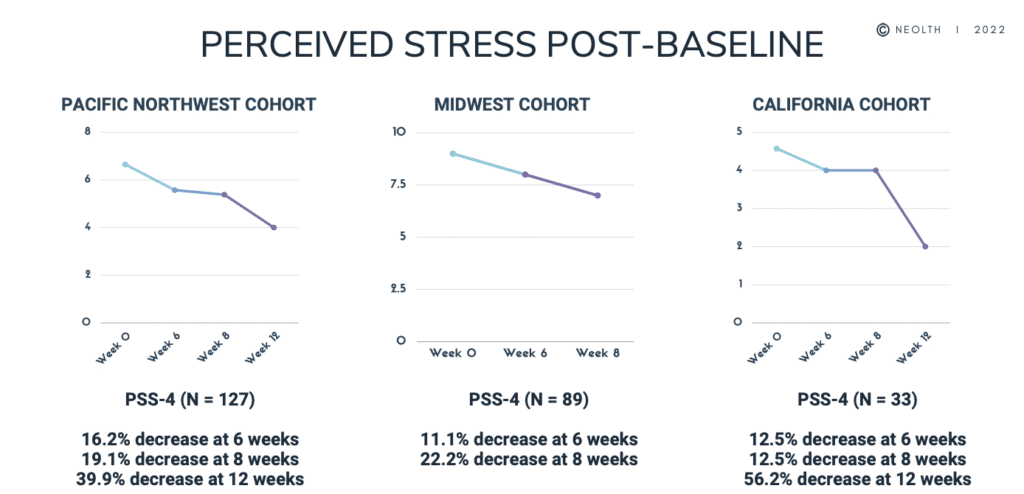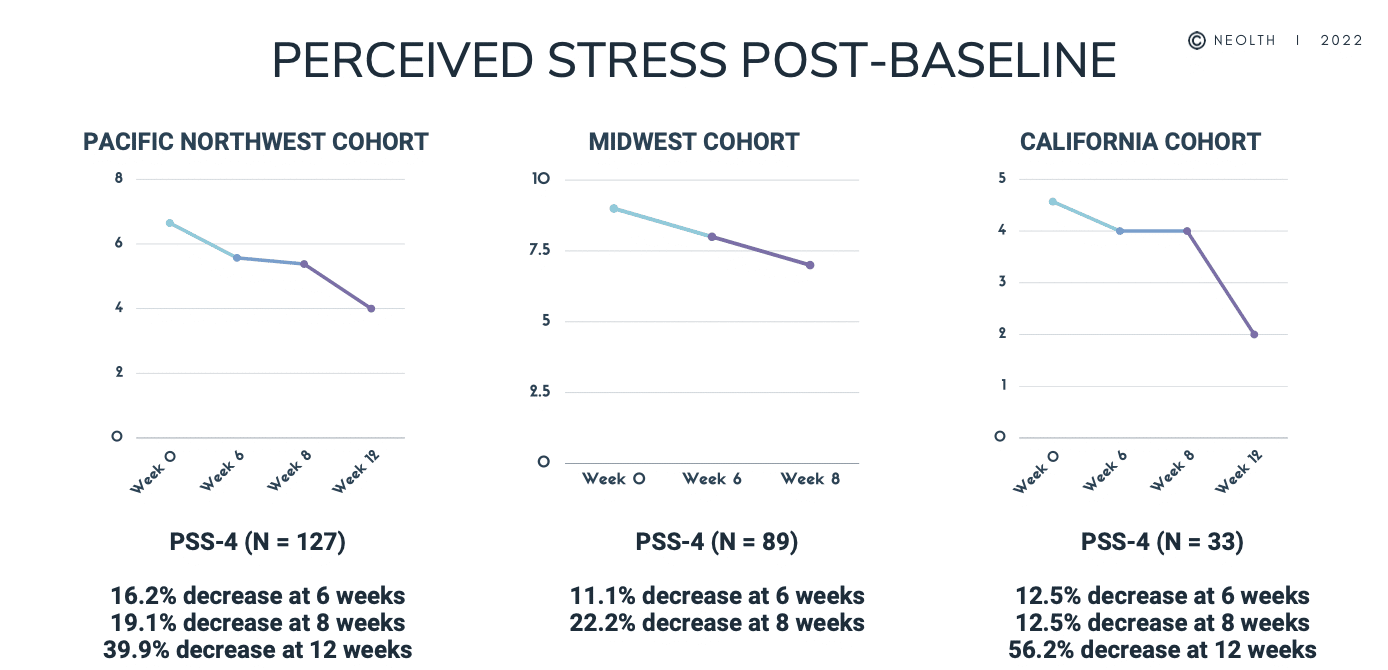 A solution like Neolth could reduce stress and anxiety in the student population. Still, it could also help with the core business of education: retention, revenue generation, and eventually, graduation rate.
While preparing this post, what struck us was how much students need a support system like Neolth. Forty-two percent of Neolth users use the app every week, 77% monthly. These numbers could show real distress in the student community. Neolth CEO Dr. Katherine Grill has conducted more than 50 focus groups with students since 2020. She learned that students use the app to reduce stress and acquire knowledge about mental health when difficult times occur. "Through our app, students are quickly connected with guided relaxation activities personalized for their needs. Students report using Neolth's guided practices during the day to manage academic and other stressors and at night to help them slow racing thoughts and drift off to sleep. They also use our community videos to find credible and relatable information about mental health. Initially, students report using Neolth in times when they feel overwhelmed and want a moment of peace. Over time, students begin using Neolth to maintain good mental health and acquire tools for managing stress whenever it arises," mentions Dr. Grill.
With the constant stress, anxiety, and struggle students deal with every day, mental health solutions will become a large market, especially in Higher Education. ListedTech will continue to track these solutions, and we will certainly add this product category to our portal in the future.