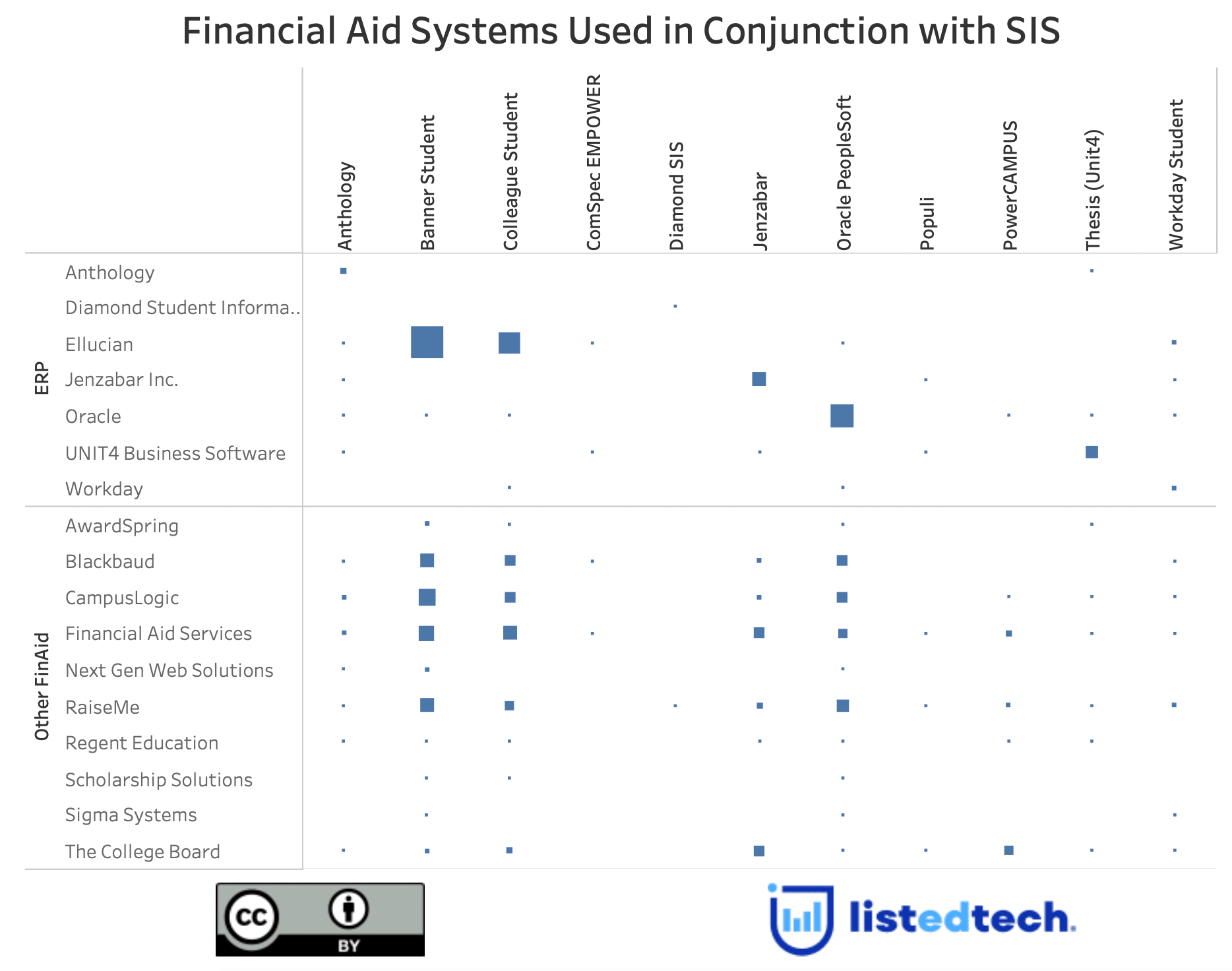 At ListedTech, we often drill down the data to find the most selected systems. Once in a while, we enjoy looking at our database differently. For this post, we explore the financial aid product category.
Our previous posts on the topic (post 1, post 2) demonstrate that universities and colleges mostly use the financial aid component included in their SIS. They act this way mainly because it's convenient and ensures perfect compatibility. This is nothing new under the sun.
However, with data accumulating, we see a trend emerging. Many institutions implement a second financial aid system while using the financial aid component in their ERP suite.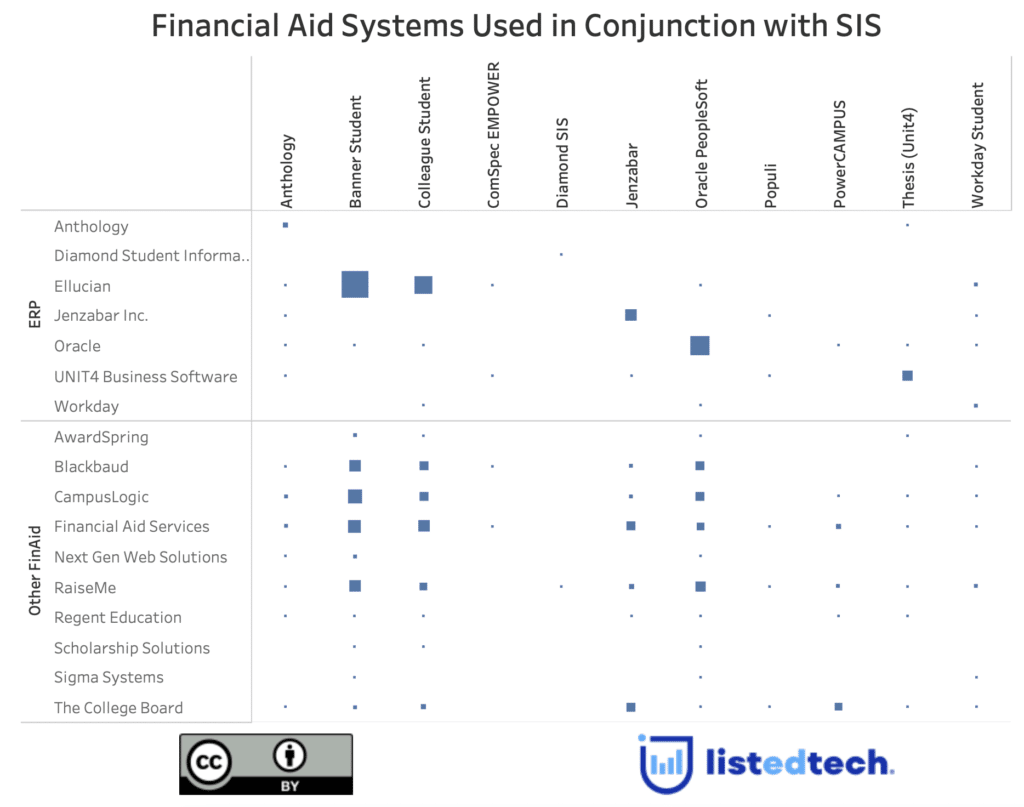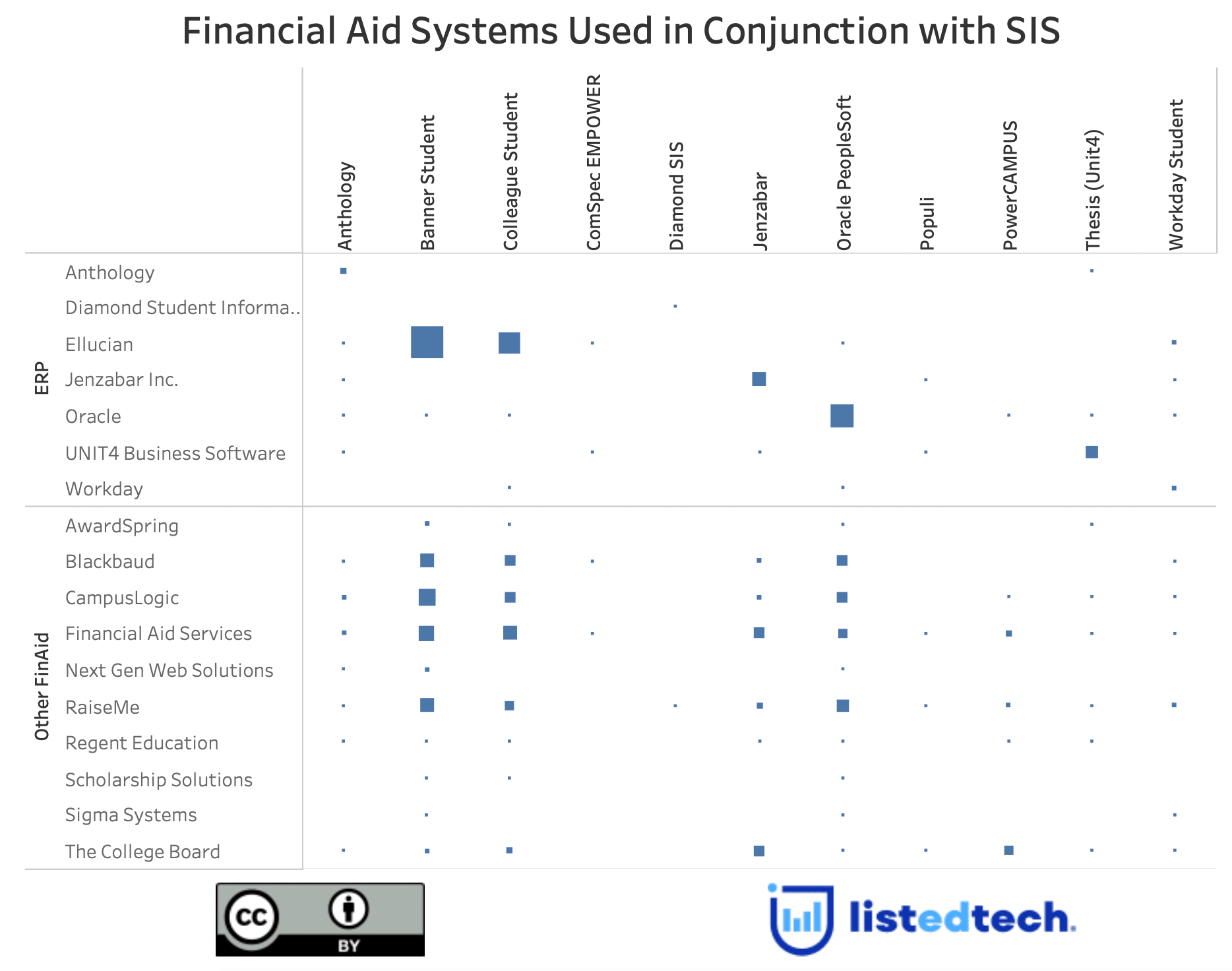 The above graph may be hard to read, but the data enclosed reveals that assumption. For instance, using the Banner Student column, it's normal to see most implementations with Ellucian (top rows – ERP Suite). What we see in the Other FinAid bottom rows is enlightening: many institutions also choose to implement Blackbaud, CampusLogic, Financial Aid Services or RaiseMe. We have found that 60% of North American HigherEd institutions have installed two or more financial aid systems.
The Others
We want to focus on the stand-alone financial aid products for this post. In other words, when we exclude the ERP vendors (Ellucian, Oracle, Jenzabar, UNIT4, Anthology and Workday), what is left? The answer is a lot of specialized systems. As shown in the graph below, Financial Aid Services represents 24% of the implementations outside of the SIS-FinAid integrated solutions. CampusLogic, is the runner-up in the product category.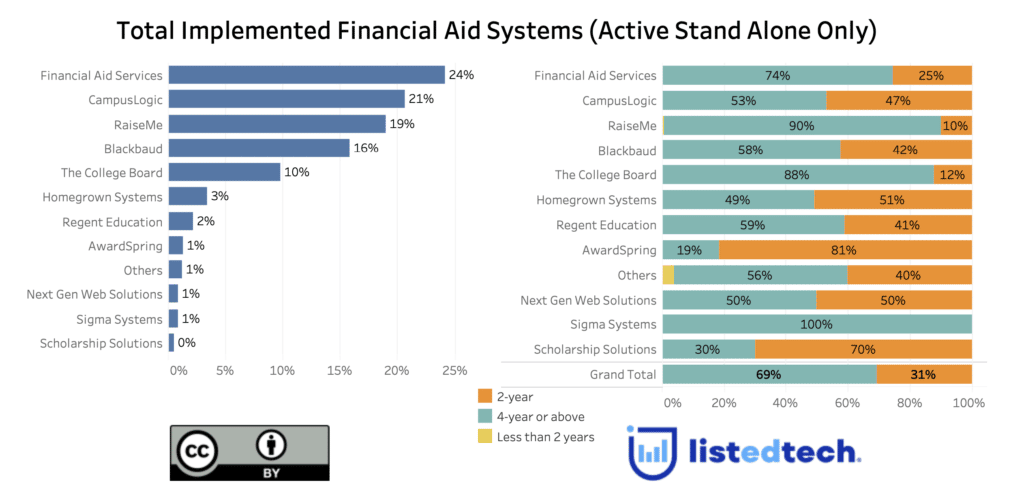 In addition to the market shares, the Total Implemented Financial Aid Systems graph also shows the clientele composition for each product. Unlike AwardSpring and Scholarship Solutions, most financial aid solutions are implemented in 4-year universities.
We could partially explain this clientele arrangement because of the software features. Some products (like FASLine) offer a portal to help distribute federal financial aid that manages student disbursements and communications. Other solutions (RaiseMe, for example) will focus on presenting student scholarship opportunities and ways to apply). Some companies (like Regent Education) will propose an all-in-one software package that comprises financial aid, awards and scholarships.
Reasons to Choose a Financial Aid Solution Over Spreadsheets
Implementing a financial aid solution in small colleges can represent a considerable investment. Some employees may think a spreadsheet can replace such solutions. However, a spreadsheet cannot minimize compliance risk, streamline communications or disburse scholarship amounts evenly throughout an entire program of study. And if they cannot implement an SIS that includes a financial aid feature, at least they can select a solution that will ensure their students have the much-needed support when it comes to their biggest struggle: money.