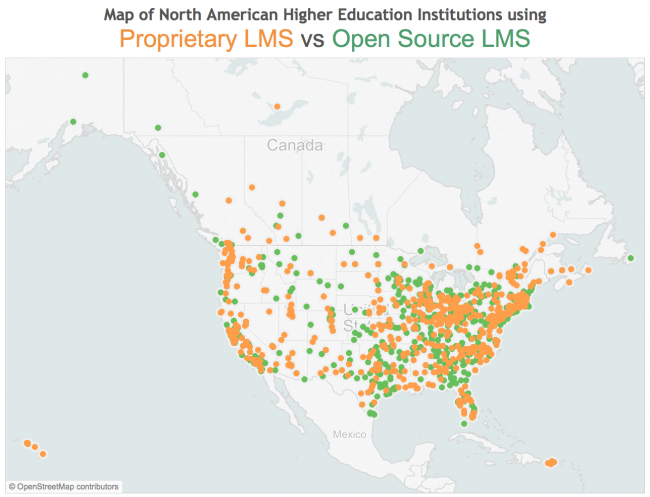 Oftentimes, the choice for a new Learning Management System (LMS) is dictated by cost considerations. That requirement will divide the choices at your HigherEd institution's disposal. We're proposing below an exploration of those 2 distinct markets: proprietary LMS and free LMS / open source LMS.
Splitting the LMS Market Between Open Source and Proprietary
Dominating Players in Each Market
Of the more than 6000 active LMS entries we have in our records for worldwide institutions, the split between the use of open source vs proprietary LMS is almost 50/50.

World Proprietary vs Open Source
For each market, one vendor dominates its category with 60% of market occupation or more. Blackboard dominates the proprietary market while Moodle leads the open source market.
North America's Adoption of Proprietary LMS
Our 50/50 split is worldwide, but each geographical market has their own distinctions. For North America, proprietary LMS vendors occupy 61% of the overall market, leaving only 39% to open source.
The Proprietary Market
The top 3 open source LMS used in North America are:
Blackboard Learn (57.4%) is the most used LMS in North American Higher education.

Brightspace-D2L (18%) used by a high percentage of public institutions

eCollege (6.8%) Mostly used by smaller higherEd institutions
The Open Source Market (Free LMS)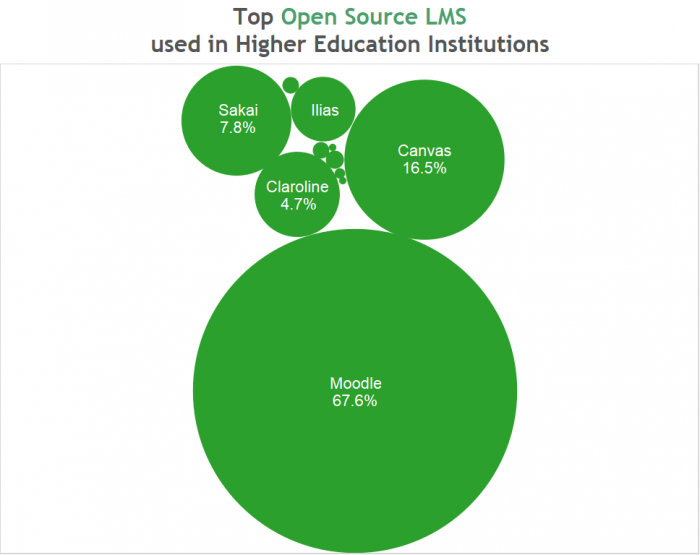 The top 3 open source LMS used in North America are:
Moodle (59.8%) is by far the biggest and most adopted LMS. Its not only the most widely accepted free LMS in HigherEd but its also the most accepted LMS worldwide. The official site states that it has almost 50,000 Registered sites and used in 214 countries.

Canvas (30%) in February 2011, Instructure announced that they were making their flagship product, Canvas, freely available under an AGPL license as open source software. It is the fastes growing LMS in HigherED

Sakai (9.7%) Over 80% of its users are Higher Ed Institutions
Open Source LMS HigherEd
Regional Distribution by Type of LMS Adoptions
Follows a map of the different type of LMS that are currently active in North America. We can see that there are regional clusters of adoption of proprietary vs open source systems.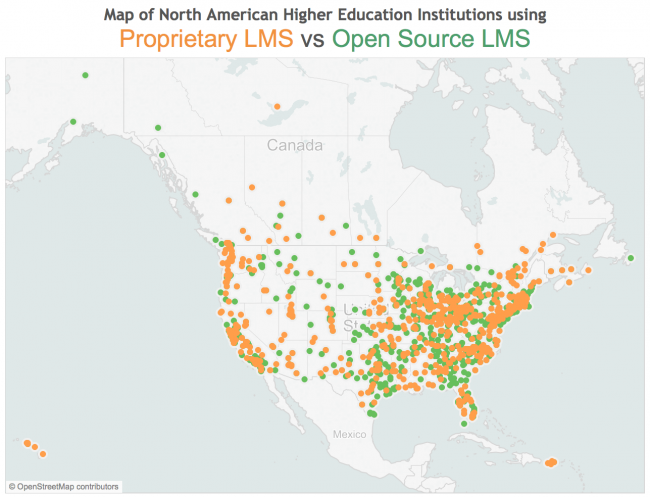 Adoption by Institutional Characteristics
Because not all HigherEd institutions are the same, we should look at how the market is split between proprietary vs open source LMS based on institutional attributes.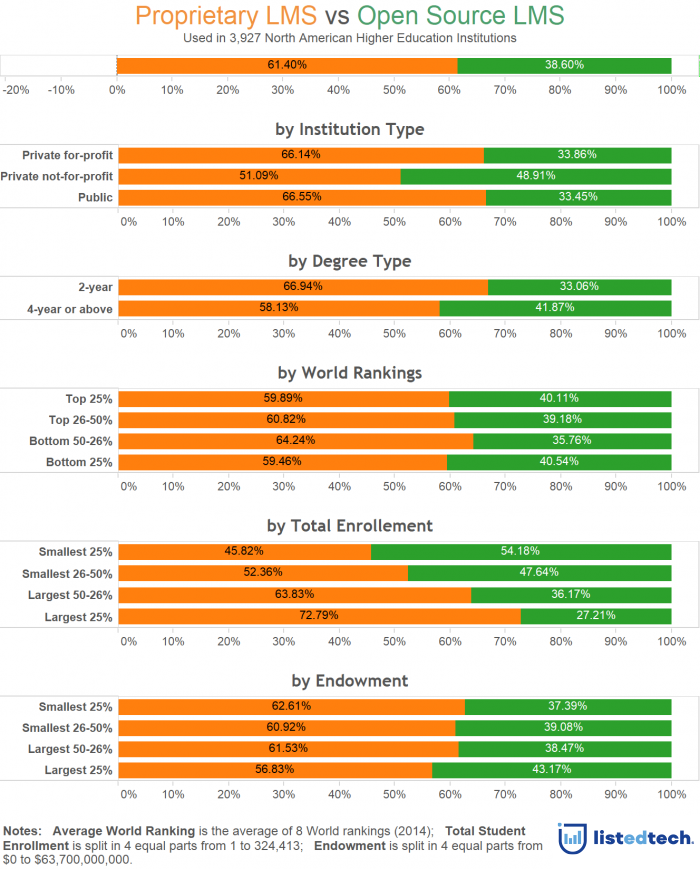 Proprietary vs Open Source LMS
A few notes:
Private not-for-profit institutions have a higher then average usage of Open source LMS

Institutions with smaller total enrolment have a higher % or Open source LMS

Institutions with the largest endowment use more Opens source then average
We're only scratching the surface here. LISTedTECH provides an unprecedented access to the best LMS market data out there.