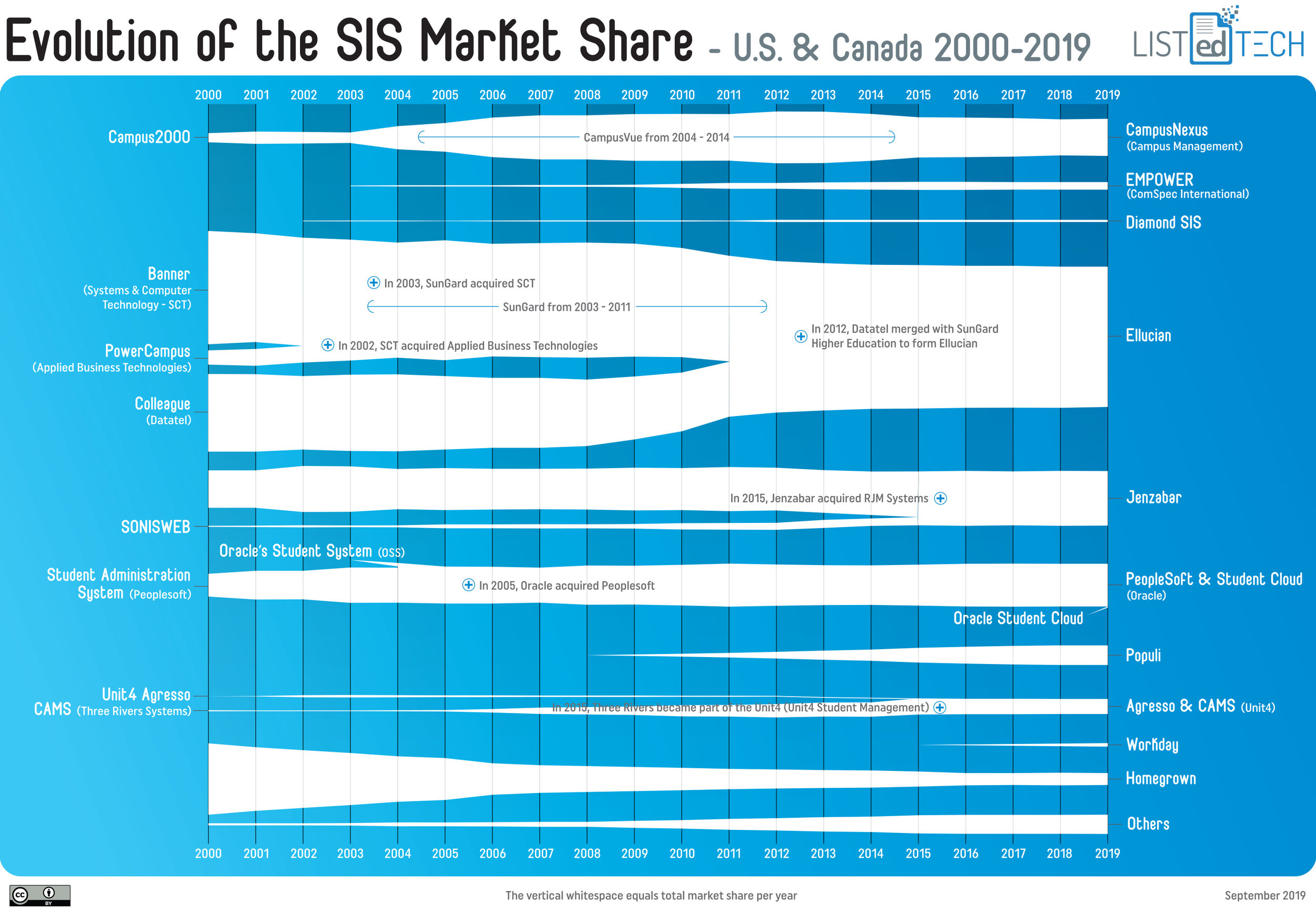 Today, we launch our SIS subscription service (more information at the end of this post). To mark this milestone, we have created a Sankey chart that illustrates the Student Information Systems market share since 2000.
Using the historical SIS market chart, we wanted to add some in-depth knowledge, specifically the market share for each company. On the Sankey chart, we represent this concept with the vertical white space.
Notes on data:
Only Canadian and American active implementations are shown.

We only include products that have a minimum of 1% market share. Smaller market share products have been grouped in "Others".

The chart only displays primary systems. Some institutions have more than one active SIS. In some cases, system implementations are used for further education or just by one faculty/school. In this chart, we aim to only list primary systems.

To evaluate the market share, we count the number of institutions for each product. If an institution has more than one campus and has its own IPEDS number, we count all campuses.

All American HigherEd institutions (IPEDS and non IPEDS) are counted. For Canadian institutions, we list all HigherEd institutions (private and public).
Some analysis:
The nine companies with the biggest SIS market share in 2019 are: Campus Management, ComSpec International, Diamon, Ellucian, Jenzabar, Oracle, Populi, Unit4 and Workday.

New multicampus institutions like CDI College and Remington College explains the rise in numbers for Campus Management from 2003 to 2007 (3 to 12%). Campus Management then saw a reduction in its market share made up almost entirely of multicampus closures (Dade Medical College, Everest College, Herald College, and Lincoln College of New England).

Many of the companies that target smaller institutions (under 500 students) have increased their customer base by signing up institutions that did not previously have an SIS system. We can note the following companies: ComSpec and Diamond.

In 2000, the three products (Banner, PowerCampus and Colleague) represented 59% of the total market share. Today, they represent 40%.

Jenzabar has increased its market share since 2000, from 11% to almost 16%. This can be largely explained by the purchase of SONISWEB in 2015, which added almost 3% of market share.

When Oracle purchased Peoplesoft in 2005, the product had 10% of the market share. Today, it now stands at 12%.

The line showing the Oracle Student Cloud is more a placeholder than the actual market size. Oracle Student Cloud starts in 2019.

Since 2008, Populi has carved a market share from 0% to almost 6%.

Unit4 increased its market share by purchasing CAMS (4% of the market).

Even if Workday is a new player in the SIS field, its growth and future growth is promising. From our data, we can note that future implementations outnumber the active implementations.

For companies targeting medium and large institutions, the market looks stable but there is movement between companies. We will explore this in the next couple of weeks.

Between 2000 and 2019, homegrown systems have been replaced by proprietary solutions. In 2000, 20% of the institutions used a homegrown systems. it currently stands at about 3%.

The 'Others' category is still slowly growing. It now stands at 5%.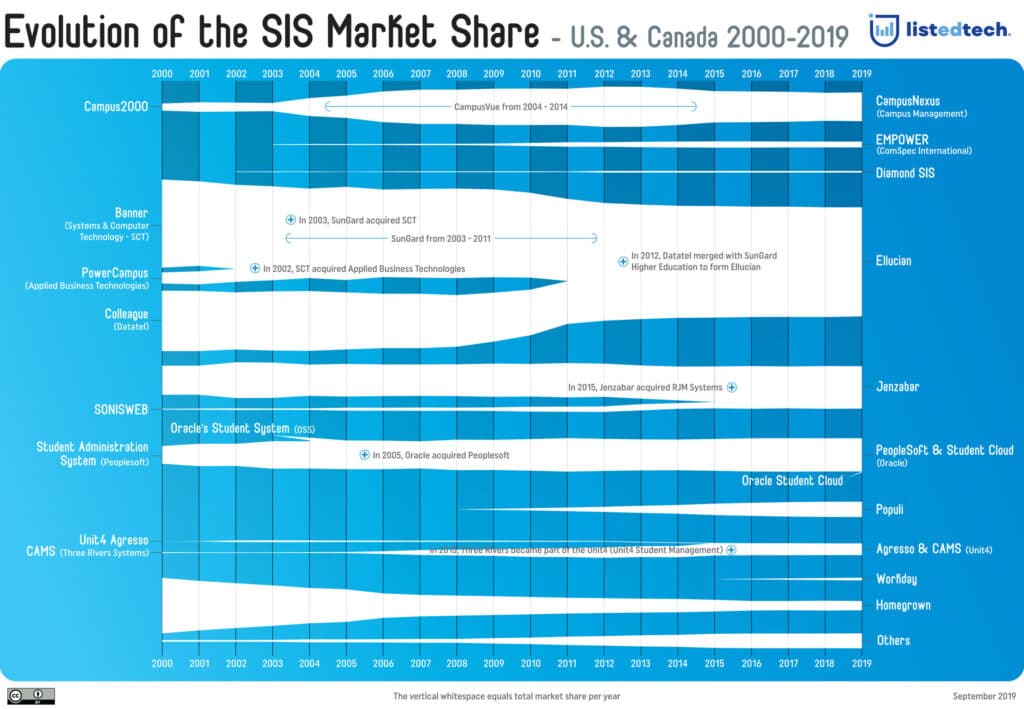 PDF version of the Evolution of the SIS Market Share (2000-2019)
Our SIS Subscription Service
Our SIS subscription service gives you hands-on access to live dashboards. You will be able to filter, sort and select variables that will help you answer specific questions; something that a paper report can't offer. The data behind the dashboards are updated daily. It gives you access to historical data in order to see trends as well as current and future systems that are being implemented in real-time. The dashboards or views give you the options to filter using the following criteria (if available):
World region (Europe, North America, etc.)

Implementation dates (1980-…)

Decommissioned dates (1980-…)

Country (Canada, USA, etc.)

Degree Type (2-years, 4-years, etc.)

Institution Type (private for-profit, public, etc.)

Total Enrollment (1-2,000, 2,001-5,000, etc.)

Product (Banner, Peoplesoft, etc.)

Company (Campus Management, Jenzabar, Populi, etc.)
Our always-expanding SIS coverage currently includes about 5,500 HigherEd institutions worldwide. In this initial launch, our subscribers will have access to all world regions, but the main coverage is North America.
We have two different packages:
Basic – Access to the basic dashboard

Premium – Access to the basic dashboard, with biannual calls and custom dashboards
Send me an email to inquire about this new service. Even better, if you're planning to attend Educause, I will be pleased to meet with you.