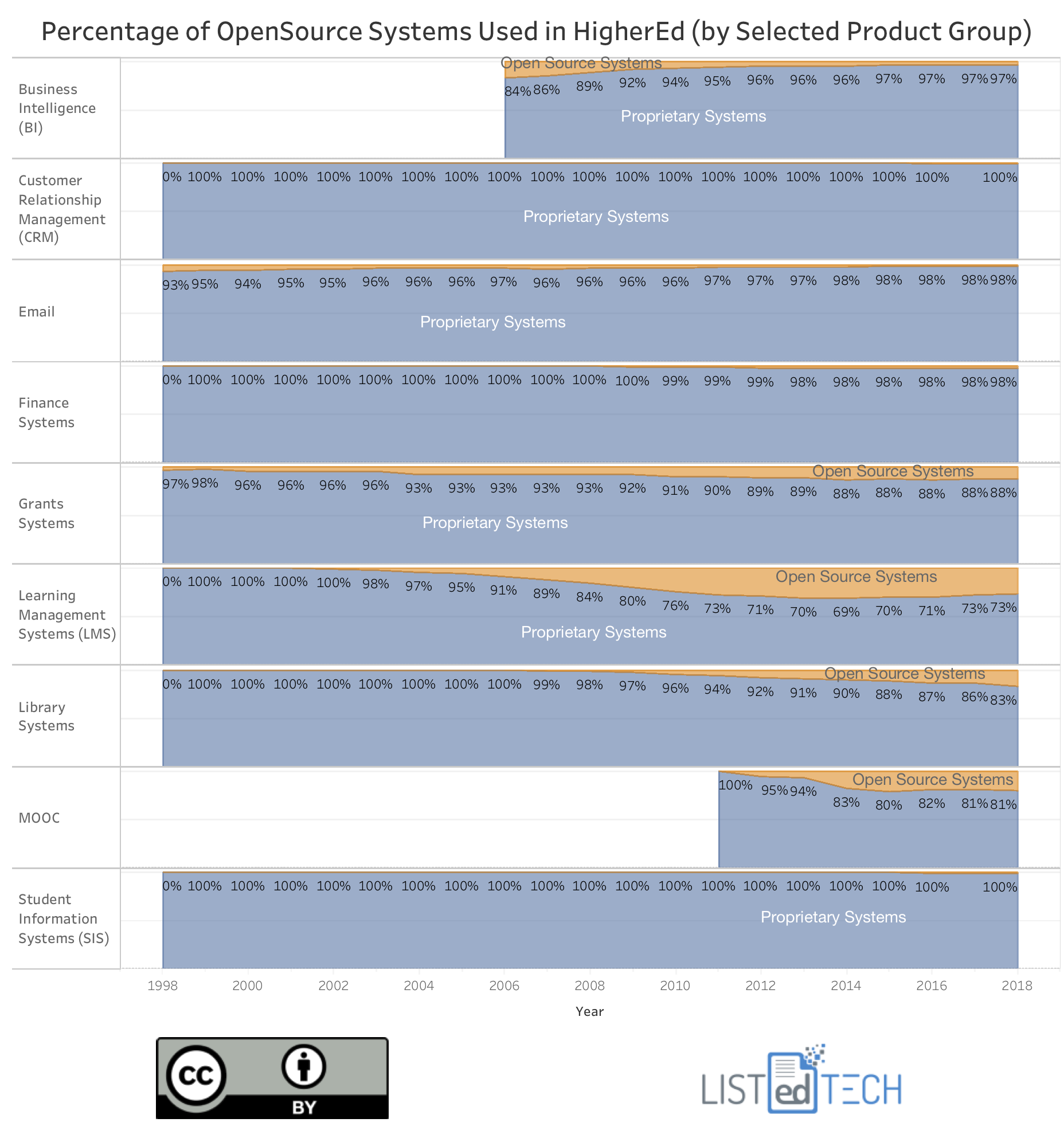 As Phil Hill mentioned in his post, there are a lot of discussions about the possible decline of open-source systems in HigherEd.
Q: @Czernie Why are open source solutions on the decline and what can we do about this? #altc

— ALT – alt.ac.uk (@A_L_T) September 4, 2019
Even if the discussion arose from a learning association in the United Kingdom, we will only be looking at numbers from US and Canadian HigherEd Institutions.
Why?
Because we want to explore this question across multiple systems groups. We have been tracking these systems in North America for a longer period of time.

And also because our dataset is more complete in North America.
To create this week's visualizations, we have considered the following systems for each product category:
| Product Category | State of Open-Source Products Versus Proprietary | List of Products we consider Open-Source |
| --- | --- | --- |
| Business Intelligence (BI) | Often used in classrooms but not at the institution's level. | Actuate BIRT, Jaspersoft, Pentaho, RStudio |
| Customer Relationship Management (CRM) | Limited market share | HubSpot |
| Email | Losing market share. Mainly because they are fighting against free email services by Microsoft and Google | Zimbra, Roundcube, SquirrelMail, Active Mail, Cyrus, Kerio Connect, SoGo |
| Finance Systems | Limited market share | Kuali Financial Systems, Odoo |
| Grants Systems | Peaking | Coeus, RSmart |
| Learning Management Systems (LMS) | Decreasing market share | Sakai, Moodle, OLAT, ILIAS, DoceboLMS, Claroline, Chamilo, ATutor, Caucus, Blackboard OpenLMS, Dokeos, Latitude Learning, Loom, Open eClass, Uzity, VClass |
| Library Systems | Increasing market share | Kuali, Koha, Evergreen, OpenBiblio, FOLIO, OPAL, TIND ILS, Sebina Open Library |
| MOOC | Steady market share for the past five years | edx |
| Student Information Systems (SIS) | Limited market share | Kuali, openSIS, EduTrac, Fedena |
The graph shows the market shares for each product category.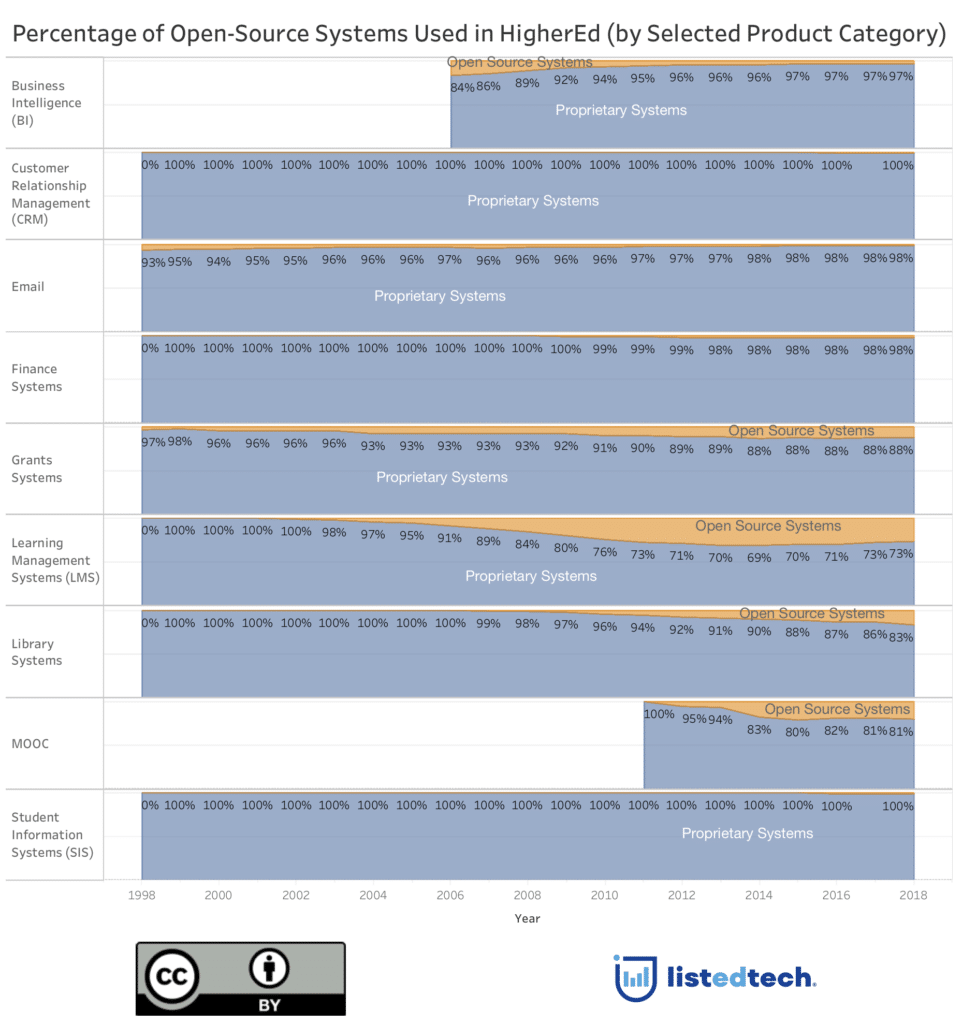 A few observations:
In 1998, open-source products were mostly found in emails and grants. Twenty years later, email systems are practically gone and new categories have emerged: library and MOOCs.

The library systems are the only open-source product where we can see an increase in the market shares.

A new category that emerged in 2011, the MOOC category, sees a market share of almost 20 % for the past five years.

We did not track a significant market share in the CRM, Finance and SIS categories in 20 years.
We can ask ourselves if the non-increasing market share for open-source products is due to this new trend for proprietary software (like Salesforce or Instructure) to open up and create open-source add-ons or side projects?
Data Notes:
The data is institution-centric, which means that we count multiple campuses for the same system. We also only count primary systems. If a product is only used by one department or faculty within an institution, we will not include it in our market share.