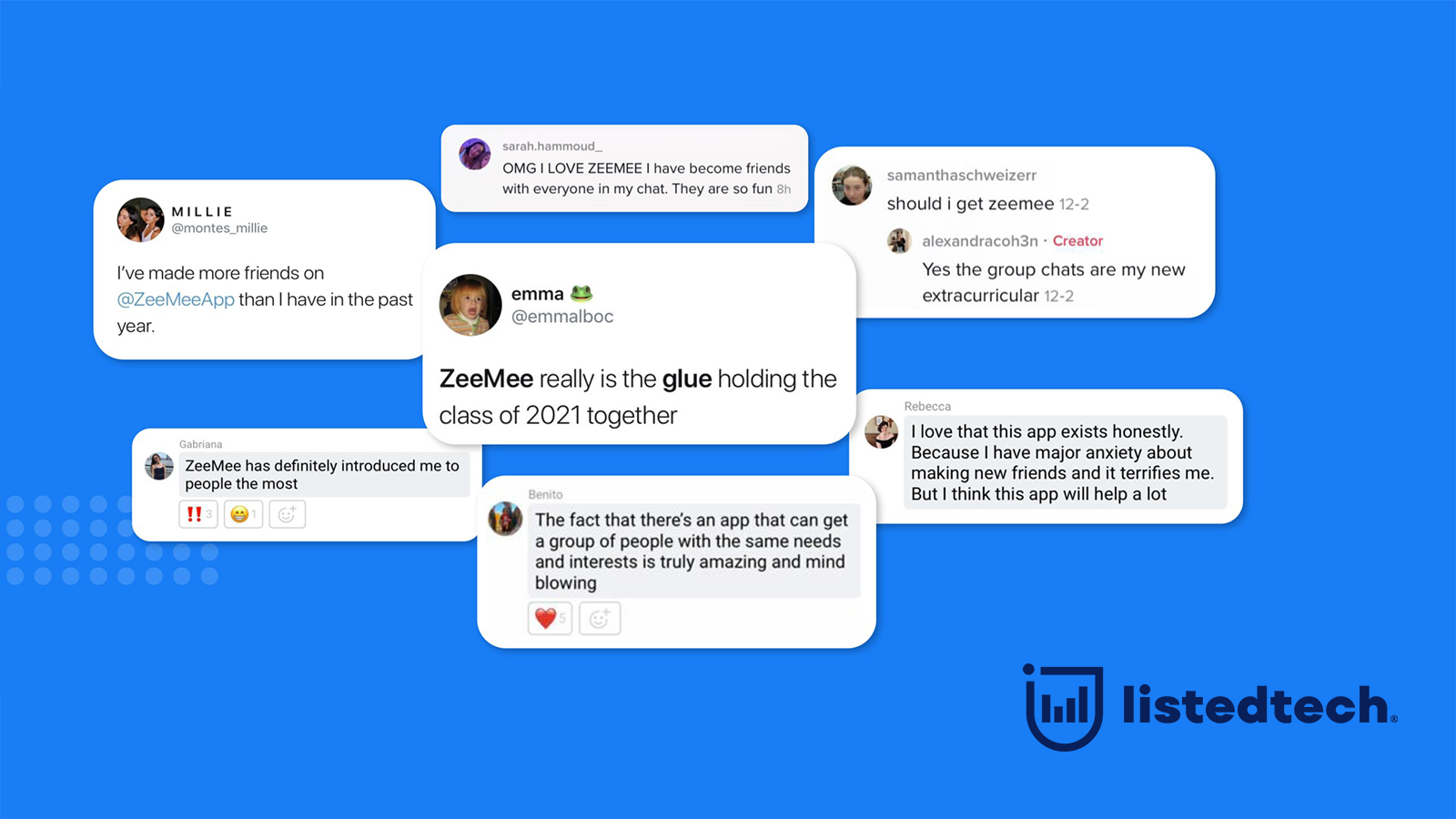 It's been nearly two decades since many of us started using Facebook. Using a social network (or any website) for that amount of time is pretty astonishing. Known collectively as Meta, the world's most used social network conglomerate now includes Instagram, Messenger, WhatsApp, Facebook, and Workplace.
The arc of Facebook's dominance started off as a niche site for American college students. It required a .edu email address, and by the end of 2004, there were more than 1 million registered users.
However, at a certain point in time, Facebook became passé. User numbers were still impressive, but the traditionally-aged college student demographic looked elsewhere for community, engagement, entertainment, and connection.
And now, things seem to have come full circle with apps that are hyper-focused on creating social networks for higher education communities.
The Rise of ZeeMee
In 2022, the frontrunner* in the college student social networking space is California-based ZeeMee. Reaching the coveted 100-client milestone in 2021, they are now at more than 165 schools.
Featuring spaces for conversations about majors, hobbies, events, roommate matching and more, ZeeMee touts some impressive stats:
13+ daily sessions per user
36 million chat messages sent
53 million profile views
15,000+ public/private groups
While Facebook was a product of its time that started as a website, ZeeMee is 100% mobile. Students use their mobile number to log in and can quickly join a college community.
The mobile-friendly aspect of ZeeMee seems to be resonating with its users. Live events like college fairs, which had been severely limited during the Covid-19 pandemic, are a strong suit of ZeeMee, as a recent 30-minute event at Hofstra University generated more than 2,000 prospective student chat messages.
Recently, ZeeMee announced a new brand partnership program. Bringing in brands (and their promotional budgets) into the mix will add an additional revenue stream on top of the annual fees institutions pay.
Three Concerns About ZeeMee
At first glance, users on ZeeMee seem to fall into what used to be the traditionally-aged college student demographic. However, with higher education changing rapidly, today's college student represents a wide swath of individuals who are living and learning in various ways. Will ZeeMee be able to match up the needs of its varying communities and still keep its communal feel?
What about bots and bad actors? When Facebook reached a certain level of success, along came the bad actors who wanted to exploit its users. Per a Twitter exchange, ZeeMee already has to deal with bots who are, at best, an annoyance and, at worst, represent serious security concerns.
Our engineers just released new enhancements to auto detect these fake accounts and remove them from the platform.

— ZeeMee (@ZeeMeeApp) September 7, 2022
Lastly, the lure of brands into the mix will undoubtedly please investors who want to see a maximally profitable ZeeMee. However, as we've seen with Facebook, ads and brands haven't exactly been seen as making it a better user experience.
What's Next?
Will ZeeMee rise to the level of prominence and profit as Facebook, TikTok, Instagram, and others? Time will tell. It's going to be interesting to see if today's college student on ZeeMee becomes tomorrow's career professional who continues to chat and build community on the same app where they found their best friend or roommate.
---
*UK-based UniBuddy has launched an app focusing on college students and community. UniBuddy had 1,000+ downloads on Google Play when this post was published, whereas ZeeMee had 100,000+ downloads.
Note: While we have the data internally, the social network category is not currently available in the ListEdTech Portal.