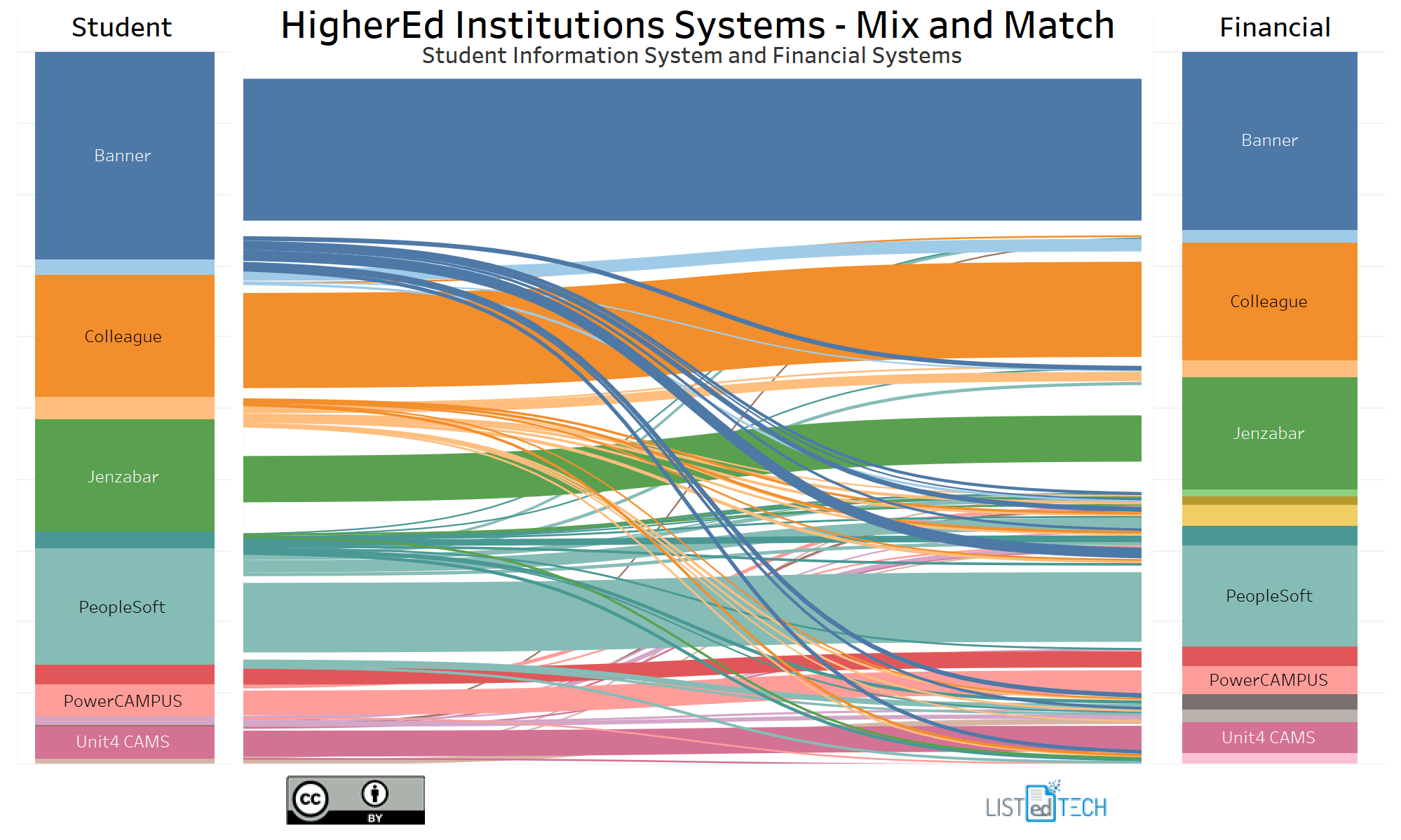 Eighty-five percent of higher education institutions choose to deal with one main system provider for their administrative systems (financial and student information systems). By having one provider, the integration is smoother, the price negotiations are easier and the support is usual quick and friendly. Now, as for the 15% of HigherEd institutions that choose to select a different provider for their core systems, what are the reasons behind such a decision? Is it that a single company could not address all their needs or is it something more sinister?
The visualization below illustrates the usage of about 3,000 HigherEd institutions. On the left side, you have a column that shows the student information systems (SIS) and, on the right, you have the financial systems. The middle Sankey chart has the SIS colour and links the two together. If you hover over the lines, you will see the systems which are linked.
Interested in HigherEd Technology? Sign up to receive our free weekly newsletter! We hand pick the most relevant, interesting and important stories affecting HigherEd IT professionals in product selections, implementations as well as system retirement.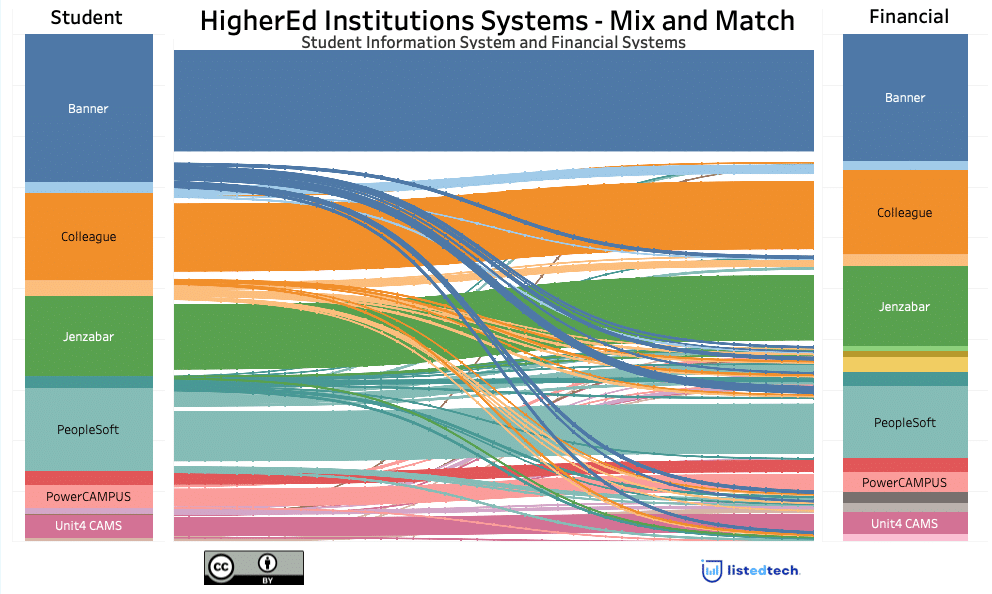 Notes on data and graph:
The size of the lines in the middle is not completely accurate, meaning that we have played with the size to accentuate the rogue 15%.

The data does not necessarily reflect market percentage of systems used. We selected a subset of institutions for whom we had both SIS and financial systems. Our database contains almost 5,000 institutions for whom we have SIS information and 3,500 for whom we have financial systems information.

I only kept the products which were selected by at least 30 institutions (in our database); the others have been grouped in the "Other" category.
Observations
Several Banner Student users have a different financial system provider, but very few institutions use Banner Financials unless they already have Banner Student. The bulk of Banner Student users that have a different financial system use the PeopleSoft Financial Management system.

A number of PeopleSoft Campus Solutions users use Oracle Financials instead of PeopleSoft Financial Management system.

Workday does have a presence on the financial side, but we don't see it on the student side since we had under 30 customers at the moment for this product.

Some products like Populi and Jenzabar have fairly isolated systems so the institutions that use these systems use them in a "closed ecosystem".
I cannot really answer the question as to why institutions decide not to go with a single provider; however, since the decision to go with several providers is a more difficult one, I can assume that there is not one single provider which can successfully address all the needs of the institution.
Don't forget to register to our weekly newsletter below.