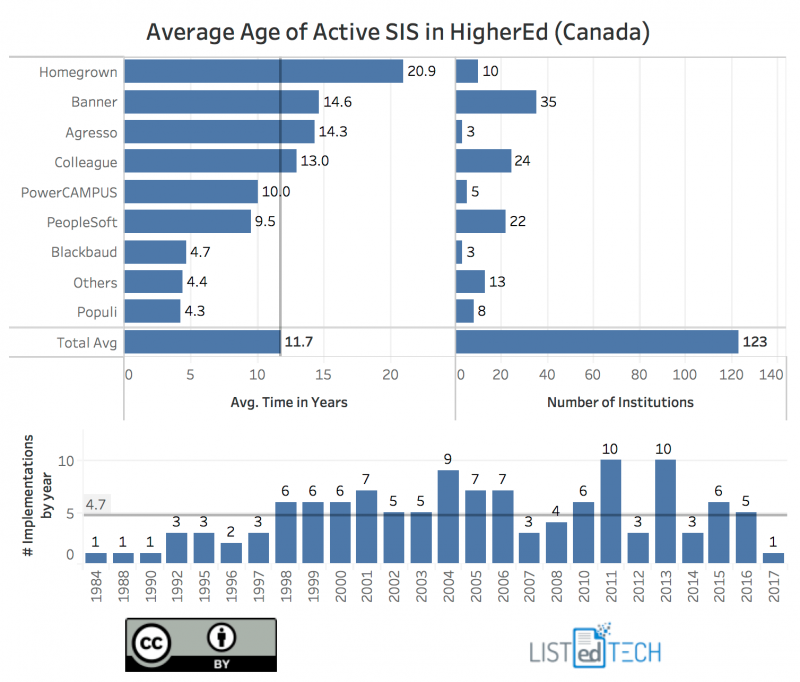 Over the past few years, we have mostly posted on LMS systems. This is due to the fact that we have been heavily invested in the launch of the LMS Report Subscription with our partners at e-Literate. What several of you probably don't know is that we have been accumulating lots of data on other systems used in HigherEd like:
Customer Relationship Management – CRM

Financial Systems – ERP

Human Resource Systems – HR

Student Information Systems – SIS

Business Intelligence – BI

Email

Grant

Financial Aid
Online Program Management – OPM

Career-Readiness Solutions

Adaptive Learning Platforms

ePortfolios

Competency Based Platforms – CBE

Learning Analytics

Student Support and Retention Solutions
Interested in HigherEd Technology? Sign up to receive our free weekly newsletter! We hand pick the most relevant, interesting and important stories affecting HigherEd IT professionals in product selections, implementations as well as system retirement.
Back to student information systems…
Out of the 172 active Canadian student information systems, we have implementation dates for about 72% of them (or 123 institutions).
As you can see, the average age of SIS in Canada for HigherEd is just under 12 years (11.71).
Homegrown systems (or the ones that have not yet purchased a commercial solution) are by far the oldest at almost 21 years. Then we have the 3 big systems used in Canada (Banner, Colleague and Peoplesoft) that are in the 10-15 year range.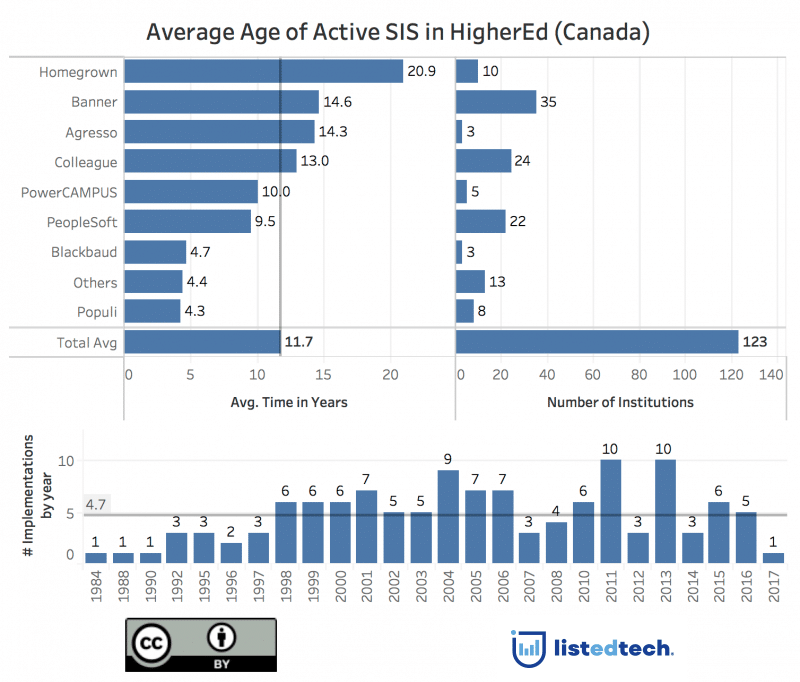 Note: The "Others" group includes products that have under 4 implementations. It includes CampusSIS, CampusNexus (formally CampusVue), CAMS, GradPro, Jenzabar, Kuali (the Curriculum and Catalog Management tools), Lumens and Sonisweb.