Have you ever wondered what percentage of HigherEd institutions have a learning management system? We, at LISTedTECH, have. It's a question that we often ask ourselves, especially since we are continuously expanding our coverage. When a new country differs greatly in percentage than the average, we question our tools, our product list, and even if the students have access to technology (phone or PC).
We have had several discussions about the levels of internet access. Basically, if a country has low internet access, its HigherEd institutions probably don't see the usefulness of offering LMS to its students. So as we have tried to understand country levels of internet access, we have stumbled upon this great graph by Tamara Gross.
Using this information (population with access to the internet) and overlying our own data of institutions with LMS, we have found an interesting correlation. It seems like the two are linked.
Interested in HigherEd Technology? Sign up to receive our free weekly newsletter! We hand pick the most relevant, interesting and important stories affecting HigherEd IT professionals in product selections, implementations as well as system retirement.
In the following graph, the data is broken down by geographical regions, we can see that:
Africa is trailing in both internet access and LMS implementations.

Asia also has a low LMS offering, but this is partially explained by the high number of small/private institutions in India.

North America is clearly a leader in LMS adoption.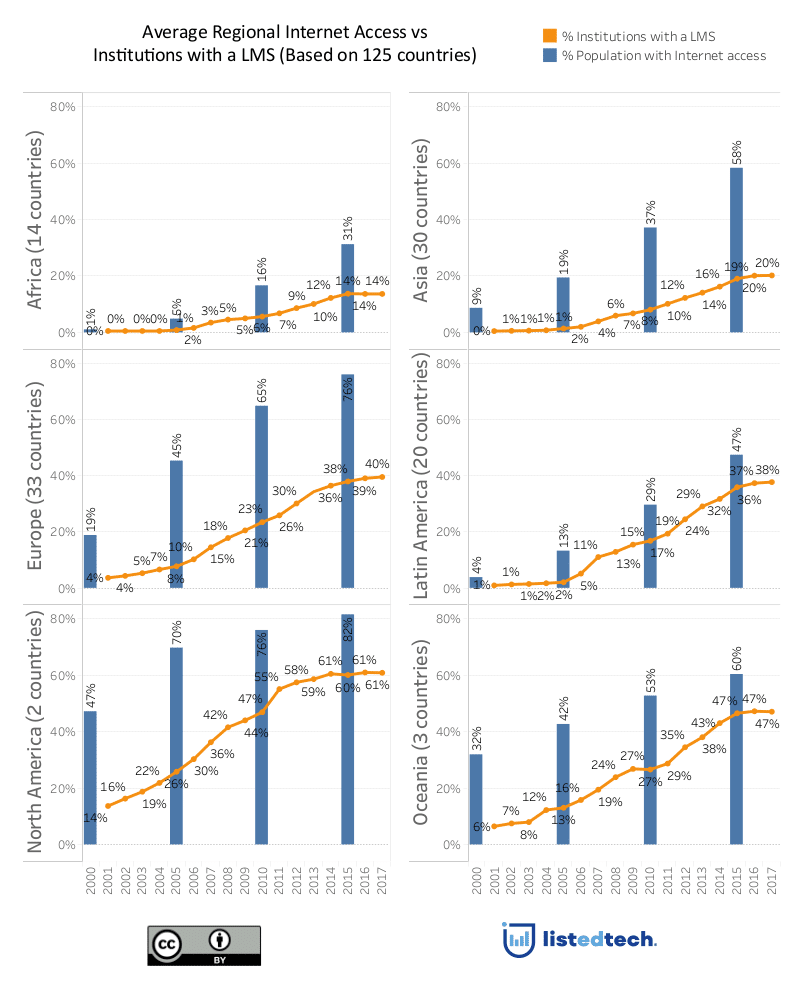 To see a more detailed country view, see the following link.
Notes on the data:
Clearly, we don't have the data for all HigherEd institutions…yet.

The percent of institutions with LMS is calculated by using the number of institutions with LMS for a specific year divided by the total number of institutions in our database for that country.

Why are we missing countries in the visualization? Three possibilities: a) Tamara's data did not contain that country's info; b) we removed countries that have less than 25 HigherEd institutions; c) we don't have that data.