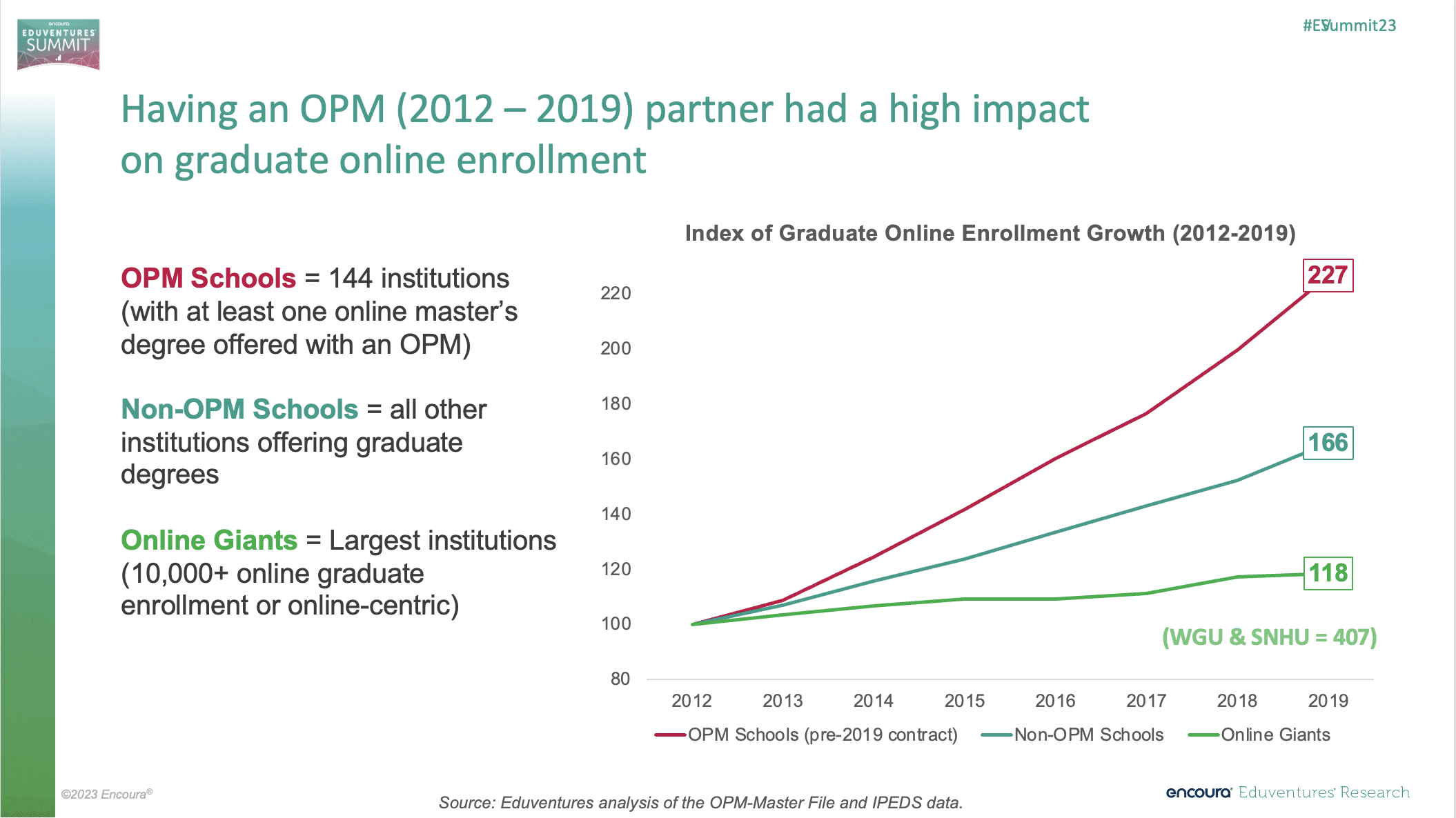 In early June, I attended Eduventures' annual summit in Boston, a few days packed with in-depth analysis and forward-thinking. On the last day of the conference, during a breakfast panel titled "Turbulence in the Online Program Management (OPM)," I wondered which approach is the best for online education: using an OPM solution or adopting a DIY approach?
This question arose while listening to Chris Gardiner (one of Eduventures' Senior Analysts). Two slides from his presentation are worth looking at for a moment: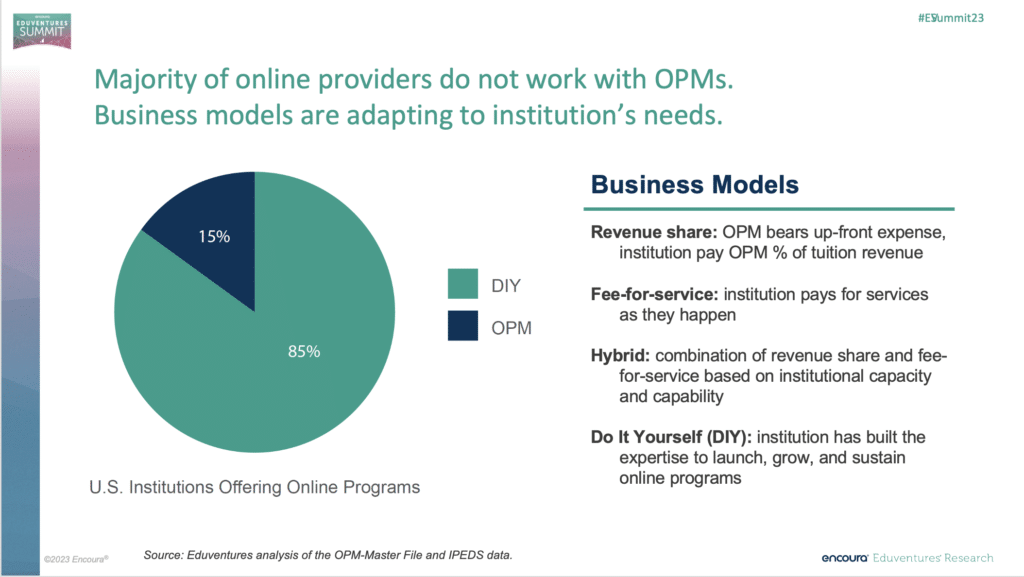 This first slide (above) shows that most universities do not rely on external solutions to provide online education. Eighty-five percent of HigherEd institutions prefer to build, develop and offer online programs by themselves.
However, when they do, they see a massive difference in their graduate online enrollment (see below). When comparing institutions using an OPM versus those opting for a DIY solution, the OPM schools have the most significant index of graduate enrollment growth (227%).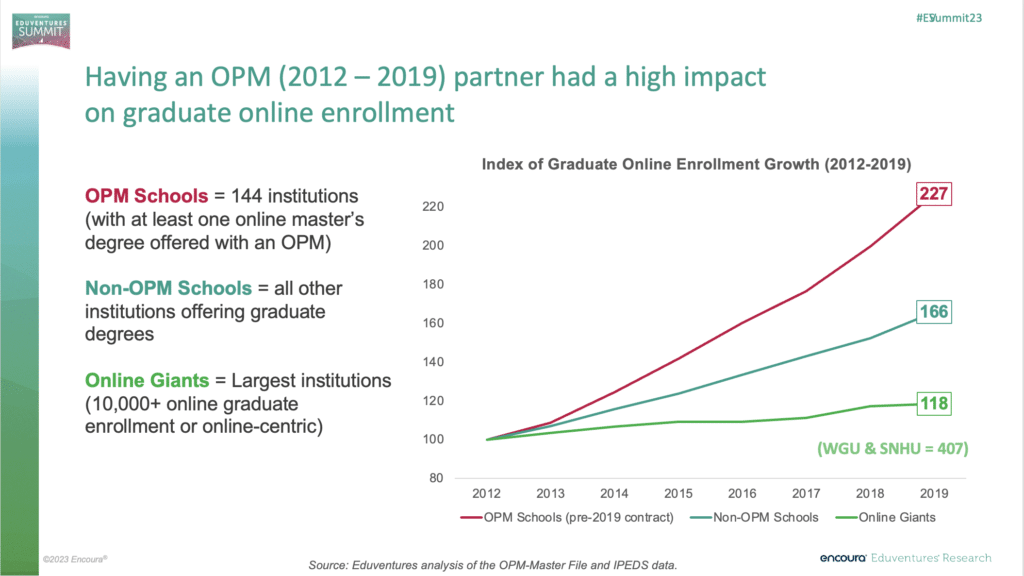 What Could Explain the Success of OPM Schools?
When looking at why OPM schools succeed in comparison to non-OPM schools, I first thought of marketing efforts. Marketing investments made by OPM vendors back OPM schools, as many contracts stipulate a shared revenue structure.
There is more to this success than only the marketing investment, however. Contrary to a DIY university, which develops its online education offering, OPM vendors are experts in this field and have mastered their art for many years. They bring extensive experience and best practices from working with multiple institutions and can provide comprehensive end-to-end solutions.
OPM solutions are also supported by imposing IT infrastructures. This gap between OPM and DIY schools is particularly true when DIY schools are smaller and less technologically advanced institutions. We all heard of a story about the server room being down for the whole weekend at a small college in a rural part of the country. With OPM solutions like other commercial edtech solutions, risks are reduced, and downtime is almost inexistent.
OPM vendors can also implement changes rapidly, as universities often face delays due to bureaucratic processes. With their complex decision-making structures and approval processes, universities may find it challenging to keep up with the pace of change in the online education landscape.
A Product for Graduate Studies
Given that Chris' slides focused on graduate enrollment, I wanted to see if online program management is used across all levels of study or if it's only a matter of graduate studies. As shown in the graph above, professional degrees are the programs of study most offered on OPM platforms. For example, universities and vendors offer MBA programs, the Master of Social Work (MSW), as well as the Master in Public Health and the Master in Nursing.
As mentioned in other posts, the demand for online learning will continue to grow over the following years. OPM schools can reach out-of-state students and full-time employees looking to advance their careers. We might see the integration of artificial intelligence, virtual reality and even augmented reality in the online program management offering. Employers might also sign partnerships with OPM schools to deepen their employees' knowledge. This way, employees acquire stackable credentials to build their own personalized learning experience.
Overall, the future of online program management will be characterized by increased accessibility, personalized learning experiences, advanced technologies, and a stronger connection to the needs of the workforce. It will continue to empower learners and provide opportunities for individuals to pursue education at their own pace and convenience.
© The first two images in this post are used with the permission of Eduventures.