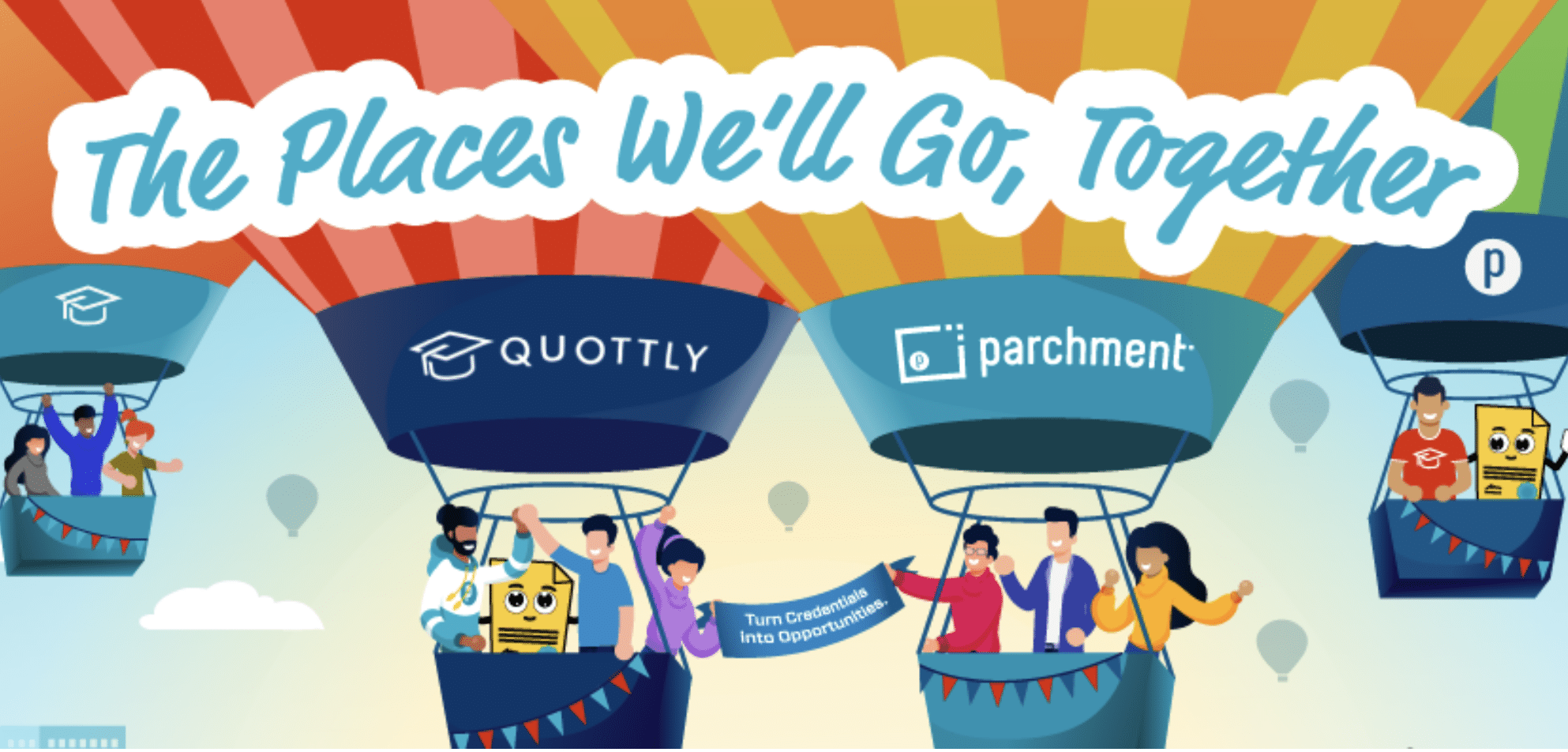 Last week, Parchment announced the acquisition of Quottly. As mentioned in the press release, "[t]his acquisition adds a new dimension to Parchment's mission to turn credentials into opportunities by helping higher education give students access to more academic options, up-to-date transfer information, and guided pathways to ensure they stay on track and graduate on time." Our VP, James Wiley, had the chance to discuss with both CEOs from the Quottly-Parchment merger, and we wanted to share some of our thoughts about this acquisition.
Brief History of Parchment
To talk about Parchment, one must go back in time more than a decade from now. In the early 2010s, Parchment CEO Matthew Pittinsky was then a tenure-track assistant professor at Arizona State University after having served as CEO, executive chairman and non-executive chairman at Blackboard. While working at Blackboard, Pittinsky became interested in managing academic credentials. Through connections, he learned about Docufide, a company founded in 2003 that specialized in the online transfer of academic transcripts from high schools to colleges and universities. He then invested in the company and was hired as the company's CEO. In April 2011, the company rebranded as Parchment.
Pittinsky helped the company get four rounds of financing before being acquired by Brentwood Associates. The private equity firm then merged Parchment with Credential Solutions. Since the purchase and the merger, Parchment acquired four companies: Digitary, Scrip Safe, NeedMyTranscript and, more recently, Quottly (March 21, 2023). While some of these acquisitions can be considered direct competitors, others were made to expand the level of services provided by Parchment.
Objectives of the Two Solutions
In the past, we did a company profile on Quottly. At the time, we mentioned that the main objective of the company's platform was to help students graduate on time by allowing them to enroll in another institution which offers their needed classes. The solution helps partner institutions "reduce costs by cross-enrolling students between institutions. With a one-click registration, it is even possible for students to register to another university without previously having a student account in this school."
Parchment offers a credential service, mainly transcripts. As stated in the corporate summary, the company "[provides] a convenient platform to help institutions and individuals securely send and receive credentials, such as transcripts and diplomas, online has established Parchment as the leader in eTranscript exchange."
The best way to think of the two companies is in terms of transitions along the student journey. Parchment helps students navigate transitions by ordering, sending, and tracking credentials between organizations, such as high schools and colleges. Quottly assists students with changeovers from two- to four-year institutions.
What the Acquisition Means for Parchment
Together, the two companies will deepen the support for students through these transitions by allowing students to manage credentials and view courses that may be transferable. Their strategy is placing the student at the center to eliminate roadblocks students face along their journeys.
In the future, we expect Parchment to focus more on stackable credentials. Consider this: a student earned her high school transcript, which is stored in Parchment, and heads off to a community college. She then completed an Associate's Degree (also stored in Parchment) and navigated her next step to a four-year college via Quottly. She then received her four-year diploma (held in Parchment), but she has also gotten some other credentials along the way (certifications in Python, etc.). While Parchment stores all of the student's credentials, the navigation through the student journey takes place via Quottly.
As Matthew Pittinsky mentioned during his talk with James, one challenge for these two companies is that transitions happen between organizations, not within them. So both companies have the challenge of having organizations (high schools, colleges, etc.) take a student journey-focused view of their students that may precede them and go beyond them.
James states that this is an excellent partnership, resulting in a company with no real competitor. Combining the two also enables support of the student journey through transitions via an integrated tech stack. Instead of negotiating degree auditing tools, credentialing tools, course mapping tools, etc., over many systems, students should have a more streamlined experience by using Quottly and Parchment.
This post was written with the help of James Wiley, VP of Product and Research.
Feature image: Ⓒ Parchment, 2023.