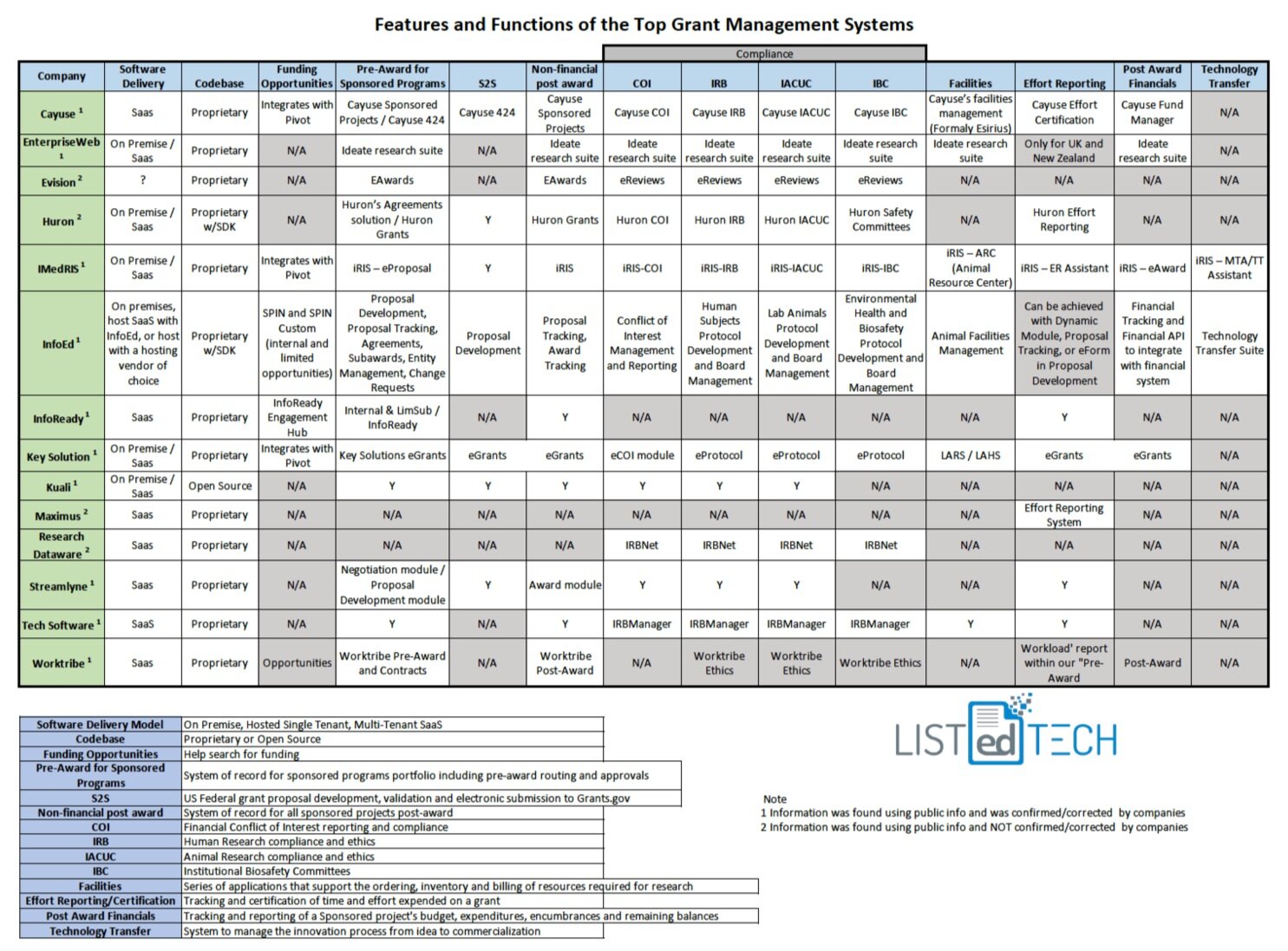 As mentioned last week, today we are releasing our newest report titled Grant Management Systems in the Educational Sector. The report contains several views to help breakdown the market.
As a sneak peak of the report, a condensed version of the Features and Functions of the Top Grant Management Systems table is below. If you would like a copy of the full table with additional details, you can download a PDF version.
If you need more information about the report or would like to get one, send me an email.
Company

Funding Opportunities

Pre-Award for Sponsored Programs

S2S

Non-financial post award

COI

IRB

Compliance

Post Award Financials

Technology Transfer

Cayuse 1

Integrates with Pivot

Cayuse Sponsored Projects / Cayuse 424

Cayuse 424

Cayuse Sponsored Projects

Cayuse COI

Cayuse IRB

Y

Cayuse Fund Manager

N/A

EnterpriseWeb 1

N/A

Ideate research suite

N/A

Ideate research suite

Ideate research suite

Ideate research suite

Y

Ideate research suite

N/A

Evision 2

N/A

EAwards

N/A

EAwards

eReviews

eReviews

Partial

N/A

N/A

Huron 1

N/A

Huron's Agreements solution / Huron Grants

Y

Huron Grants

Huron COI

Huron IRB

Y

N/A

N/A

IMedRIS 1

Integrates with Pivot

iRIS – eProposal

Y

iRIS

iRIS-COI

iRIS-IRB

Y

iRIS – eAward

iRIS – MTA/TT Assistant

InfoEd 1

SPIN and SPIN Custom (internal and limited opportunities)

Proposal Development, Proposal Tracking, Agreements, Subawards, Entity Management, Change Requests

Proposal Development

Proposal Tracking, Award Tracking

Conflict of Interest Management and Reporting

Human Subjects Protocol Development and Board Management

Y

Financial Tracking and Financial API to integrate with financial system

Technology Transfer Suite

InfoReady 1

InfoReady Engagement Hub

Internal & LimSub / InfoReady

N/A

Y

N/A

N/A

Partial

N/A

N/A

Key Solution 1

Integrates with Pivot

Key Solutions eGrants

eGrants

eGrants

eCOI module

eProtocol

Y

eGrants

N/A

Kuali 1

N/A

Y

Y

Y

Y

Y

Partial

N/A

N/A

Maximus 2

N/A

N/A

N/A

N/A

N/A

N/A

Partial

N/A

N/A

Research Dataware 2

N/A

N/A

N/A

N/A

IRBNet

IRBNet

Partial

N/A

N/A

Streamlyne 1

N/A

Negotiation module / Proposal Development module

Y

Award module

Y

Y

Partial

N/A

N/A

Tech Software 1

N/A

Y

N/A

Y

IRBManager

IRBManager

Y

N/A

N/A

Worktribe 1

Opportunities

Worktribe Pre-Award and Contracts

N/A

Worktribe Post-Award

N/A

Worktribe Ethics

Partial

Post-Award

N/A

Note

1 Information was found using public info and was confirmed/corrected by companies

2 Information was found using public info and NOT confirmed/corrected by companies

Software Delivery Model

On Premise, Hosted Single Tenant, Multi-Tenant SaaS

Codebase

Proprietary or Open Source

Funding Opportunities

Help search for funding

Pre-Award for Sponsored Programs

System of record for sponsored programs portfolio including pre-award routing and approvals

S2S

US Federal grant proposal development, validation and electronic submission to Grants.gov

Non-financial post award

System of record for all sponsored projects post-award

COI

Financial Conflict of Interest reporting and compliance

IRB

Human Research compliance and ethics

IACUC

Animal Research compliance and ethics

IBC

Institutional Biosafety Committees

Facilities

Series of applications that support the ordering, inventory and billing of resources required for research

Effort Reporting/Certification

Tracking and certification of time and effort expended on a grant

Post Award Financials

Tracking and reporting of a Sponsored project's budget, expenditures, encumbrances and remaining balances

Technology Transfer

System to manage the innovation process from idea to commercialization