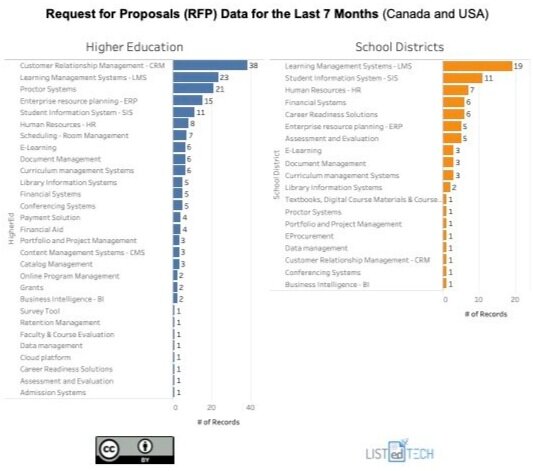 As mentioned in a previous post, we have started to track RFP data. The primary reason we are interested in the RFP data is to help us better understand future trends in system implementations. This also gives us an additional indicator of which institutions might change their systems, which is our core business.
In addition to the RFP data for LMS we already talked about, we compiled RFPs in Canada and the USA markets for the past seven months. Before digging into the table below, please keep in mind that the RFP data does not represent the majority of the system implementations. In fact, it accounts for about 4% of all implementations (our preliminary numbers). Therefore, we have to read this table with a grain of salt.
For the Higher Education sector, we noticed that the pandemic still plays an important role in the request for proposals. The Learning Management Systems, as well as Proctor Systems, are almost at the top of the table. But the top spot is reserved for Customer Relationship Management Systems! But what type of CRM systems are we talking about? Is it a recruitment system, alumni, or general? We can speculate that the online programs put pressure on some institutions to ensure they communicate effectively with their students while very few people are on-campus and CRM systems are there to respond to this need.
Following these three product categories, ERP, SIS and HR are in the first tier even though they only represent 18% of all combined RFPs. We are unsure if this is a normal trend. We will continue to track this data in the following months and years and use this first test as the base results.
For the K-12 sector, COVID-19 is also pushing the LMS to the top. This product category represents 24% of available RFPs for the past seven months. Like in higher education, a few systems at the core of the school districts follow the LMS: SIS, HR and Financial Systems.
Since not all institutions or school districts have to use the request for proposals when looking for IT system providers, we have to be careful when interpreting this data. With a bigger pool of RFP data, we should be able to cross-check our dataset and establish a few market trends in other product categories.