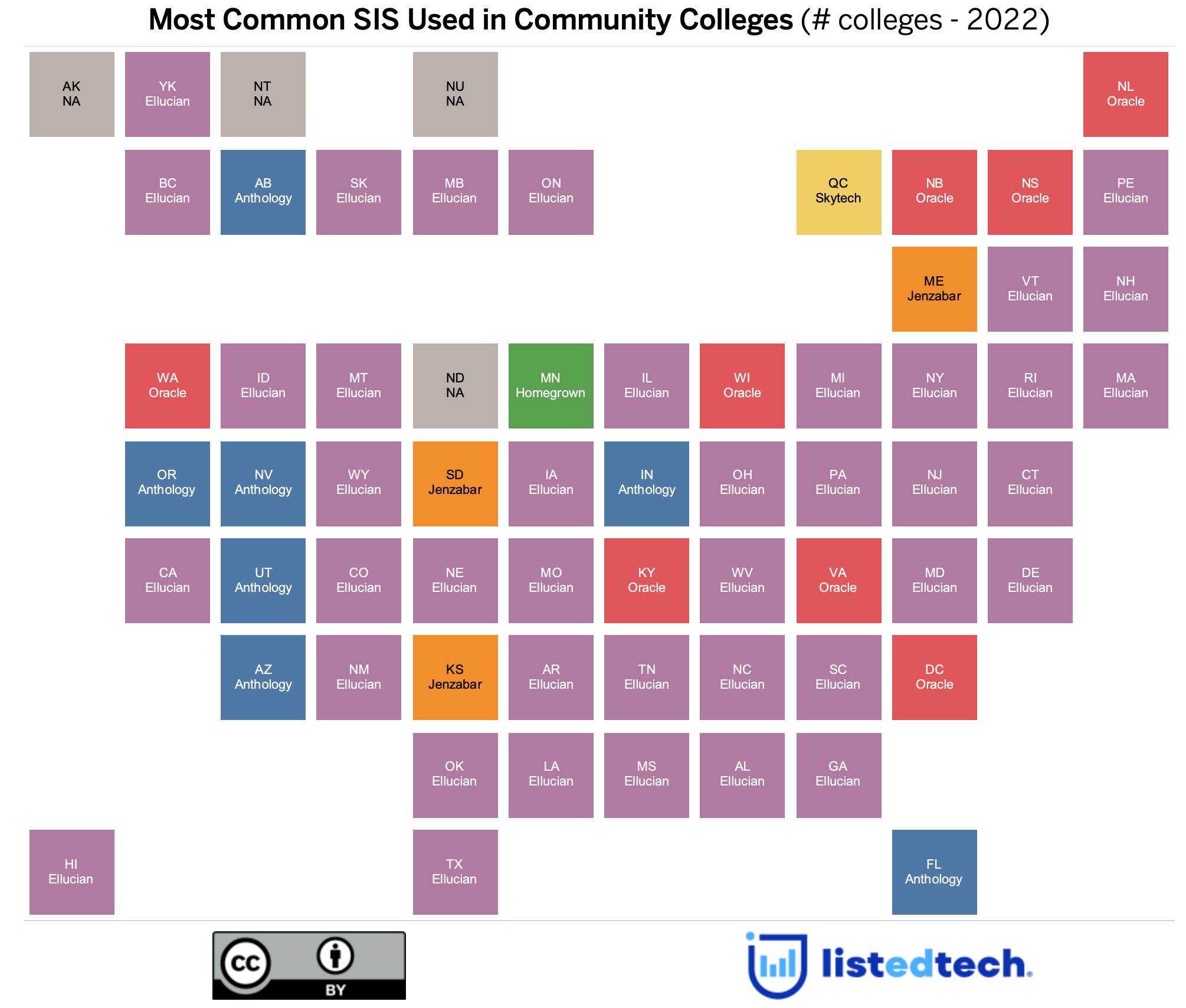 Community colleges are often an afterthought in the HigherEd world. Yet, in the United States, there are almost 1,500 institutions, and in Canada, a little over 200. These community colleges north of the 28th parallel register more than 5.5 million students. It is time to specifically showcase community colleges in a post. Today, we want to show which SIS and LMS they use.
Notes and Methodology
An important note: we use the terminology 'community colleges' for this post. In the US, this represents colleges offering 2-year programs (with some 4-year diplomas) with lower tuition fees compared to universities. In Canada, they do not use this term often. They either use college or institutes, thus the name of their representing body, Colleges and Institutes Canada. In Québec, they are regrouped under the acronym CEGEP (collèges d'enseignement général et professionnel that we could translate to general and vocational training college). The Canadian colleges propose 2-year programs similar to what we can find in the US.
As you can see in the graphs below, we go the unconventional route for this post. Instead of talking student enrollment or percentages, we took our good old map and looked for the most implemented system in each state and province. Please excuse the approximate geographic location of some states as our visualization tool is not good with geography.
Before looking at a specific state or province, allow us to briefly expose our methodology. We extracted the most recent data from our database and applied a geographical filter to retrieve SIS and LMS systems by state/province. We took the most implemented system and colored the map. In terms of numbers, we selected implementations, not student enrollment. When the data was not available, we identified the state with NA and applied a grey shade to it. The idea behind this representation would be: if you knock on a community college door and ask for the system they use, which answer would you most likely get?
SIS and LMS Maps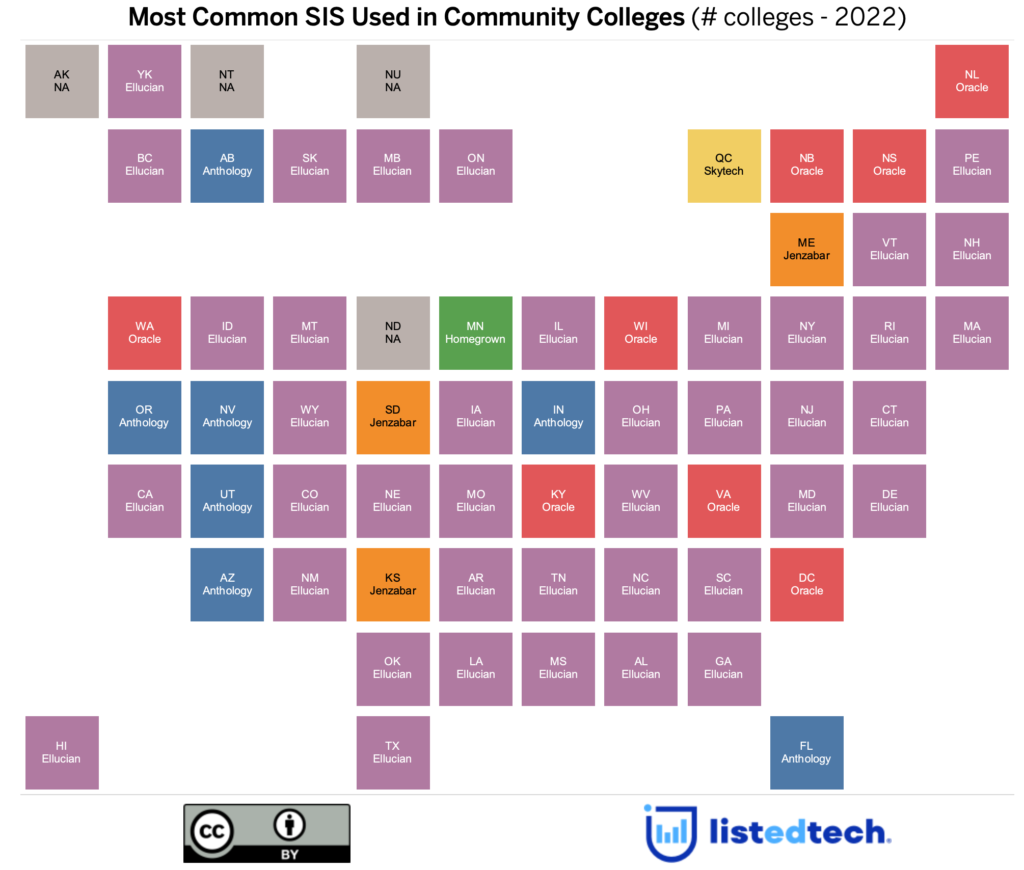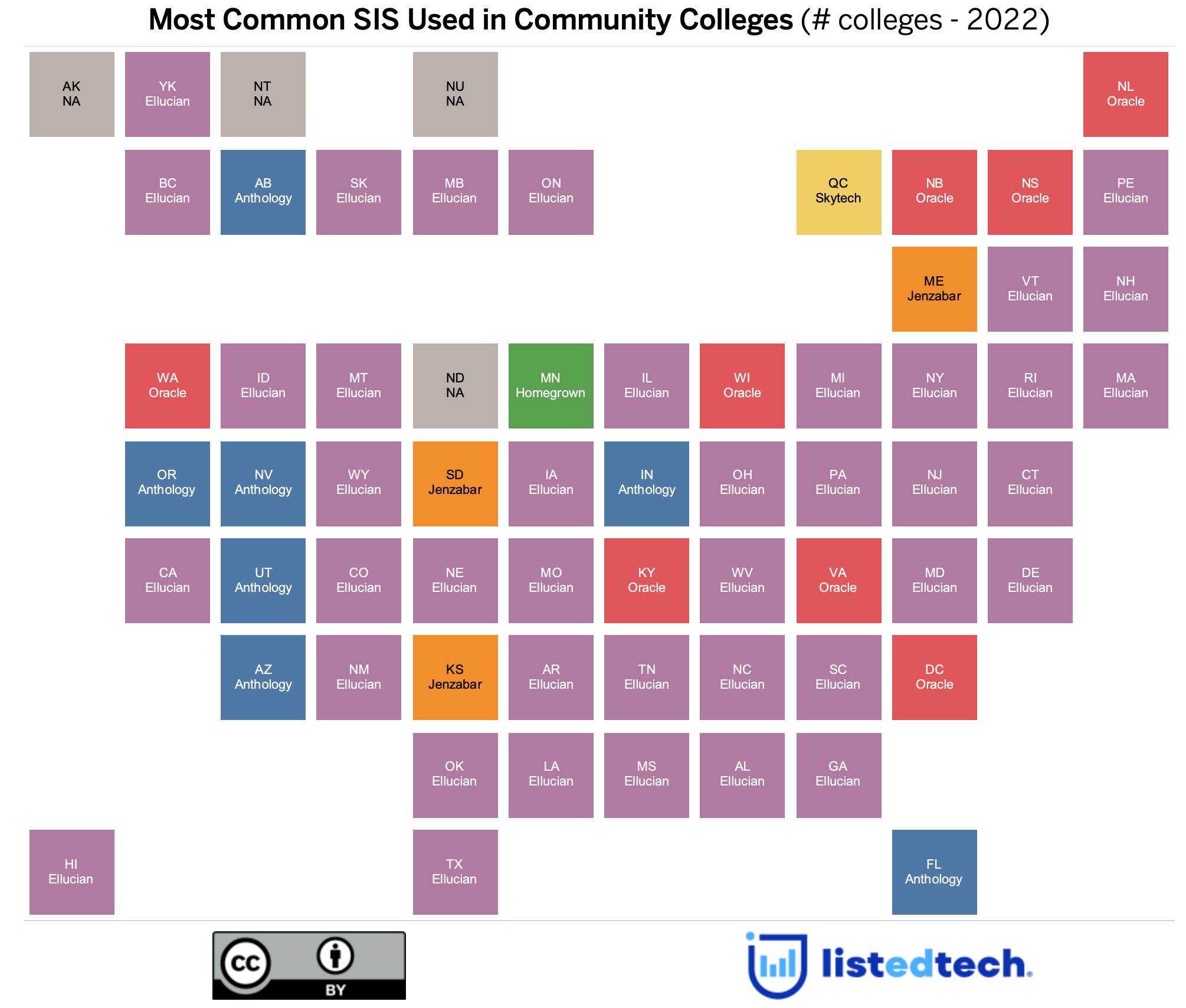 The first observation we can draw from the SIS map is that Ellucian is extremely popular in the US and also represent almost the majority (6 out of 13) of Canadian provinces/teritorries. Anthology is the most implemented solution in Florida (its home state) as well as many states in the western part of the country. In Canada, the Maritimes fell in love with Oracle while Ontario (the biggest province in terms of community colleges after Québec) and Western Canada is all about Ellucian.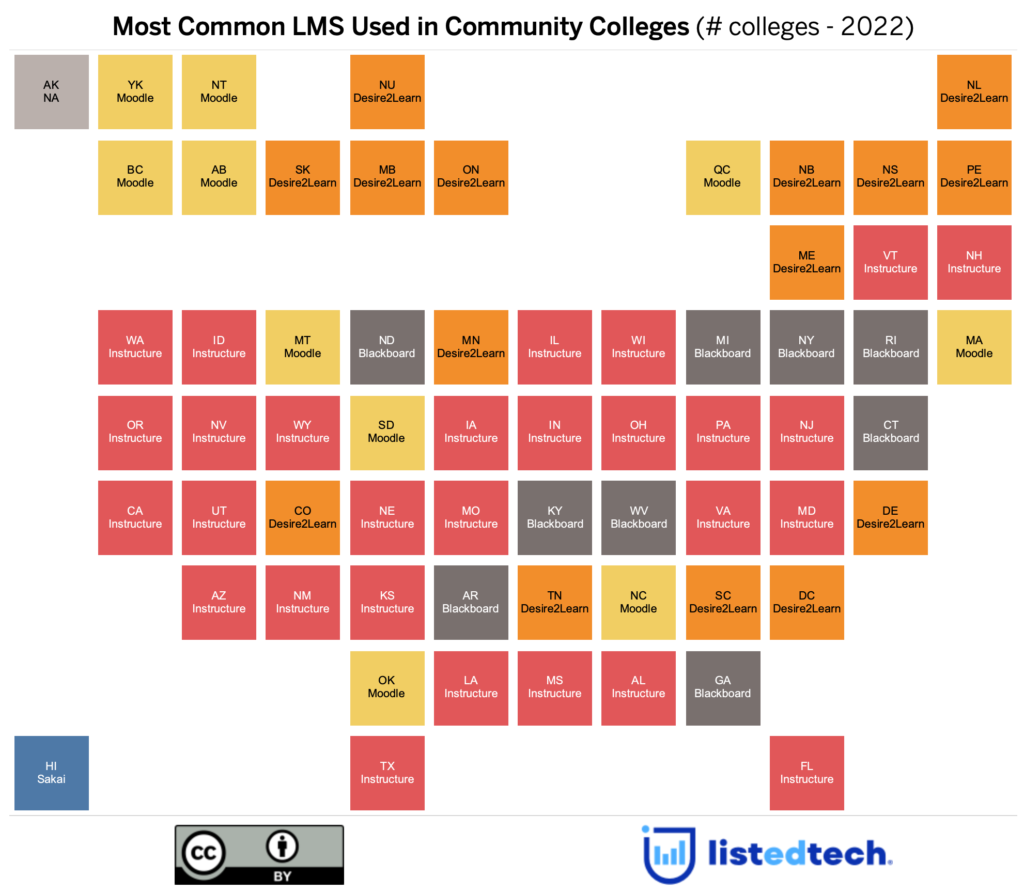 When we look at the LMS map, we clearly see Instructure in the US: 28 states have this solution ranked as the most selected. This is also spread across the country, except for the northeast part, where Blackboard is the most common system. The Canadian market is an interesting one when it comes to learning management systems. Colleges have either selected a Canadian solution (Desire2Learn: 8 out of 13) or an open-source solution (Moodle). This reminds me of the large adoption of WebCT in early 2000s by many Canadian institutions. The Canadian institutions at the time showed some patriotism as WebCT was developed by UBC professor Murray Goldberg.
To our subscribers working in a community college, do you have any insights to add to SIS and LMS used in your institution? We would love to hear from you. Interact with us on major social media platforms.