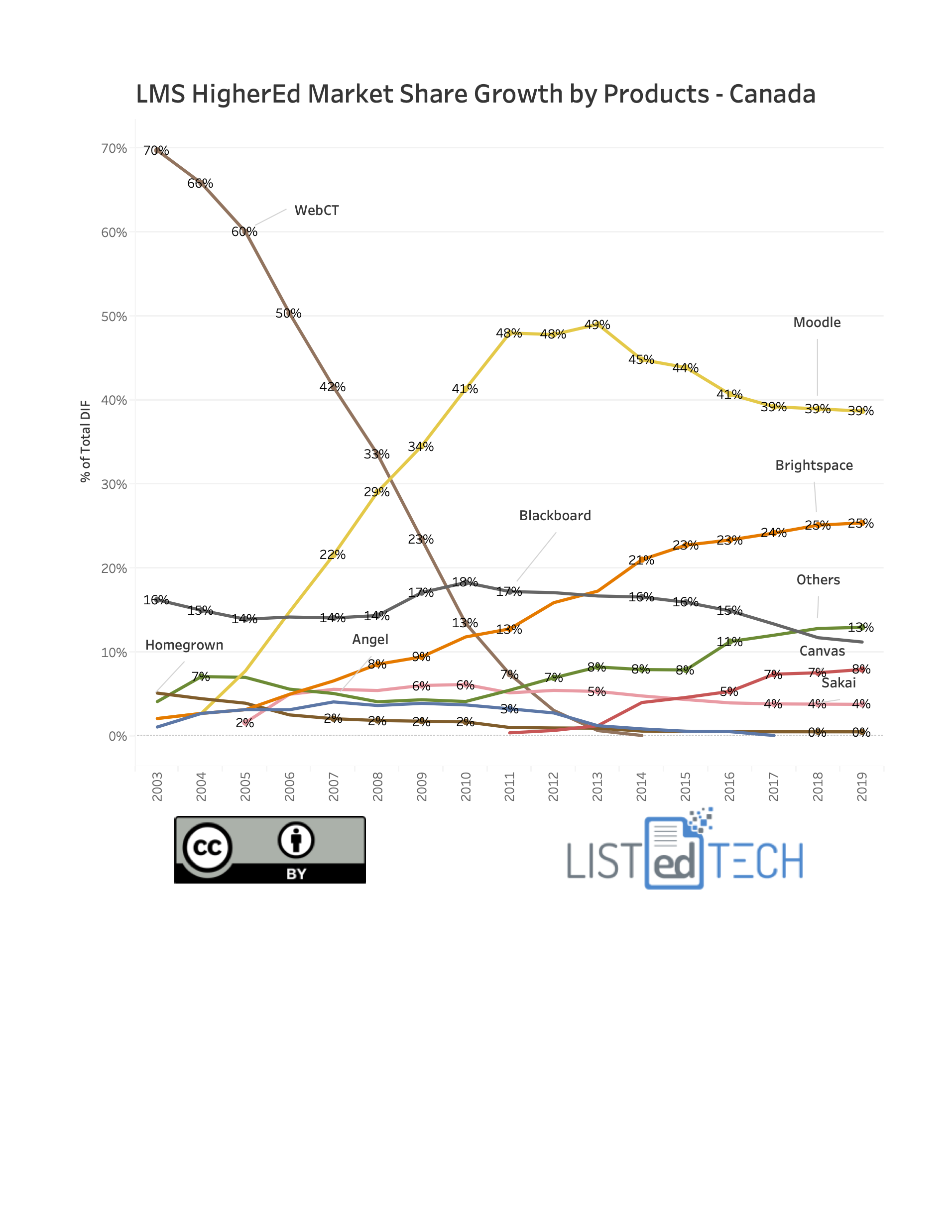 With Canada Day this week, we are updating a 2015 post on Canada's LMS Systems. Since our last post we have added lots of new institutions and historical data.
————
Canada has a long history with learning management systems. As you might already know, WebCT was originally developed at the University of British Columbia by a faculty member in computer science, Murray Goldberg. Another Canadian eLearning company, Desire2Learn, was founded by John Baker in 1999 after identifying his own unfulfilled need for learning online while studying Systems Design Engineering at the University of Waterloo. However, this post is not about Canadian companies, but rather the LMS that are used by Canadian colleges and universities.
A brief history of the Learning Management System in Canada
Once WebCT was introduced in early 1996, Canadian HigherEd institutions selected it as the de facto system to be used. As you can see in the first graph below, almost 70% of Canadian colleges and universities were using WebCT right before it was purchased by Blackboard at the end of 2005. At that time, Blackboard had just under 20% of the LMS market share and Moodle was just starting (5%).
Following the WebCT purchase, institutions migrated to Moodle and, to a lesser degree, to Brightspace (D2L). Blackboard was not very successful in retaining its new (purchased) customers. Since 2003, Blackboard's Canadian market share stayed mostly flat. We do see a slight rise from 2008 to 2010 caused in part by the phasing out of the WebCT product line. But Blackboard's market share never rose above 20% even after it purchased Angel (a small player in Canadian HigherEd).
The Canadian migration to the open-source system Moodle was in part out of frustration of being imposed the change. Blackboard was seen as the big bad company and the majority of our (mostly left of the political spectrum) professors did not want to give in.
A few other observations:
Brightspace (D2L) has seen a slow but steady rise in its market share and has overtaken Blackboard in total clients in 2014. Its market share keeps increasing.

Sakai, Homegrown and Angel systems have never taken more than a few percentage points of the market compared to the US LMS market.

Canvas, who is now dominating the market in the USA, has had a slower increase in Canada. Since 2011, Canvas has gained 8% of the market share. During that same period, Brightspace has increased by 12%.

The products that lost the biggest market shares are Moodle at 10% since its peak in 2013, and Blackboard which decrease by 7% since 2010.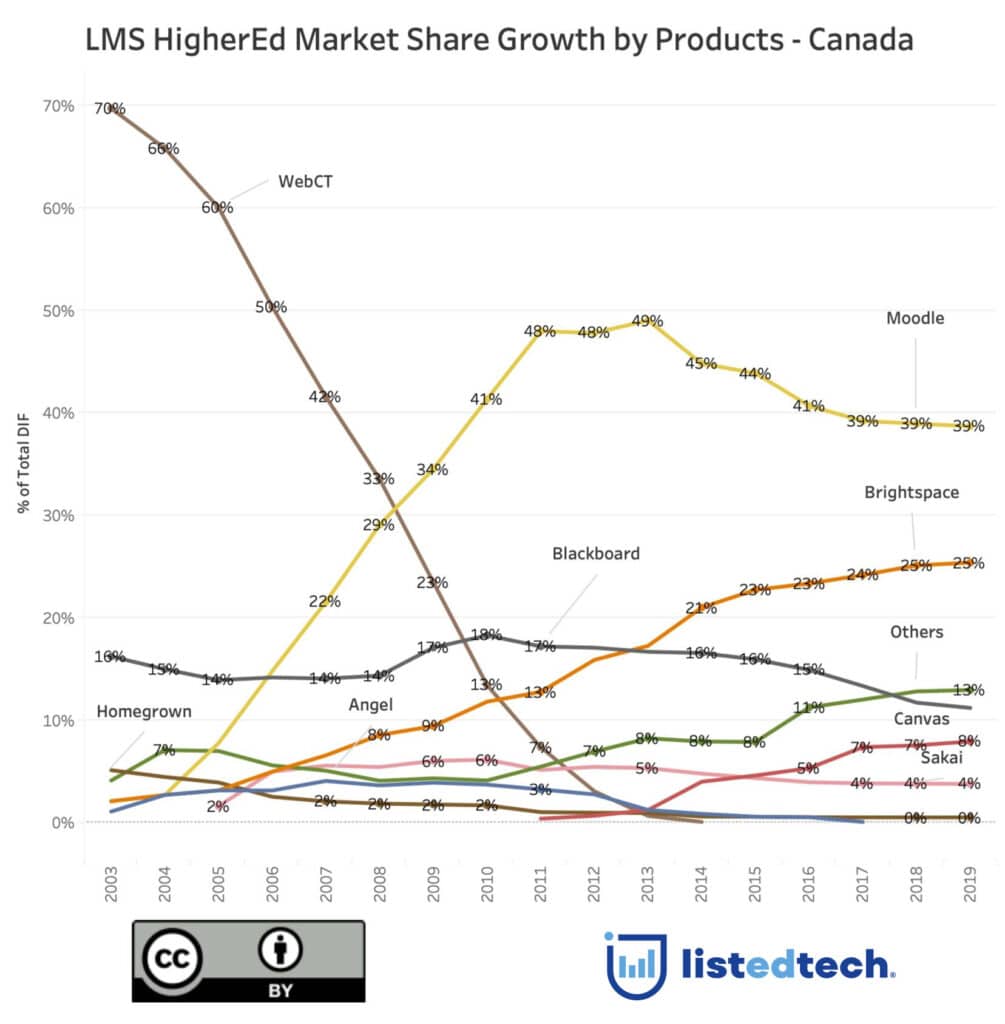 New Implementations of Learning Management Systems in Canada
Contrary to the US market share that is dominated by Canvas and Blackboard, Canada has a strong preference for Moodle and Brightspace. Moodle's large market share is in part because of the CEGEP system (50 or so institutions) that has selected to use Moodle as its default system.
Like the US market, however, the Canadian Blackboard and Moodle shares keep falling.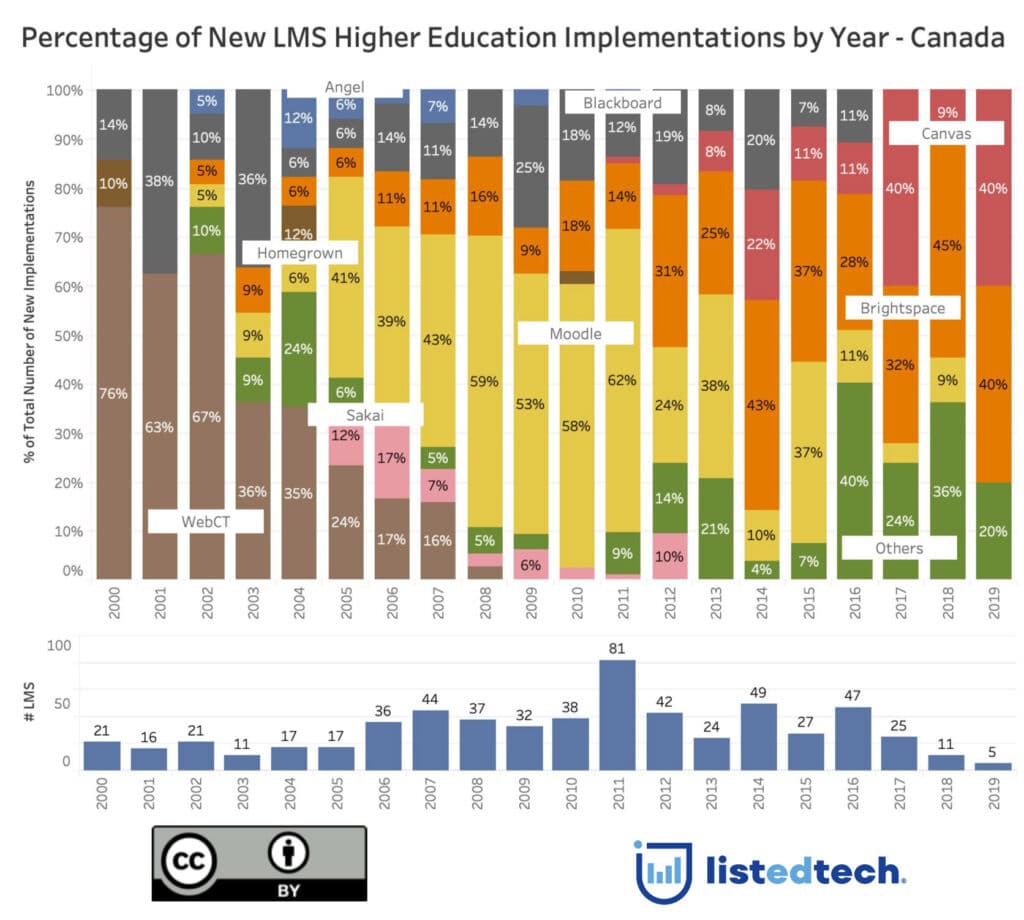 The graph above contains two separate graphs that complement each other. In the top graph, you can see the yearly percentage of new implementation by product. The bottom graph is the number of new implementations for that year.
A few notes:
On the bottom left of the top graph, you can see WebCT slowing the percentage of new implementations from 76% in 2000 to 0% in 2009.

The yellow middle section represents Moodle. You can see its high volume. In the last few years, Moodle has had very few new implementations.

Brightspace has had an ever-increasing number of new implementations since 2012. Its percentage of new implementations went from 5% in 2012 to above 40% in the last few years.

Canvas has had a slow start in Canada. One of the reasons for this was that the system was only being hosted in the US. This has been corrected and Instructure now has AWS hosting in Canada. Its percentage of new implementations has increased and is now going toe-to-toe with Brightspace.
We used data on over 325 Canadian HigherEd institutions.

We looked at over 590 implementations.