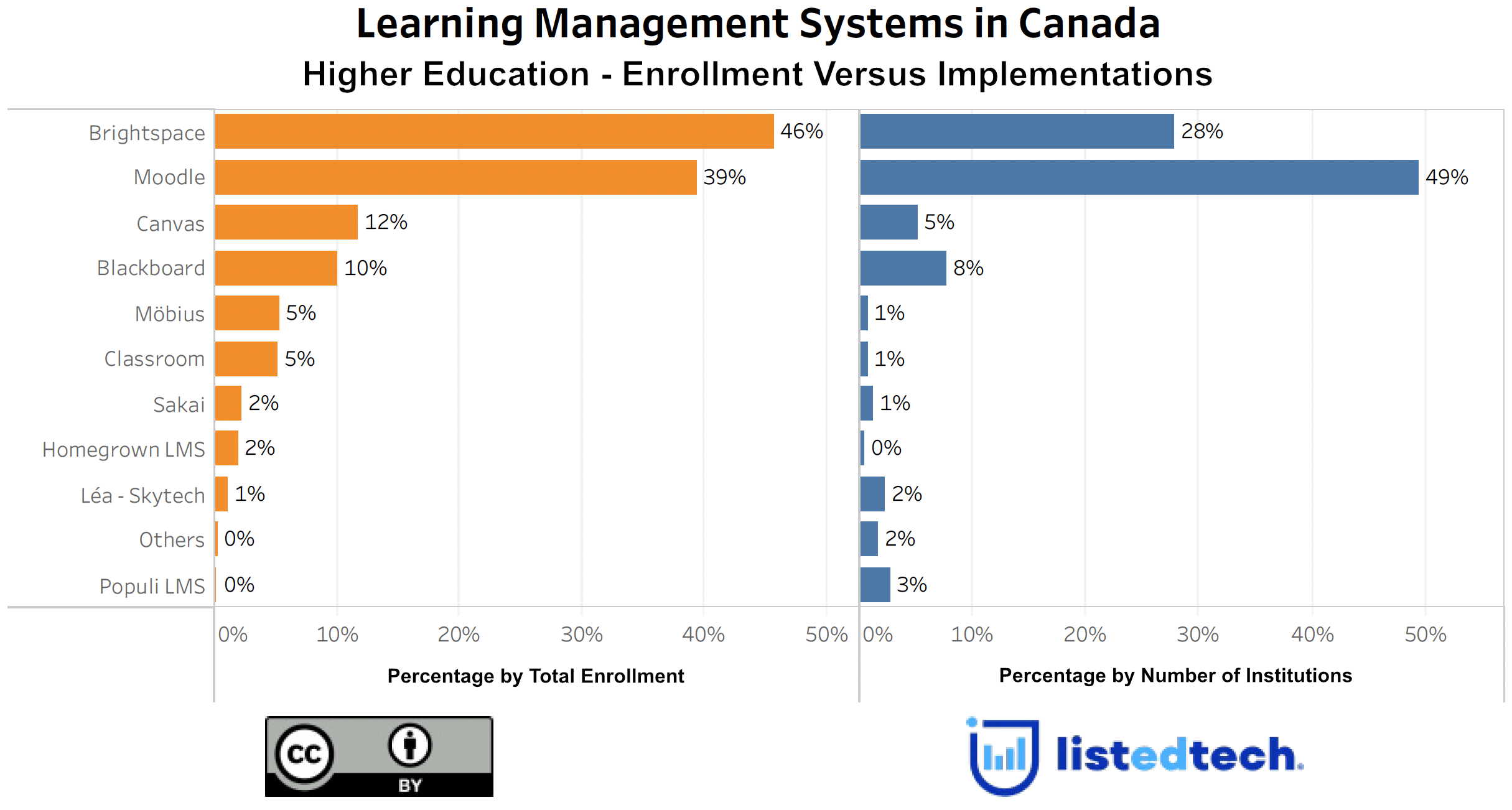 This post is in its third iteration (2015; 2020, 2023). In 2020, we focused our graphs and analysis on historical implementation data. For this update, we look at the most current market shares in Canada's LMS market. We also kept the historical market shares and new implementations as references for data fanatics.
Canada has a long history with learning management systems. As you might know, WebCT was originally developed at the University of British Columbia by Murray Goldberg. Another Canadian, John Baker, founded Desire2Learn in 1999 after identifying unfulfilled needs while studying Systems Design Engineering at the University of Waterloo. However, this post is not about Canadian companies but rather the LMS used by Canadian colleges and universities.
A Brief History of the Learning Management System in Canada
Once WebCT was introduced in early 1996, Canadian HigherEd institutions selected it as the de facto system. As shown below, almost 70% of Canadian institutions were using WebCT before it was purchased by Blackboard (2005). At that time, Blackboard had just under 20% of the LMS market share, and Moodle was just starting (5%).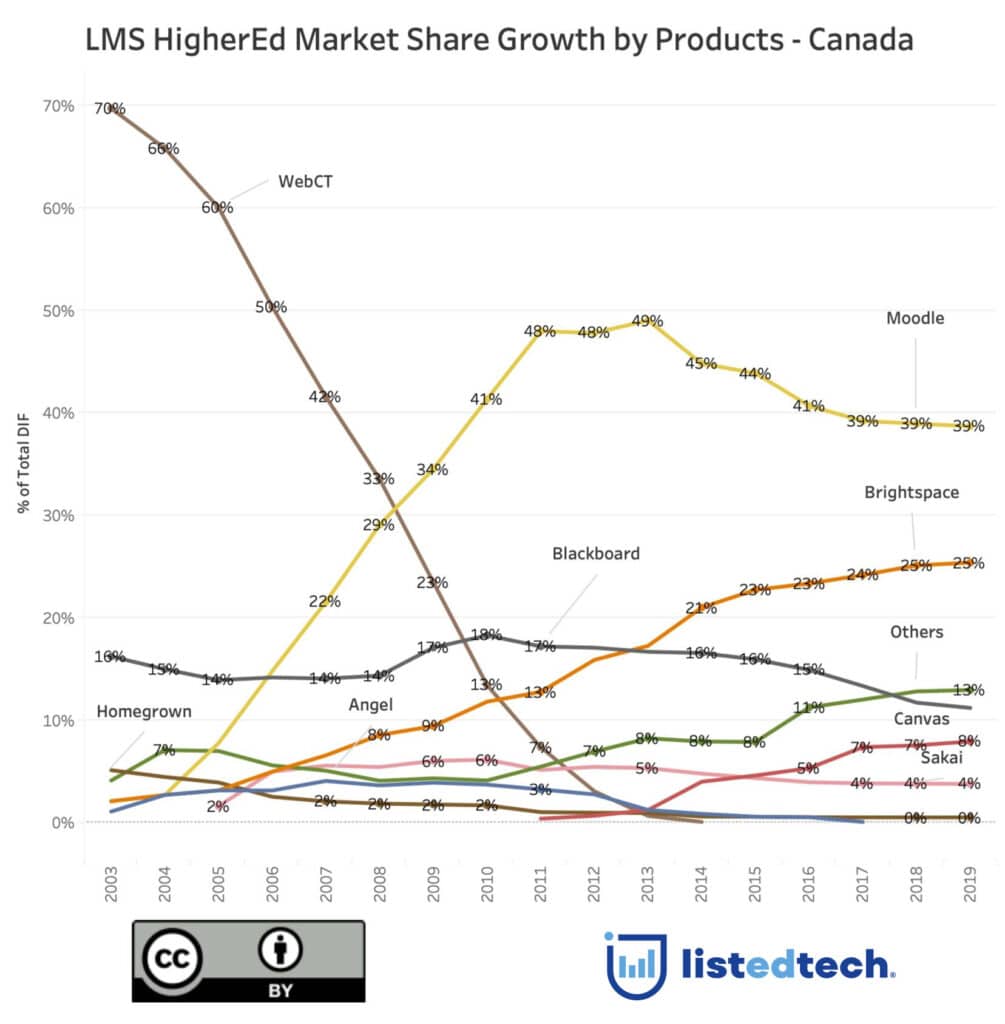 Following the WebCT purchase, institutions migrated to Moodle and, to a lesser degree, to Brightspace (D2L). Blackboard was not very successful in retaining its purchased customers. Since 2003, Blackboard's Canadian market share has stayed mostly flat. WebCT's wind-down partially caused a slight rise in Blackboard's market share from 2008 to 2010, although it never surpassed 20%. The US company tried many strategies, like purchasing Angel (a minor player in Canadian HigherEd).
When Blackboard phased out WebCT, Moodle took over the top spot for new implementations between 2005 and 2011. The Canadian migration to the open-source system Moodle was partly out of frustration with being imposed the change. At the time, Blackboard was seen as the big bad company. The majority of Canadian liberal professors did not want to give in. However, since 2016, the open-source solution has had very few new implementations.
Canadians like to support Canadian products, and Canadian institutions make no exception. Brightspace's dominance in the Canadian market is an example of this inclination. Since 2014, Brightspace's new implementations regularly represent more than 33% of all new implementations, with peaks up to 45%.
Historical New LMS HigherEd Implementations in Canada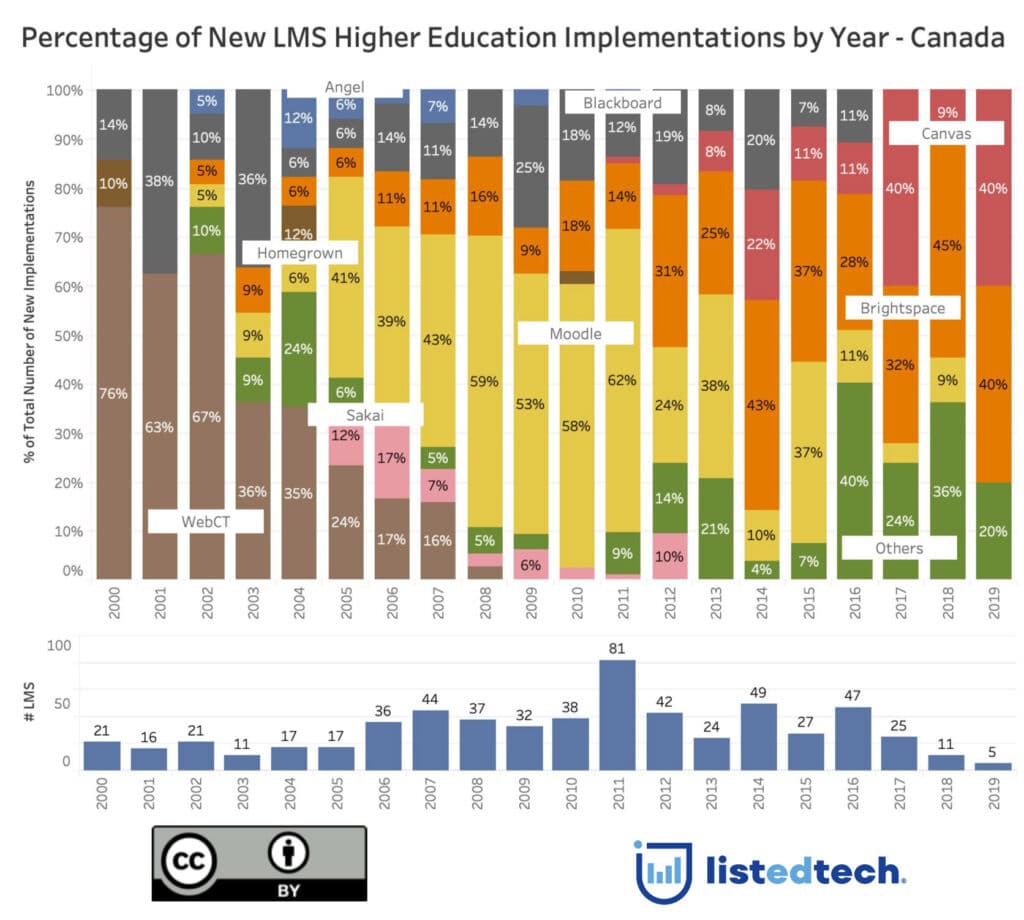 A few other historical observations:
Brightspace (D2L) has seen a slow but steady rise in its market share and has overtaken Blackboard in total clients in 2014. Its market share keeps increasing.
Sakai, Angel and homegrown systems have never taken more than a few percentage points in the Canadian market.
Canvas, which is now dominating the market in the USA, has had a slower increase in Canada. Since 2011, Canvas has gained 8% of the market share. During that same period, Brightspace increased by 12%.
WebCT completely vanished from the Canadian landscape, hitting 70% in 2003.
The products that lost the most significant market shares are Moodle (a 10% loss since its peak in 2013) and Blackboard, which has decreased by 7% since 2010.
Canvas has had a slow start in Canada. Many institutions were reluctant to host personal student data in the US. Instructure has corrected the issue and now uses AWS Hosting for Canadian implementations. Since this switch, the percentage of new deployments has increased.
Current LMS Market Shares in Canada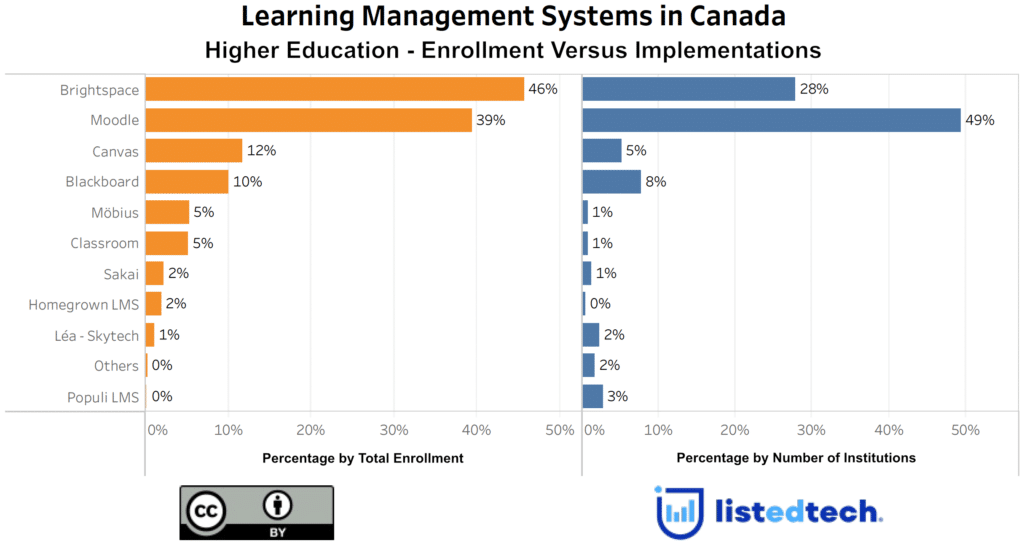 Contrary to the US market share being dominated by Canvas and Blackboard, Canada prefers Moodle and Brightspace. Moodle's large market share is related to the CEGEP network, which has selected Moodle as its default system. Since most CEGEPs have less than 4,000 students (which is small compared to a Canadian university or an Ontarian college's typical enrollment), the market share by institutions is undoubtedly more impressive for Moodle.
As the current market share graph shows, larger Canadian institutions select Brightspace and Canvas, while smaller establishments prefer Moodle (as previously mentioned) and Populi for their LMS needs.
Based on historical implementations and current market shares, it is clear that the Canadian market differs from its southern neighbour. Since 1996, open-source solutions have been a preferred option, as well as Canadian LMS products.
Data Notes:
We used data from over 400 Canadian HigherEd institutions.