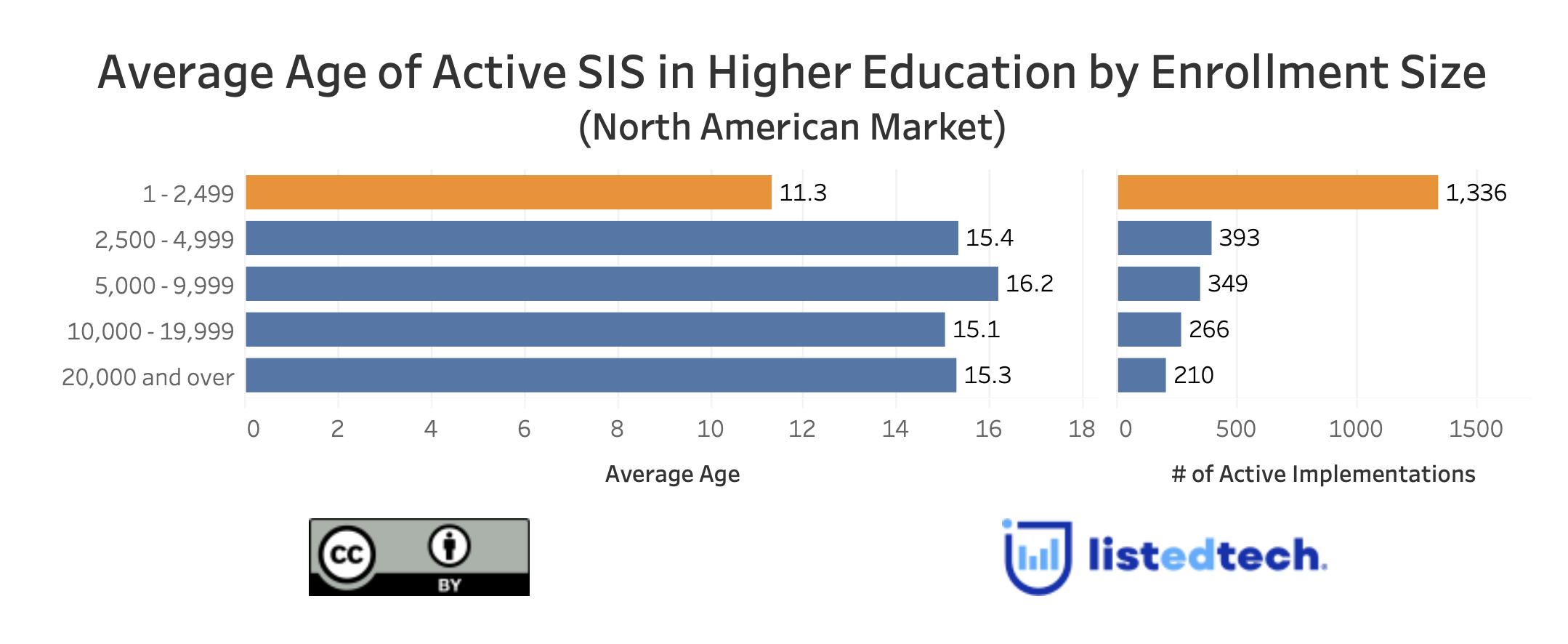 On January 11, we came across an excellent article written by Suzanne Smalley on Inside Higher Ed titled "Student Information System Difficulties Frustrate Universities" regarding the struggles universities face when it comes to implementing new student information systems. We would like to offer some data context on this article. We encourage you to read the whole article before reading our views and graphs on the topic.
While Ohio State officials declined to comment on the costs or specifics of the project, industry leaders called it a closely watched experiment because of the intricacies embedded in creating next-generation cloud-based student information systems—particularly for tier-one research institutions—as well as the vital need for more advanced cloud-based student information systems sectorwide.

LISTedTECH comment: our data shows that bigger institutions are still waiting on a comprehensive system that will answer all their specific needs before moving to a cloud solution. Smaller universities are already making the switch; not only purchasing them, also implementing them. If we look at the new cloud systems (Workday Student, Oracle Cloud and Thesis), we have data on 155 purchases or mentions in a contract as a potential replacement. Out of these 155 mentions, only 38% of universities have implemented at least one available module. Over the years, companies have postponed multiple times the launch of a complete solution, as mentioned in the IHE article.
Tracy Schroeder, vice president of information services and technology at Boston University, said BU badly needs next-generation SIS capabilities but can't find what it's looking for in the market.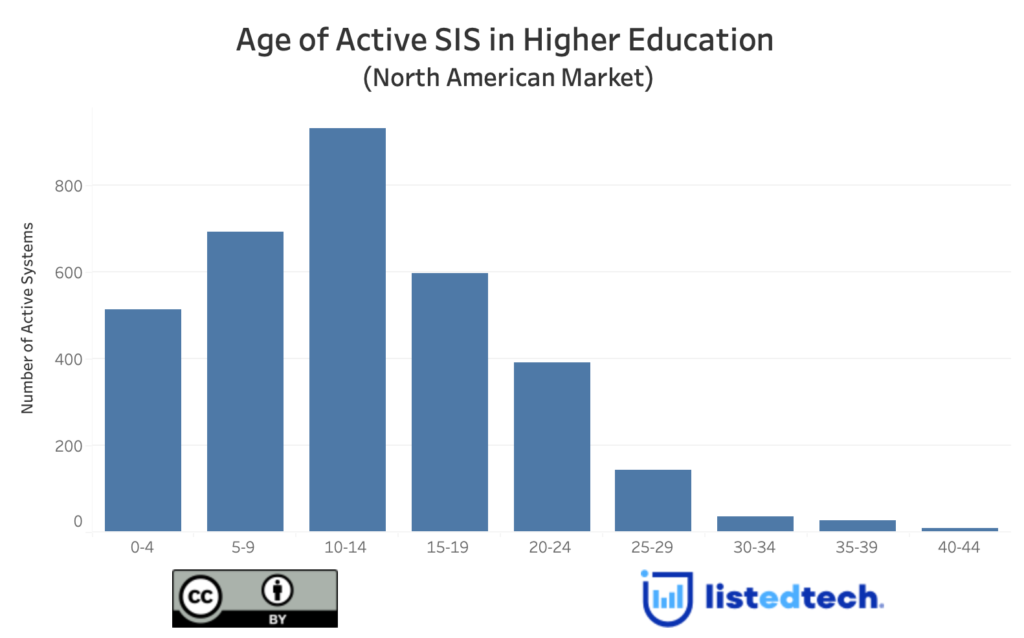 LISTedTECH comment: universities keep their systems longer because they can't find a system that responds to all their needs to replace their current SIS. Our database shows that more than 600 SIS implementations have been done in HigherEd more than 20 years ago (see below). We often think that homegrown systems are slowing the implementation process for a new commercial solution. As you can see, only 50 implementations are homegrown out of the 600+ active systems. The universities are simply not ready to change their SIS because, over the years, they have built customized modules and intricate connections to other systems in their IT ecosystem. The longer they keep their system, the more they build customizations and the more complex their migration to a new system becomes. Catch-22 at its finest!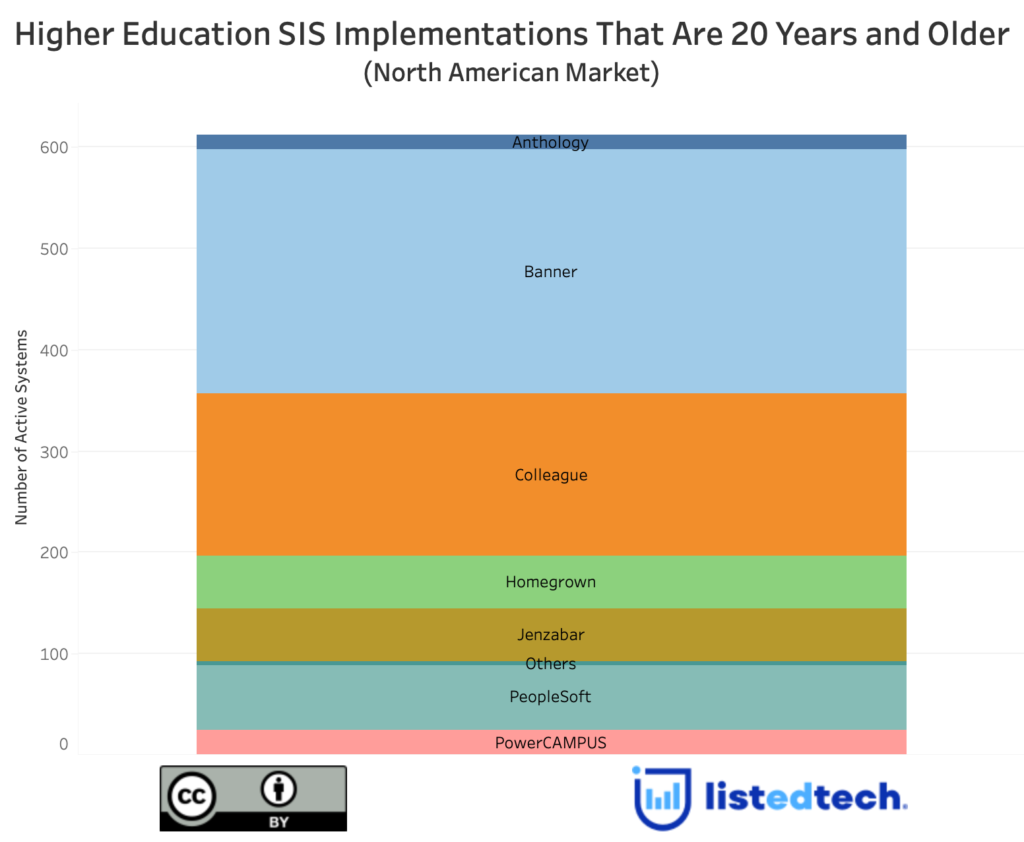 Small universities are the only institutions that have changed their systems more recently. This could be explained by the fact that smaller universities usually have lighter administrative structures and decisions can be made with less people involved. In opposition, larger institutions need buy-ins from faculties and staff members that have "special and unique needs" to configure the system which would require more time and resources as well as training sessions with future users.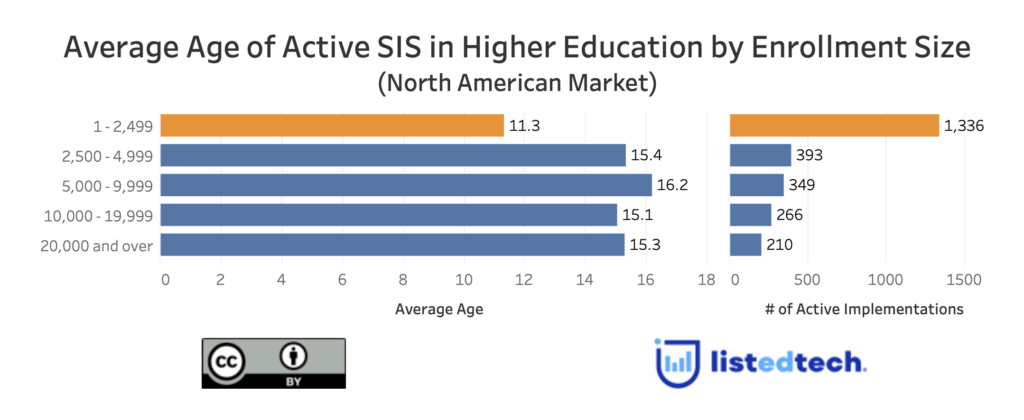 The Inside Higher Ed article explains that bigger universities are facing challenges with the implementation of new student information systems. Our data shows that it's not only bigger institutions that are struggling, all institutions are in this situation, with the exception of small universities (less than 2,500 students).
Data note: Our database only has around 70% of implementation dates. Therefore, all the data above that uses implementation dates shows a reduced market size. We did not add 30% to the images or our numbers above but this could easily be done when referring to this data.
Institution employees, are you currently in the process of changing your SIS system? Do you have any additional insights to share? Comment on social media and tag us @listedtech.