Microsoft is well-known for everything and anything related to computers. Since its inception in April 1975, it has developed software, hardware, and personal electronics and offered services to multinational companies, local businesses, and individuals. However, a component of its core business that has often been put aside is its willingness to help the education world, schools, and students. In this article, we will focus on the company's history linked to education while elaborating on the different products designed for education or those used in universities, colleges, and school districts.
As a software company, Microsoft is known to acquire several solutions in different product categories to either eliminate competition or to gain more recognition. Among the most significant acquisitions it made over the years, let's name the following companies that are related to their most renowned products or products that LISTedTECH tracks:
Forethought, acquired in 1987, was the developer of Presenter that became Microsoft PowerPoint.
Hotmail.com, bought in 1997, had 8.5 million subscribers at the time of its acquisition. It has been remodelled several times and is now known as Outlook.com since 2012.
Visio Corporation, a maker of diagram and flowcharting applications, was acquired in 2000. This software is not officially part of the Microsoft Office suite and is sold as a stand-alone.
Microsoft purchased Navision in 2002. This company developed the technology behind Microsoft Dynamics NAV ERP software. We will discuss the Microsoft Dynamics product line later in this article.
In May 2011, Microsoft bought Skype Technologies and created the Skype division within the parent company.
In 2016, Microsoft acquired LinkedIn. Contrary to other mergers, LinkedIn remains to this day a distinct constituent.
Microsoft also purchased GitHub, a code repository site, in 2018.
In total, Microsoft bought more than 250 companies and spent over 101 B$ to create the colossal company it is today.
Microsoft bought many smaller companies and startups from the United States (70% of all acquisitions), Canada (8%), Israel (5%), and the United Kingdom (5%). With many startups doing exceptionally well in Israel, it makes sense that this country makes the top 3 in the Microsoft acquisition list.
Looking at some product categories tracked by LISTedTECH, we notice that Microsoft acquired many BI software companies (8), Conferencing solutions (3), CRM (3), ERP (2), as well as other tools that can be used in an education setting (gamification software, private lesson platform, many video game developers).
More than just Windows and Office
With an extensive amount of money dedicated to acquisitions, Microsoft has developed an array of solutions in multiple product categories to keep its position as one of the leaders in the software industry. Let's go over some of their flagship products in the education world.
When Microsoft noticed that Google was offering K-12 teachers a solution helping them better organize in the classroom, it started to work on a blended learning platform. Like Google Classroom, Microsoft Classroom aimed to support teachers with grading assignments and communications with their students. After its initial launch in April 2016, Microsoft Classroom was quickly retired in January 2018. Despite the mitigating success of the operation, Microsoft decided to migrate many features of this solution into Microsoft Teams within Office 365 Education to create an easy-to-use communication platform.
Talking about Microsoft Teams, this solution quickly became a reference among Microsoft users. Before the pandemic hit the globe, most universities and colleges were unaware of the Teams platform even though it was available for free to all Office 365 Education users since July 2018. After the purchase of Parlano and its chat solution called MindAlign in 2007, the improvement work on Skype for business, and the abandonment of the Slack purchase, Microsoft announced Teams' launch in November 2016. A few years later, and thanks to the pandemic, Microsoft is one of the leaders in communication platform solutions and has seen incredible product adoption trends.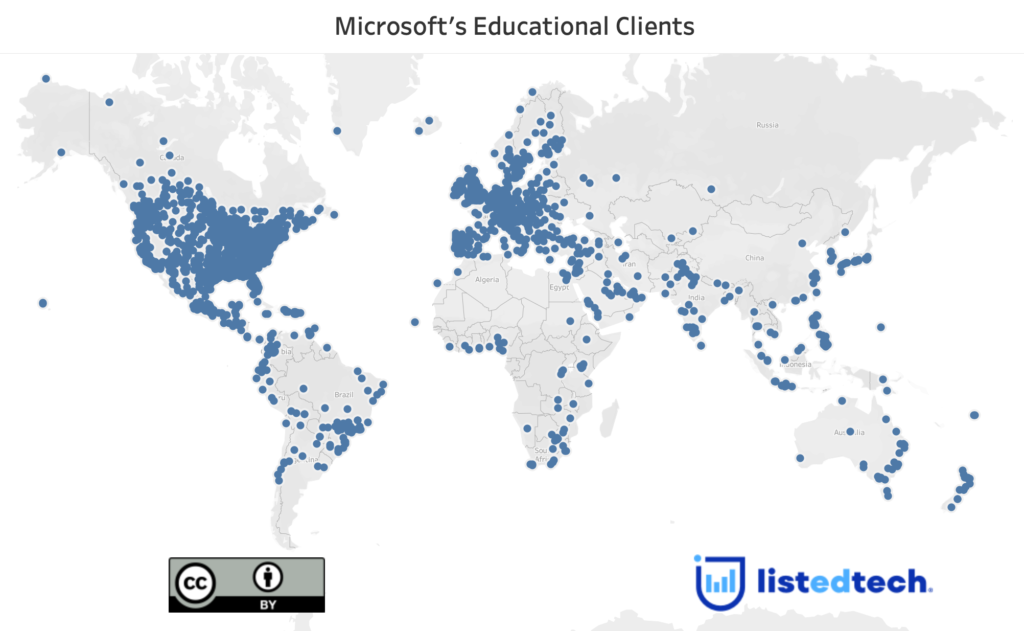 Teams include several features to support staff and students:
The most visible feature in Teams is probably the chat function. Unlike Skype for Business, the chat history is permanent, and users can even mark messages as important or urgent. The communication platform supports individual chats or group chats. It is possible to share files among a group within the chat window.
The Teams tab allows administrators to create groups based on classrooms, project teams, or learning communities. They can also create channels to discuss specific topics and share information with one individual or the whole team. It is possible to connect the channels with third-party services like Mailchimp, Facebook Pages, Twitter, etc.
Teams becomes handy to create distance meetings, especially when working from home. With the integrated function in Outlook, anyone can set up meetings, adding the Teams link to ensure everyone knows to connect. You can decide to schedule an appointment or to simply launch a video chat with your colleague on the spot. Live events welcoming up to 10,000 participants are also possible.
As mentioned earlier, Teams also integrates some Microsoft Classroom capabilities like distribution and grading of assignments. Teachers can also send quizzes to students using Office Forms.
A more obscure product used in education is Microsoft Learning Gateway (MLG). This solution is a portal and uses SharePoint Services as its foundation. Developers designed this portal to integrate e-learning solutions for K-12 as well as universities and colleges. This system includes knowledge management, collaboration, and communication technologies from Microsoft. MLG also integrates with non-Microsoft tools and can be customized to fit any institution's needs. Many Microsoft products can be included in MLG, such as Microsoft Class Server, Microsoft Exchange Server, Microsoft SQL Server, Microsoft Office Live Communications Server, and Microsoft Office.
A competitor to Google Scholar, Web of Science, and Scopus, Microsoft Academic is a web search engine for academics and students. Microsoft Research group was in charge of its development. It features the same type of information as its competitors (articles, author information, citations, keywords). The search engine currently indexes over 260 million publications, 88 million of which are journal articles. Even if this search engine is built similar to Google Scholar et al., it mostly focuses on computer science-related literature.
Microsoft 365 is a subscription service offered by Microsoft, which mainly offers its Office suite product line. It also includes cloud storage and productivity tools. It originates from the Microsoft Office suite when it was sold in physical boxes and CD-ROM. Later in its development, Microsoft decided to offer Office on the Web in 2010 for individuals while beta testing Microsoft Office 365 with some corporate users. During the pandemic, in April 2020, Microsoft decided to rename its product to a simple Microsoft 365.
Although a license is still possible to buy (even as November 2021), more people are switching to the subscription plan as it offers automatic updates, enhanced security, and better cloud integration throughout Microsoft products. Microsoft 365 can also be used on several computers (up to 5) compared to a 1-computer policy with the licensed version. Among other changes between the license and the subscription, Microsoft has considerably reduced its support service with license products. For Office Home & Business 2021, it is only 60 days.
As of November 2021, Microsoft proposes three education subscription plans for students and three for teachers, faculty, and staff. Between the two sets, the difference resides in the cost for each plan that is higher for employees.
The Free version (called A1) offers online apps for Outlook, Word, Excel PowerPoint, OneNote and has all online services except for Bookings and PowerBI.
The first paid version (called A3) offers all A1 plus the capability to install software on five computers. It also features Bookings, a scheduling tool for small businesses.
The full suite (called A5) proposes all options included in A3 plus PowerBI. It is particularly pertinent for administrators to better control their user accesses and gain access to more business analytics.
Microsoft is also very involved in the education of potential future employees. Over its existence, it sponsored many students in disciplines related to computer science and technology in general. In addition to the regular programs proposed by universities across the globe, the Microsoft Learn Student Ambassadors program (formerly called Microsoft Student Partners) offers specific skill training, including knowledge of Microsoft-specific technologies.
The program is available in many countries for university and college students. Students need to apply to the program and, if accepted, they will need to share the knowledge among the academic community.
From the Excel Spreadsheet to Full CRM Capabilities
In smaller colleges, the cost of acquiring a CRM or an ERP system can significantly reduce the budget for other operational needs. This financial struggle could explain why, for many years, Microsoft Excel and Microsoft Access were used as CRM systems for these institutions.
Microsoft worked to propose a CRM/ERP system called Microsoft Dynamics. This product suite is not explicitly designed for educational purposes but can indeed respond to its needs. Dynamics is a software suite built out of several acquisitions:
Dynamics GP (formerly Great Plains)
Dynamics NAV (formerly Navision; now forked into Dynamics 365 Business Central)
Dynamics SL (formerly Solomon)
Dynamics AX (formerly Axapta; now forked into Dynamics 365 Finance and Operations)
Microsoft Dynamics currently has three main components: Dynamics 365 Business Central (for small and mid-size businesses), Dynamics 365 for Finance and Operations (for mid-sized and large enterprises), and Dynamics 365 Customer Service (formerly Microsoft CRM). The first two products include a CRM and an ERP solution while Customer Service focuses on CRM capabilities only. Customer Service currently has over 40,000 customers.
Power BI is a product that aims to offer visualizations and business intelligence designed with the end-user in mind. It is part of the Microsoft Power platform. In September 2013, it was initially offered as add-ons to Excel (Power Query, Power Pivot, and Power View); it became available to the general public in July 2015. When launched, it was set to compete with Tableau, but has since surpassed its competitor in terms of users: Power BI says it has more than 5 million users while Tableau has around 1.5 million. However, in the education world, Tableau is still ahead of PowerBI. Because of its integration with Microsoft 365, PowerBI is easy to use and integrates data from several sources within a few clicks. For instance, it offers a dynamic connection to Excel spreadsheets.
A portal that can be used in several ways, SharePoint is a web-based collaborative platform configurable to meet any organization's needs. However, SharePoint is mainly sold as a document management and storage system. As of early 2021, it had over 200 million users across 200,000 organizations. SharePoint is an evolution of two products (Office Server and Tahoe).
With its multiple acquisitions over the years and its undeniable success across all product categories where it is involved, Microsoft remains a staple in the IT world, especially for its solutions used in education.