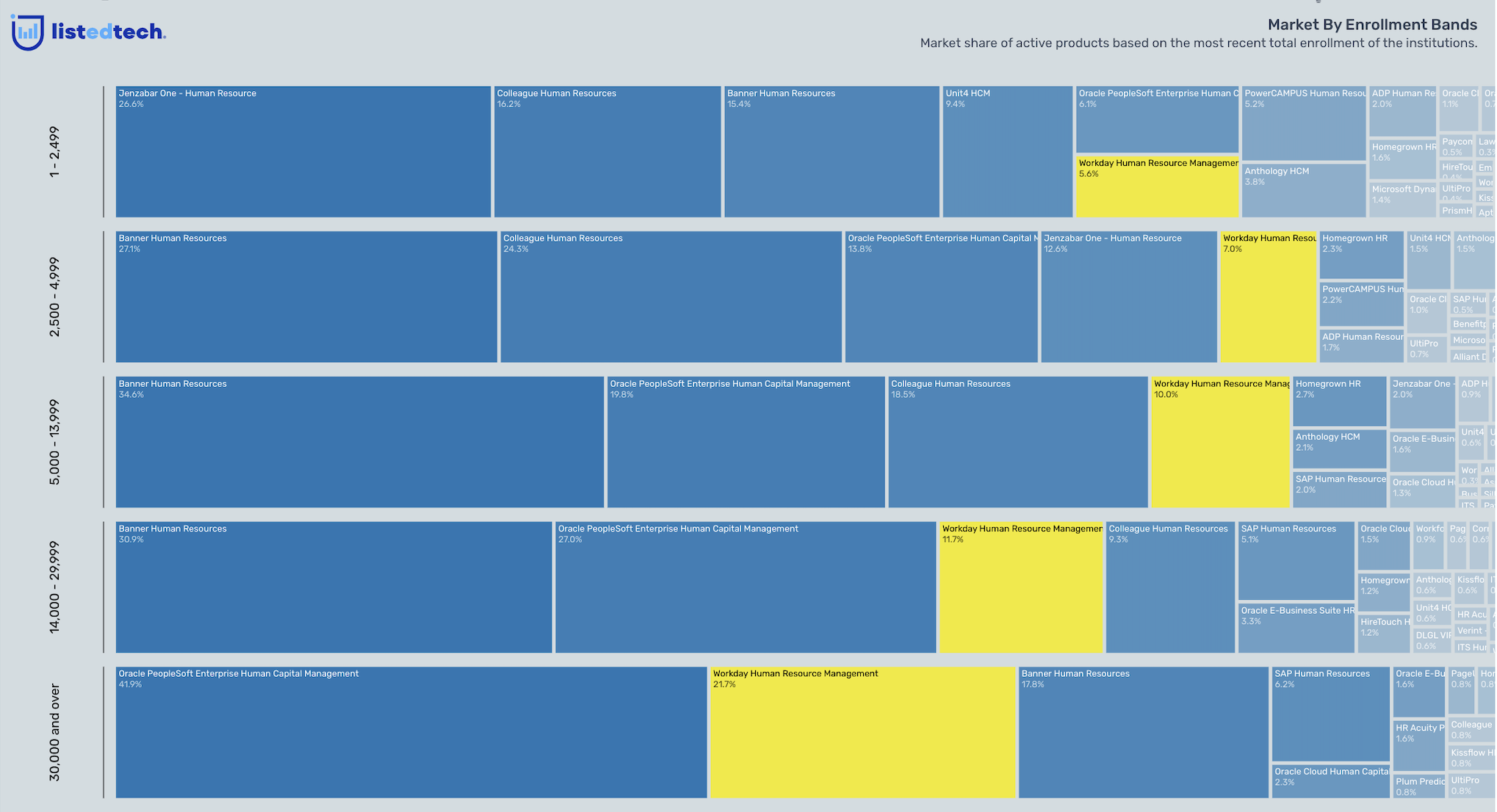 Called Human Resources Management System (HRMS), Human Resources Information System (HRIS) or Human Capital Management (HCM), human resources systems have a common function: managing human resources, business processes and employee data for organizations. The educational world makes no exceptions as school districts, colleges and universities require these solutions to ensure the proper functioning of their institutions.
When we think of HR systems, our first thought goes to payroll management and employee data. However, HR systems are much more than these two functions. In fact, these solutions also include everyday processes (eg. time management, social benefits, etc.) and are designed to be manageable by non-technical employees. They are often implemented in conjunction with other products (Financial Systems) or packaged as an enterprise resource planning (ERP) software. This package offers institutions and other organizations the ability to access, in one place, information from several systems and databases.
Short History of Human Capital Management Software
Early human resources software trace back to the 1970s. At the time, systems were narrow in scope and often were limited to one specific need: payroll management, for instance. It was not uncommon that organizations maintained employees' time records in one system and processed paycheques in another. At the time, most operations were done manually, even if computers helped to execute the processes.
The first ERP system that integrated human resources capabilities was SAP R/2, released in 1979. This solution offered many features useful in HR departments from businesses and academic institutions. The first all-in-one HR system, not part of an ERP, was PeopleSoft, proposed to companies and organizations in 1987. It's only a decade later that the first cloud-hosted solution appeared on the market.
Functions of Human Resources Management Systems
Nowadays, HR systems mostly include the following functions or processes: hiring, staff evaluation and retention (performance and appraisals), payroll management, social benefits tracking as well as absence and leave management (including timesheets). Some systems will include onboarding and offboarding capabilities, a learning management section as well as an employee self-service portal.
Main Human Resources Information Systems Used in Education
When it comes to human capital management software implemented in education compared to the ones implemented in general, we see different market leaders. In higher education, the market leaders are Ellucian (with their Colleague and Banner systems), Jenzabar and Peoplesoft. What is interesting is the progression of Workday (highlighted in the graph below), a relatively new solution in the category launched in 2005. It is particularly impressive in the larger institutions (30,000+ students), where Workday currently has 21% of market shares and is in second place.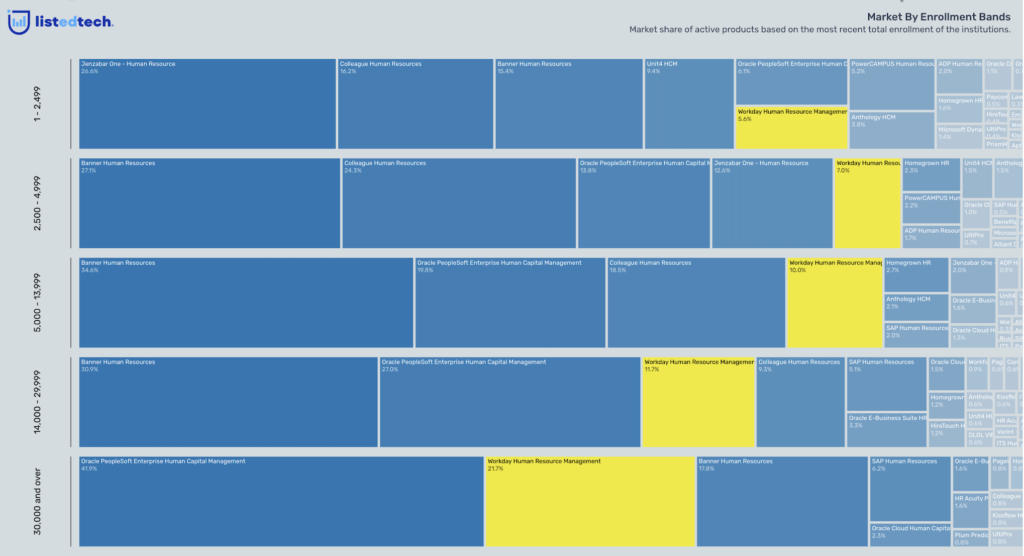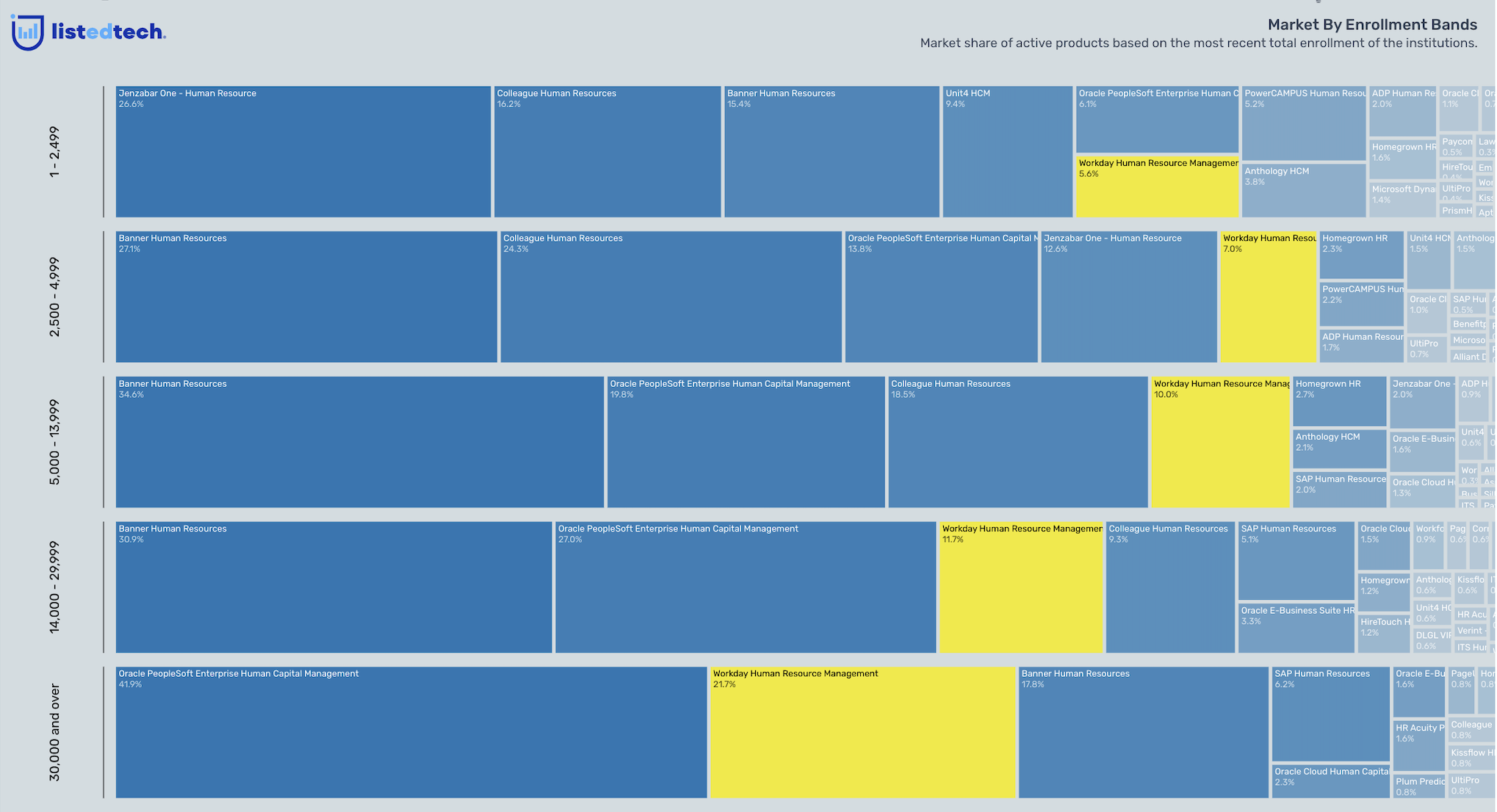 It's important to note that Ellucian and Jenzabar are only present in education (absent from all other business sectors). They are currently on a downward trend for the past decade. When we assess the top 10 most implemented products in higher education for Human Resources systems, only four are present in other business sectors: Oracle Peoplesoft, Workday, Unit4 and SAP.
Homegrown systems remain active but are about to disappear since they only represent 2% of all active implementations. Based on our predictive data, we can expect homegrown systems to completely disappear within the next three years. Workday and Oracle Peoplesoft are the most likely to replace homegrown systems.
Based on the data we accumulated over the years, we know that HRMS category is a stable one and we don't believe new players to be implemented in this market. Nonetheless, we see development in HR subsections, such as labor management, applicant tracking systems and faculty information systems. When it comes to market leaders, we expect Workday to continue its growth in the next five to ten years. One big question remains: will Ellucian and Jenzabar continue to lead the market?
Which company will lead the HigherEd HR system implementation market in 2022? Do you believe Ellucian will make a comeback? Or maybe Jenzabar? Comment on LinkedIn and Twitter using #higheredHRMS and #listedtech